We don't hit even animals the way they beat up my father: Alwar victim's son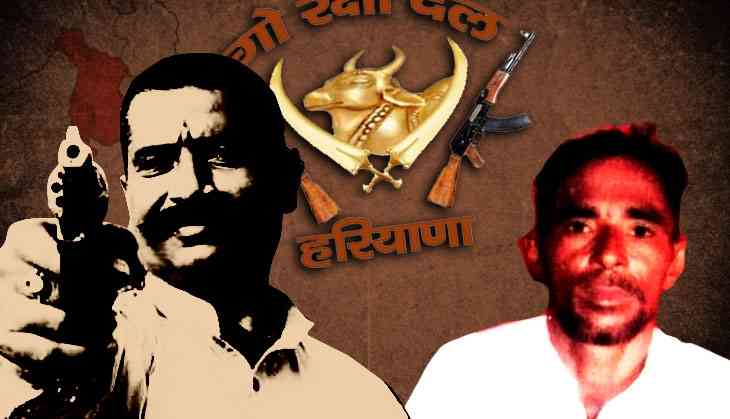 Yunus Khan of Jaisinghpur village in Nuh district of Haryana still can't understand how he managed to escape the wrath of the gau rakshaks who assaulted five others from his village for legally transporting cows from a cattle fair in Jaipur to their native village.
The 61-year-old had also purchased a cow and a buffalo from the fair and was just following the two vehicles that were stopped by the gau rakshaks affiliated to the Vishwa Hindu Parishad and Bajrang Dal.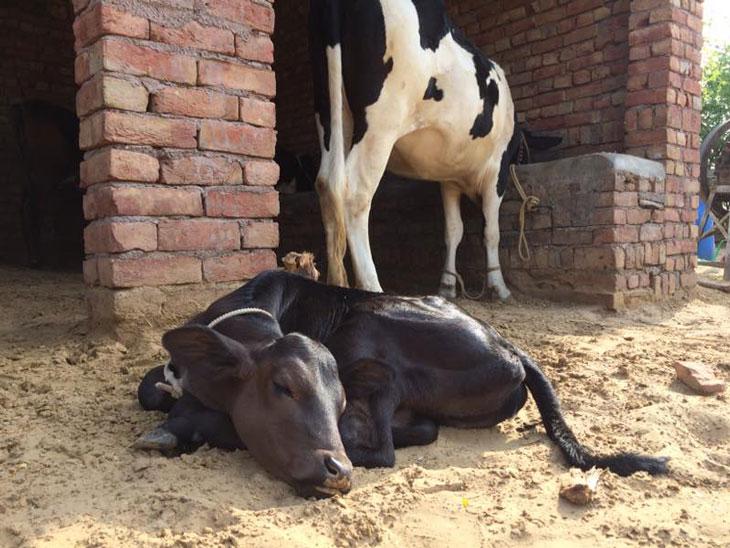 Yunus bought this calf and the mother in background from the cattle mela. (Akash Bisht/Catch News)
"I am lucky to be alive. We somehow managed to escape because didn't seem to have noticed us. Otherwise who knows I too would have been dead like Pehlu Khan. How can someone beat another human being so badly that he dies and that too for cows that have been purchased legally for running dairies," said Yunus.
"Have you seen how they have beaten these young boys? Their families couldn't even recognise them when they came home for Pehlu's funeral. Is this what your religion teaches? I am grateful that I am back with my family and cannot even imagine what Pehlu's family must be going through. Is a cow worth all this? Now I am afraid that I would never buy a cow," he says as he tries to control the tears welling up in his eyes.
Yunus is yet to recover from the incident that occurred on Saturday wherein a group of Gau Rakhshaks attacked two vehicles and mercilessly assaulted the occupants alleging that they were illegally transporting cows. When the occupants provided them with the legal documents, they tore them up and started to beat them with sticks. All five men lost consciousness until the police came to their rescue. Three days later 55-year-old Pehlu succumbed to his injuries becoming yet another victim of cow vigilante groups that are thriving under the patronage of Hindutva outfits.
Pehlu's two sons, who were also assaulted, claimed that he had three broken ribs and a fractured skull. Sadly, none of them could meet their father before he passed away. "We were kept in separate rooms while he was in the emergency, we could not even meet our abba before he died," said 22-year-old Irshad, whose left eye still has dark red clots.
Narrating the sequence of events, Irshad recalled that he along with his father and two brothers had gone to the fair to buy buffaloes. On reaching there, they found that buffaloes were very expensive so decided to buy two cows with calves as young as three days old. "Who buys such expensive cows with young calves for slaughter purposes. People take old, inexpensive cows and not the ones like we had," claimed Irshad.
Unable to come to terms with the loss of his father, who was buried just a day before, Irshad said, "We don't even hit our animals like they hit my 55-year-old old father. When they were tired of beating us, they wanted to burn us alive. One of them asked the others to take out diesel from the vehicle and burn us and the vehicles. What was our fault? We went to buy animals from a government organised cattle fair and if the government can't provide us protection, why doesn't it ban all such fairs?" asked Irshad.
He went on to add that these were no gau rakshaks but anti-social elements who wanted to loot us in the name of protecting cows. According to Irshad, the first thing these gau rakshaks did was to reach out for our pockets and take away Rs 75,000. The entire village is convinced that ever since BJP led NDA came to power, these goons have become bolder while attacking people, particularly Muslims, in the name of cow protection. "All they need to do is wear a saffron robe and beat people, sometimes even kill, and then take away their money and cattle," Irshad pointed out, while sitting in his modest home in Jaisinghpur..
Barely 15 kms from the district headquarters, Jaisinghpur is a Muslim dominated village with most of the inhabitants making a living by selling milk. The well-to-do ones buy buffaloes while the poor depend on cows' milk for their livelihood. In fact, people from as far as Delhi come to this village to buy cows for their dairies because of the way these villagers take care of their bovines. To ensure that his cows are in no discomfort, Yunus has installed fans and gives them the best quality feed available in the market. He proudly claimed that his cows provide 14-15 liters of milk everyday.
On Wednesday, Yunus sold a cow with a young calf to a Delhi based Hindu dairy operator for Rs 45,000. "I hope nothing happens to him," Yunus said when a local intervened and claimed that nothing would happen to him because he is a Hindu.
"We are second class citizens and even if 10 more Pehlus die at the hands of these Gau Rakshaks no action would be taken. It is better that we stop buying cows as it is not worth a man's life," he said. Immediately, most of the villagers present at Pehlu's house nodded their heads in unison.
However, the entire village is united in not saying anything wrong about the administration and government as they fear it would weaken the case. They still believe that justice would be done to them and that courts would come to their rescue if everything else fails. Pehlu's elder son Aarif, who was also accompanying his father, said, "We believe in the Indian Constitution and the courts. If the courts think that whatever happened was right, we will abide by that. After all, what else can we do?"
Interestingly, the driver of the vehicle, which had Pehlu in it, was a Hindu and was let off by the gau rakshaks. According to Aarif, they said let the Hindu go but don't spare these Muslims and that they should be taught a lesson. According to the elders present at Pehlu's house, the situation in the country has become very fragile and that the government needs to ensure that such elements are not encouraged.
One of the elders pointed that Prime Minister Narendra Modi keeps talking about Sabka Saath, Sabka Vikas but his government has not been able to do so. "Is this the 'saath' that the prime minister keeps talking about? Will we have vikas if innocents are lynched like this? By encouraging such elements, the government is alienating a particular community which is not in the national interest," said one of the elderly men.
The survivor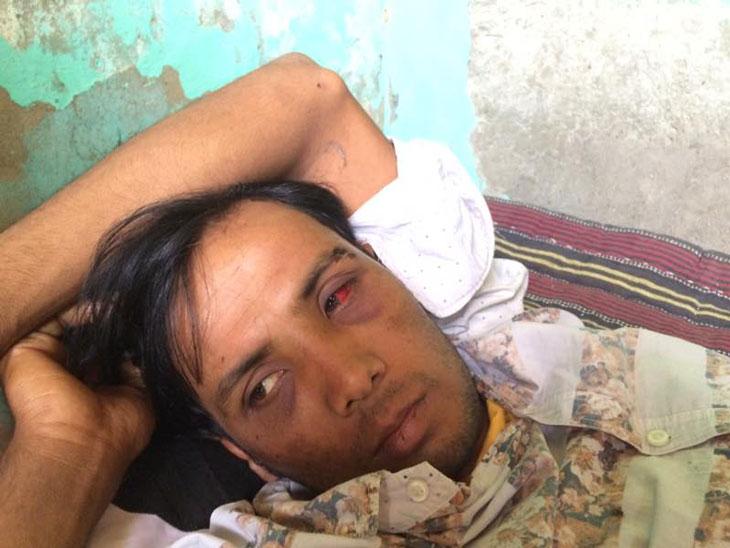 Azmat was accompanying Pehlu in the same vehicle. (Akash Bisht/Catch News)
Barely 500 meters from Pehlu's house lives Azmat Khan with his family. Azmat was accompanying Pehlu in the same vehicle when they were attacked. His is a modest house and Azmat can be seen lying on the cot in his verandah.
Several women tend to him as he recovers from the brutal beating he received. His right eye has dark red clots, cheek bones swollen and cannot move because of the severe pain in lower back. His wife informed that their two year old daughter has been crying ever since she saw her father return from hospital.
"First she didn't even recognise him. Even his brother couldn't recognise him because his face was swollen badly, When the daughter realised that it is her father, she is scared to come near him which is hurting him even more," Azmat's wife said as tears rolled down her cheeks. Azmat asks her to calm down and said, "I should be hanged if I have done anything wrong. Otherwise, they should be hanged for killing Pehlu who was like a father to me. Anyway, they will have to answer god and he will atleast ensure that justice is done," an infuriated Azmat said.
He didn't stop there and advised all Muslims in his village to stop rearing cows and even stop drinking or selling their milk. "Lets see what happens then," he claimed and reminded those present about how these so-called gau rakshaks took care of the cows in a gaushala in Jaipur. "I have seen how dead cows were piled onto a truck and taken out of that gaushala. And then they preach about cows, they should come to our village to see how we take care of our animals and then realise what it means to really respect an animal."
Azmat has resolved that he would never buy a cow again and would not even go to any of these cattle fairs. He pointed that all these foreigners who come to these melas should be told the truth about what really is happening in India.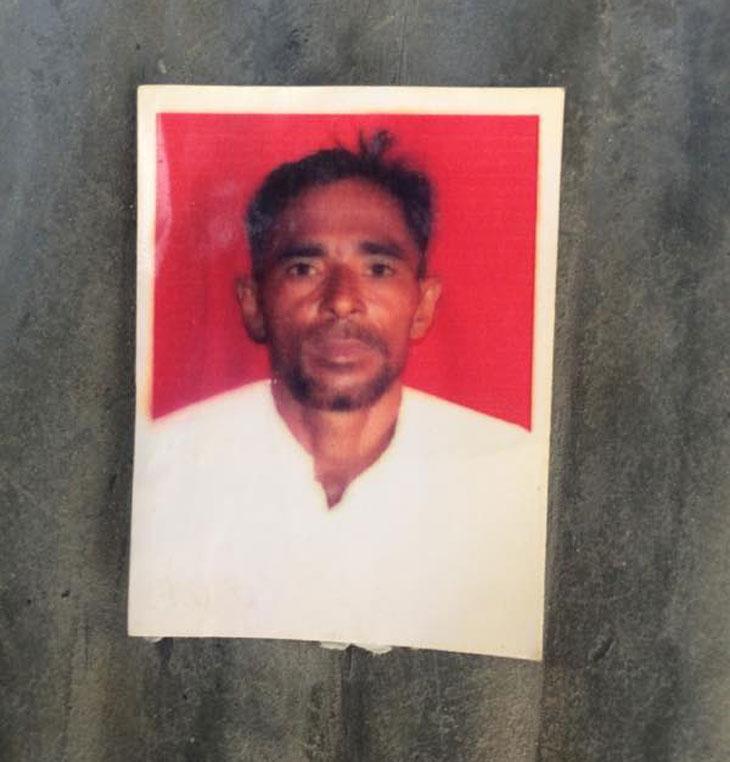 Akash Bisht/Catch News
"From organisers to police to administration, we pay everyone once we buy these animals and yet we are subjected to such brutality. Lets ban all these fairs before another Pehlu dies from the hands of these fake gau rakshaks," he concluded.
Meanwhile, the police has cliamed that it had arrested 10 people and lodged an FIR against the Gau Rakshaks under IPC Sections 143 (unlawful assembly), 323 (voluntarily causing hurt), 341 (wrongful restraint), 147 (destruction of property), 308 (culpable homicide) and 379 (theft). Section 302 (murder) has also been added after Pehlu's death.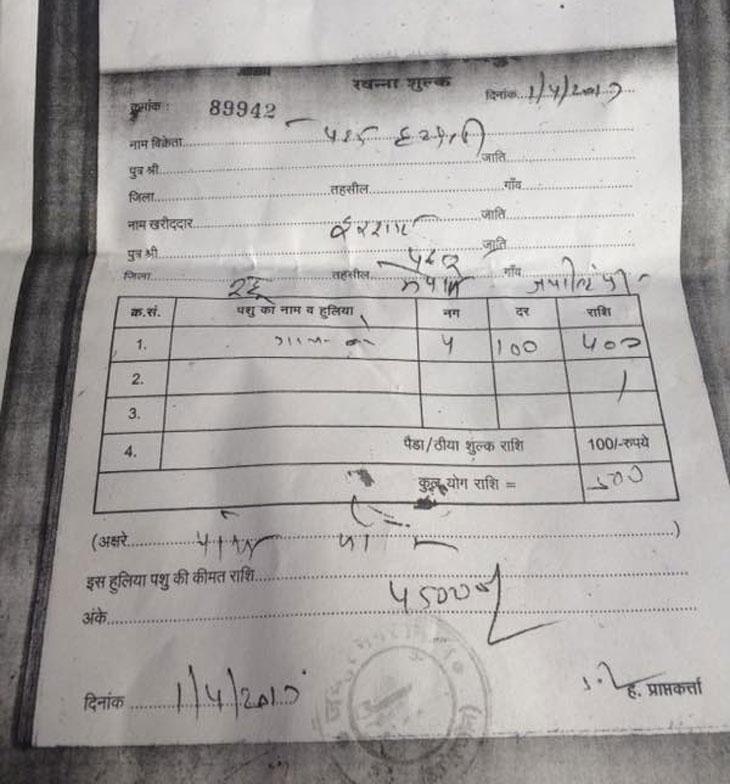 Akash Bisht/Catch News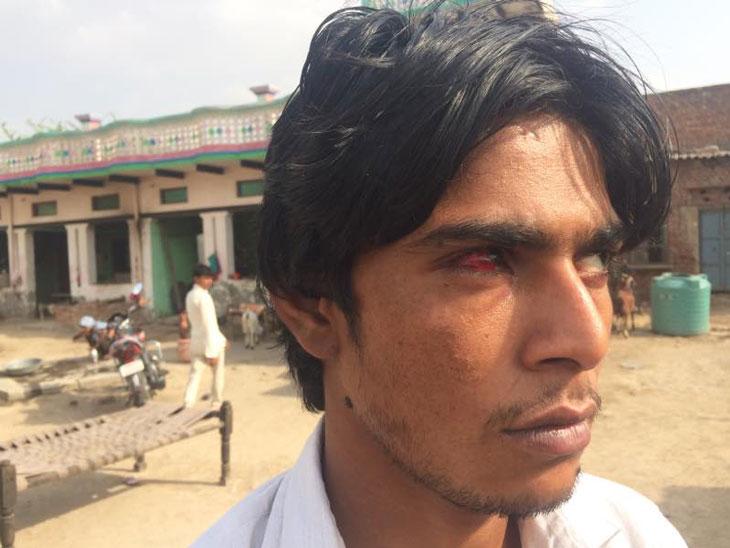 Pehlu's son Irshad was also assaulted. (Akash Bisht/Catch News)