Want to be a Haryana sarpanch? First pass class 10 and build a toilet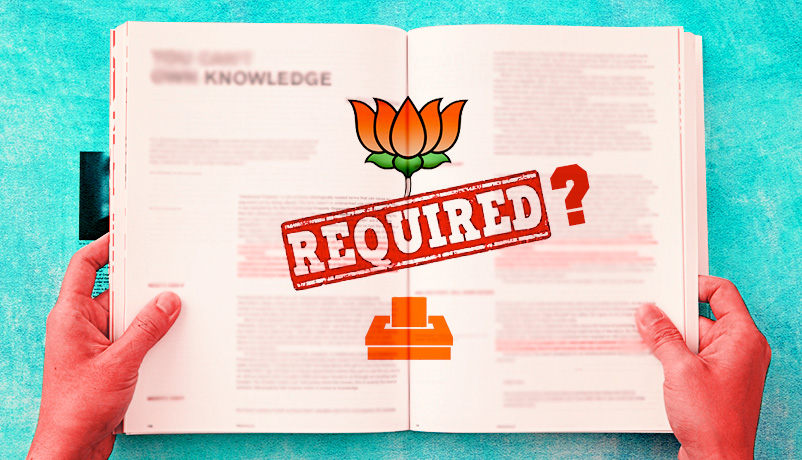 The law
Haryana govt wants matriculation to be an eligibility criterion for contesting Panchayat polls
It is fighting a case in the Supreme Court to achieve this
Rajasthan has already put such conditions
In both cases the law was passed just before the final dates for filing nominations
The agenda
Many see this as part of the BJP\'s Brahminical agenda
32.1% of Haryana\'s population and 45% women in the state are illiterate
Women and disadvantaged sections will be the worst affected by the law
Many experts say the law is unconstitutional
The government of Haryana is fighting a case in the Supreme Court for setting matriculation as a qualification for contesting Panchayat elections.
It is the second state after Rajasthan to put such conditions for Panchayat elections. In both cases, the legislation setting an educational bar was passed quite close to final dates for filing nominations.
Incidentally, both these states are ruled by the BJP.
If Haryana wins the case in the Apex court, the new act governing Panchayat elections - Haryana Panchayati Raj (amendment) Act 2015 - could become a model for future Panchayat elections in the country.
Considering that an estimated 30% population in India is illiterate, this Act could effectively debar around 40 crore people from contesting Panchayat elections. More specifically, it will prevent a lot of women and people from underprivileged sections of the society from contesting, since their proportion among the illiterate is higher.
The legislation
The Haryana Panchayati Raj (amendment) Act 2015 is quite similar to the law recently passed by Rajasthan.
The new law was passed on 7 September, 12 days before the last date of filing nominations.
According to it, general category candidates must possess matriculation as a basic qualification, while Scheduled Caste candidates should have studied up to standard VIII.
Candidates should also not have a criminal conviction.
The candidates shouldn't have any pending payment of power bills or defaults in loan payment.
Finally, the candidate can be disqualified for not having a functioning toilet.
The petition which is being heard in the Supreme Court terms the law as "unconstitutional" and argues that this law renders most of the candidates in the state ineligible.
Haryana's literacy rate is 67.9%. Therefore 32.1% people in the state are illiterate. Nearly 45% females in Haryana are illiterate so the law will have an even more serious impact on women who want to contest Panchayat elections.
The politics
Some suggest that the new laws have been introduced by the Upper Caste Hindu dominated BJP to eliminate competition. Moreover, the idea that a candidate needs to be educated and have a toilet at home, could be a Brahminical vote puller.
"These are upper caste societal norms - a 'more civilised way of living', producing only two children, having a toilet in your house, and eating only vegetarian food. It is a model for Brahminical lifestyle that gives an inferiority complex to Dalits and other backward classes. That's clearly the vote bank they're looking at," says Professor Ghanshyam Shah, of Indian Council of Social Science Research.
But even then, as a political strategy, it might not pay long term dividends. A section of society that's excluded from mainstream politics is bound to hit back.
If implemented across India, this law can bar 40 crore people from contesting Panchayat polls
"A person may not be highly educated but may be able to understand local problems better than others. Moreover, political leadership in the country has to be a reflection of its voter base," says Professor Sanjay Kumar of the Center for the Study of Developing Societies.
He adds, "BJP, with its traditional support base of urban educated Upper Castes is bringing such laws keeping in mind short term gains. But I don't think it is a viable poll strategy even in the long term. There may be repercussions during state or general elections."
Is such a law constitutionally valid?
According to Subhash Kashyap, former Secretary-General of the Lok Sabha Secretariat, introducing such laws is not invalid.
"Constitutionally there is no problem in laying down educational qualifications for candidates, subject to judicial review. The argument for setting such conditions can be made both ways. But ultimately courts have to decide on the matter," he said.
Former Chief Election Commissioner SY Quraishi has his doubts. "We never encouraged such discrimination between candidates. After all at least 25% of our population is uneducated. How can you impose such conditions?"
Moreover, he adds that when laws are passed so close to nomination dates, it is bound to raise eyebrows.
"Rajasthan government passed this law just a day or two before nominations were supposed to be filed, Haryana government did it just 10-12 days ahead. It is not normal," he said.
Absurd and excessive
Jagdeep S Chhokar, founder and trustee, Association of Democratic Reforms (ADR), has a different take on the matter: "Unless we as a society can ensure that every child has actual equal opportunity to get a decent education, passing such laws is absurd".
"If we're setting matriculation as a standard for Panchayat elections, why shouldn't parliamentarians at least have a PhD?" he added.
Not just BJP ruled states, even the Narendra Modi government's policy think tank, the NITI Aayog wants to make toilets as an eligibility criterion for candidates. It wants those who don't have toilets in their homes to be barred from contesting any election, not just Panchayat elections.