Varnika Kundu stalking case plays out online as both parties take to social media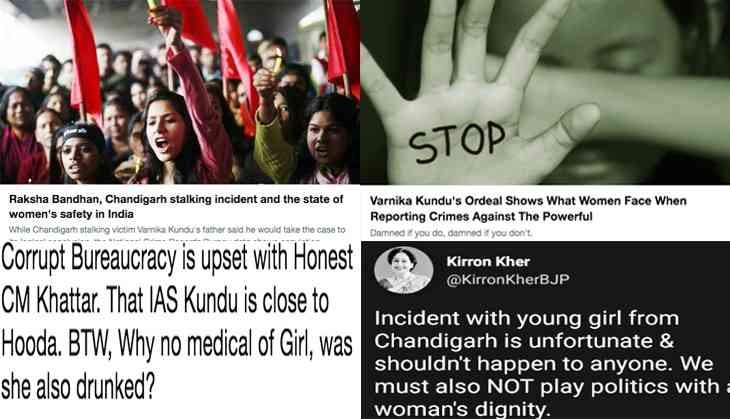 Varnika Kundu was returning to her Chandigarh residence Friday night when, she alleged, Vikas Barala and Ashish Kumar stalked her and attempted to abduct her. Barala is the son of Subhash Barala, the chief of the Haryana unit of Bharatiya Janata Party.
While Varnika filed a FIR against the two, leading to their arrest and subsequent bail, it was her Facebook post that really brought attention to the case.
The post, which has now gone viral, drew widespread media coverage. However, it also sparked off a social media battle of sorts, with Kundu's father, IAS officer Virender Kundu, defending his daughter, while various members of both the BJP, as well as the Barala family attempted to defend Vikas.
A terrifying ordeal
Kundu recounts heading home at 12:15 AM on Friday night. She was crossing the road into Chandigarh's Sector 7, and was right next to the petrol pump when she first noticed a white Tata Safari Storme SUV following her. After calling the police helpline numerous times, the men in the SUV were arrested when a PCR van pulled up.
The two were arrested on charges of stalking, under Section 354D of the Indian Penal Code. They were also charged with drink driving under Section 185 of the Motor Vehicles Act.
"The two boys, who of course, are from influential families with political connections, have been arrested and the complaint has been filed. At the risk of sounding redundant, I need to mention and thank Chd Police again because had it not been for their timely response, I might not be writing this status today," the Facebook post read.
Her father, Virender Kundu, also shared her daughter's post:
Both daughter and father, at that point, praised the Chandigarh Police for their efficiency and timely arrival. However, mere hours later, both offenders were out of jail. This happened as the Chandigarh Police dropped charges under two sections of the IPC, that would have otherwise made it difficult for them to get bail.
Victim-shaming
Shockingly, the Barala family's response to the incident was to shame the victim across social media. While these posts have since been deleted, it wasn't before they were immortalised through news reports and screenshots.
Kuldeep Barala, a member of the influential Barala family, who at one point worked with the BJP according to his FB profile, shared a photo of the victim with two men. He used this to imply that Kundu was drunk at the time of the incident, and that she wasn't virtuous because she had posed with two men.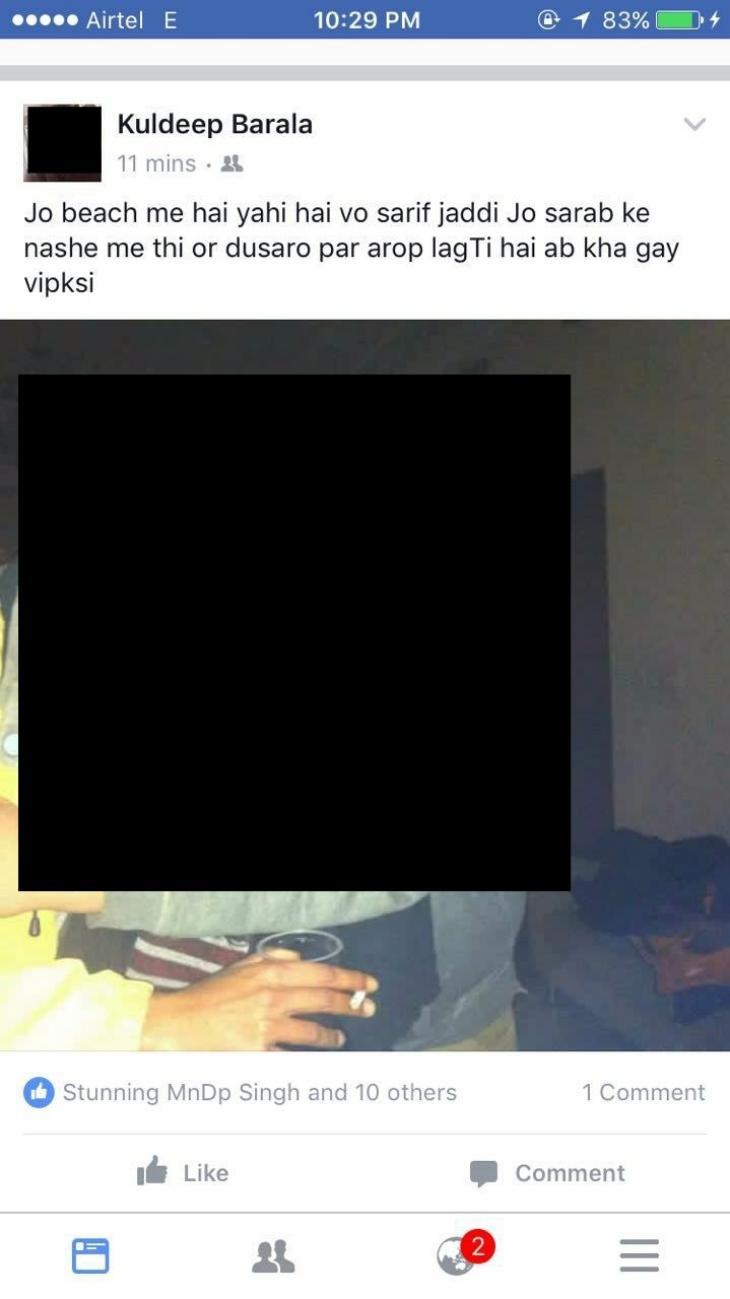 Kuldeep Barala's Facebook Post (via The Wire)
Kuldeep didn't stop just there. He shared another post, this time with Kundu around alcohol glasses. Through these posts, Kuldeep sought to vindicate his relative by painting Kundu as a woman of poor character, therefore either untrustworthy, or, worse still, asking for it.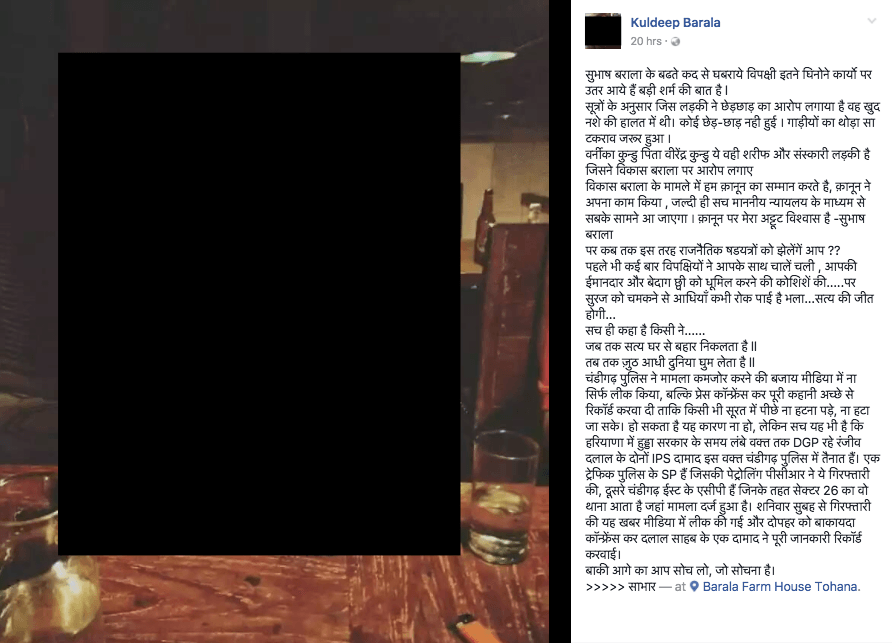 Kuldeep Barala's Facebook Post (via The Wire)
In his attempts to defend his family, Kuldeep even slammed the police for talking to the media about the incident. Furthermore, he said the police wouldn't go back on their word, but many hours later, the police have. DSP Satish Kumar had first told many reporters that non-bailable charges had been applied.
And this is what DSP Satish Kumar had said a few hours before the second pc. Spot the differences. pic.twitter.com/e4Ny0rTBkj

— Chitleen K Sethi (@ChitleenKSethi) August 6, 2017
He later retracted that saying they were not suitable to the case.
In the 2nd pc held yesterday DSP Satish Kumar is at pains to explain why harsher sections 365 and 511 not added in the FIR in stalking case. pic.twitter.com/7GJSZbTi0W

— Chitleen K Sethi (@ChitleenKSethi) August 6, 2017
Virender Kundu responds
Kundu's father Virender, in a series of posts, talked about how he was very proud of his wife & daughters, thanking everyone, including the media, for the immense support they received.
"We thank everyone for their support. The media has helped spread awareness about the crime, and avowals of support and solidarity have poured in from everywhere. Social media fora have activated a huge number of groups in support of our cause. We are overwhelmed by this expression of togetherness with us, and we are feeling as if a sea of humanity has joined us in the struggle," reads one of the Facebook posts.
While Haryana Chief Minister Manohar Lal Khattar has come out in defence of the Baralas, Virender Kundu's latest post expressed grim resolve, talking about how none of the family members were going to back down in their pursuit of justice.
Shaina NC claims Twitter account hacked
The photograph of Kundu and two of her friends shared by Supreme Court Advocate
So called victim daughter of IAS from Chandigarh with Vikas Barala. This story is as true as like Jasleen Kaur of Delhi & of Rohtak Sisters. pic.twitter.com/gcCt1xCajF

— Prashant P. Umrao (@ippatel) August 6, 2017
Among many of the others who shared the photo was Maharashtra BJP spokesperson Shaina NC on Twitter. Later on, she claimed that she didn't share it and her account was hacked by some "mischievous folks". In the tweet, she called Kundu a "so called victim". Furthermore, she said that there should be justice for Vikas Barala.
Now deleted tweet from BJP member has no basis in fact. Great to see BJP women happily taking down other women just to save party's face. pic.twitter.com/GnWU70u2Jz

— Pathikrit (@BucketheadCase) August 7, 2017
The tweet was deleted more than thirty minutes before she claims she "got access back" to her account.
Just gt access back to my account; some mischievous folks had hacked the account.
Please ignore any activity on my account of past few hours

— ShainaNC (@ShainaNC) August 7, 2017
After getting back access to her account, Shaina NC went on to say that a "woman's modesty should be respected".
Modesty of a woman shd be respected.Any act of indignity agnst women is highly looked down upon.Unlike congress,our gov will ensure justice

— ShainaNC (@ShainaNC) August 7, 2017