Uttar Pradesh: Students punished for chanting 'Bharat Mata Ki Jai' in a college in Balia; made to stand under Sun for hours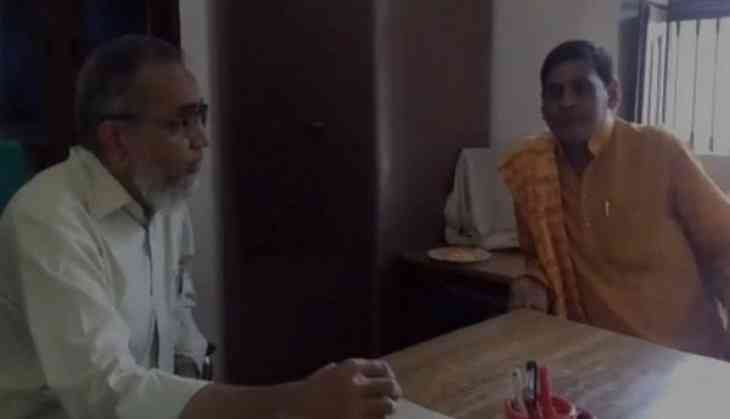 In India, the controversy over chanting 'Bharat Mata Ki Jai' seems to have to full stop. In the matter, a new controversy has triggered and this time from Balia of Uttar Pradesh. A government school has triggered outrages for not allowing students to recite 'Bharat Mata ki Jai' during the assembly hours.
In Balia, students of M.A.M Inter college are allegedly punished for reciting 'Bharat Mata Ki Jai' after prayer. The matter came to light after Shiv Kumar Jaiswal, the Committee Manager of Manas Temple, a social organisation, along with his colleagues visited M.A.M Inter College and questioned students if they are being punished for reciting 'Bharat Mata ki Jai.'
College economics teacher, Sanjay Pandey confirmed the reports and said that many students have been punished in the past for displaying their patriotism in school by means of the slogan. He also alleged that this happens as the school comprises Muslim teachers.
This school in Uttar Pradesh punishes children for chanting 'Bharat Mata Ki Jai'

Read @ANI story | https://t.co/hpKRjQkz9m pic.twitter.com/WGAf6YGKax

— ANI Digital (@ani_digital) October 6, 2018
"A teacher named Javed Akhtar recently punished a student by making him stand under the sun for long hours. This is happening for the past several months. This school does not allow students to chant the patriotic slogan as the majority of the staff is Muslim," Pandey said.
Meanwhile, Majid Nasser, the school's principal refuted the reports and said his organisation always instilled patriotic spirit among students at the institute.
When contacted Balia DM and asked in this regards, he said that "he is not aware of it right now. He said that such a thing has not come up yet."
"If there is anything then it will be investigated and action will be taken. This is a serious matter, he added.
"I have not heard anything like this happening inside this school. I myself very enthusiastically take part in all the patriotic programmes organised by the government. Not only that, on October 2, I have also taken part in the Swachh Bharat drive," he said.
Also read: Big blow to Arvind Kejriwal! Supreme Court rules out full statehood for Delhi