Understaffed and abysmal: India's police story in numbers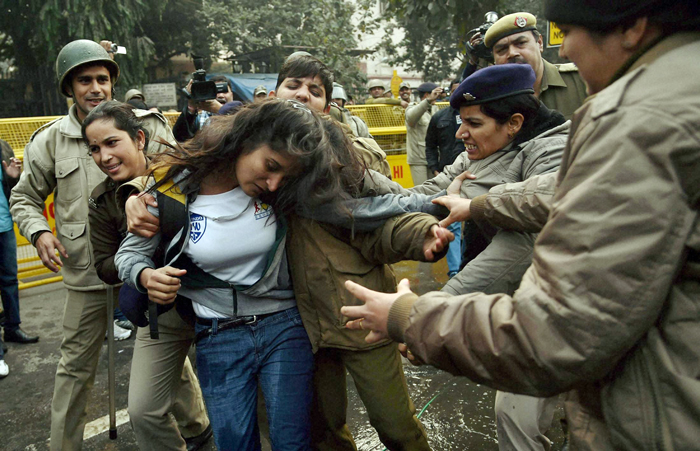 India is a huge country and policing the burgeoning population is indeed a tough task. Factors like political interference, daunting schedules, and low salaries make it tougher.
But external factors apart, there is a big question mark on the efficiency of India's police forces: remember how slow the cops were during the Pathankot seize and how they couldn't stop a car from breaking into the Republic Day parade in Kolkata.
Read- Sinister cell: how Delhi police created fake terrorists
So what ails the Indian policing system? Here's a look at the Bureau of Police Research and Development figures:
was the number of police personnel per 100,000 people in India in 2014.
The global average was about 350 in 2011.
Overall, 2.3 million personnel were protecting 1.2 billion people in India, covering 3.1 million square kilometres.
Basically, while one cop was sanctioned to manage 540 people, in reality s/he was responsible for 716 people.
Bihar and West Bengal face the biggest crunch.While 1 police personnel in Bihar serve 968 people, in its neighbouring state the number is 832.
the number of vacancies in both civil and armed police forces in January 2014.
Uttar Pradesh reported the most - 199,420 - vacancies, followed by Gujarat (42,870).
There were 18 vacancies at the top level in state police forces; at the constable level, the vacancy was 390,261.
The Union ministry of home affairs advised all states in September 2014 to fill these vacancies. The ball is in the court of the states as it is a state subject.
At Crime Investigation Departments - the wing for investigation of serious crimes - there were 1,441 vacancies; in special task forces, dealing with extremists, terrorists and gangs, the vacancy was 7,138.
Reasons for vacancy are plenty - from stressful duty hours, low salaries to slow recruitment.
Also read: Mr Kejriwal, here's 7 things you can do to stop rape without the Delhi police
is the total number of personnel in position at the Central Armed Police Forces (CAPF) in 740 battalions.
There are eight categories of CAPF:
Assam Rifles
Border Security Force
Central Industrial Security Force
Central Reserve Police Force
National Security Guard
Railway Protection Force
Sashatra Seema Bal
Indo-Tibetan Border Police Force
There is a total vacancy of 80,261 personnel in these cadres.
CAPF are engaged in important tasks like policing border areas, providing security to public sector undertakings, riot control, fighting insurgency. This huge vacancy indicates the vulnerability of India's security infrastructure.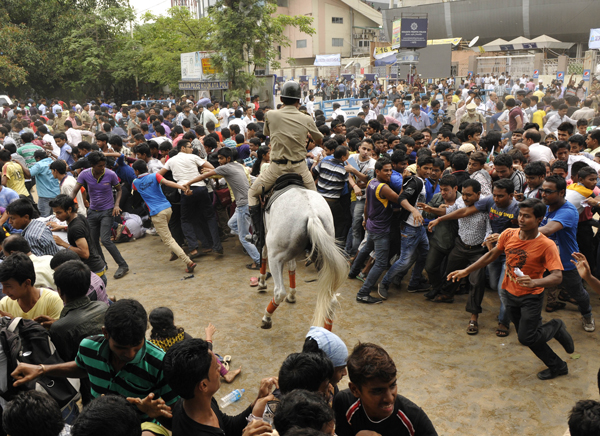 is the representation of Dalits in Indian police forces.
Many states have not fulfilled mandated reservations.
In UP, the government has laid down for a 21% quota; but only 8.7% of personnel are Dalits.
The highest gap (12.2 percentage points) in UP is followed by followed by West Bengal (8.76 pp), where Dalits make up 13.24% of the force against a stipulated 22%.
Tribal representation is meagre too - only 8.2%; even Chhattisgarh, with a heavy tribal population, has a deficit of 13.2 pp.
Read more: 33% quota for women in central police forces from this year
rupees
was spent on policing, excluding CAPF, across states in 2013-14.
This was double the amount was allocated to generate rural employment that year.
However, only 1.7% of this was for police training.
On an average, across states, only 2.9% of state expenditure is allocated under police heads; Odisha spent the least - 0.2%.
Lack of funds are a major challenge for police reforms. According to experts, underfunding has not only deterred modernisation but also led to a manpower crunch.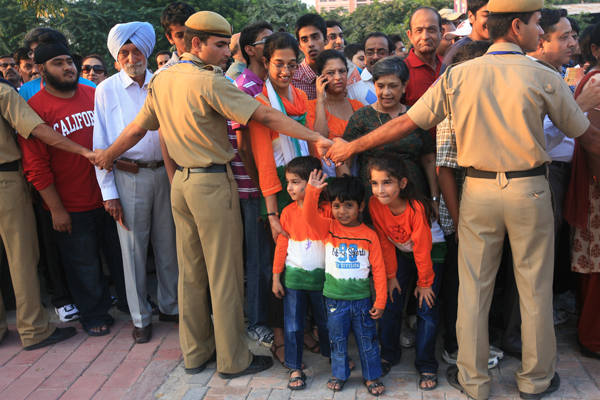 was the number of women in Indian police forces, excluding CAPF, far lower than western, developed countries.
Women made up only 6.1% of the forces; there are a total 518 women police stations.
Studies have indicated that women personnel were given mostly desk jobs and were not accepted by male colleagues.
In 2013, the Centre issued a guideline saying there should be a 30% representation of women and all police stations should have 10 female constables and three female sub-inspectors.
The worrying statistics include:
600 police buildings being operating from rented premises
153 firearms being stolen from police stations
an average 1,000 unlawful detentions by cops every year
Clearly our police forces are not in the best of shape; they are understaffed, minorities and vulnerable groups are under represented and funding is abysmal.
Edited by Joyjeet Das
More in Catch:
Pull up your socks Maharaja: Air India is being a laggard
Should Rohith Vemula's suicide be seen through the Dalit lens? Pinky Anand says no
As Hollande comes calling, time for Chandigarh's reality check
Netaji files declassifed: His death accepted in 1995 but no ammo for BJP to target Congress