Undeclared emergency in Kashmir: police seize newspapers, gag media
Catch Team
| Updated on: 10 February 2017, 1:48 IST
The crackdown
Police raided media offices in Kashmir and confiscated newspapers on Saturday morning
There is a near complete information blackout in the Valley
More in the story
How the protests are in no one\'s control
How is the media dealing with the crackdown?
After midnight on Saturday, around twenty police personnel barged into the office of the corporate office of Jammu and Kashmir's leading media group Greater Kashmir Communications, took away the plates of the English daily Greater Kashmir and seized 50,000 copies of the already printed Urdu daily Kashmir Uzma.
Police arrested Greater Kashmir Printing Press foreman Biju Chaudhary and two other employees. "Cops misbehaved with the employees present there and snatched their cell phones. The employees who tried to resist, were beaten up," writes Mir Iqbal in the online edition of the paper.
Also read - J&K: State, separatists move the battle online
Government also seized the copies of all the other regional English and Urdu dailies in midnight raids across Srinagar. Cable Television was also forced off the air, denying people access to even the national news and entertainment channels.
"Half of our paper was printed when the police seized it. We were not informed earlier, maybe because Government had no order or a declaration of emergency for example. So, they easily got away with a raid," said Sajjad Haider, editor of the daily Kashmir Observer. "This is worse than emergency. This is anarchy being let loose by the so-called elected state government. The press is being gagged without an order or an explanation. Who will pay us for our day's expenditure and the investment in printing?"
Also read - Separatists urge voters to avoid Mebhooba's Anantnag bypoll
Similarly, one-fourth of the daily Rising Kashmir had been printed when a posse of police men reached its printing press at Rangreth to seize the copies. "It is deplorable. Funny part is we have not even been communicated anything officially," says Shujaat Bukhari, the editor. "But this is nothing new to us. Press in Kashmir has faced many challenges since 1989. The tragedy is that the gag has been imposed by a government that claims to be democratically elected".
In 2010, the then Omar Abdullah led NC-Congress coalition government had similarly seized the copies of the local papers to stop their distribution. In fact, the authorities had also restricted the movement of journalists in Srinagar. The curfew passes of all journalists in Srinagar were cancelled, and fresh passes were not issued.
However, National Conference today strongly condemned "the unprecedented assault and suppression of media in Kashmir by the Mehbooba Government," a tweet that evoked some derision. "Role reversal. PDP issued a similar statement in 2010 when this party (NC) ordered media gag," tweeted Bukhari.
Communication blackout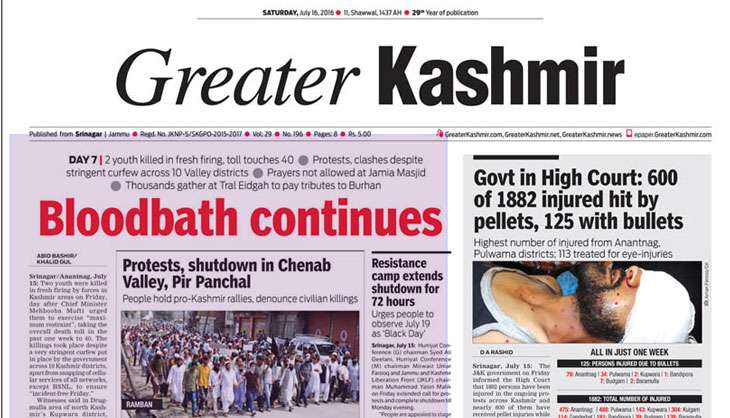 The gag on local newspapers and the cable television has effectively denied access to information to more than 95% of the population. Government functionaries privately justify it as a necessary step to prevent fresh mobilisation and the consequent loss of life.
"This is an extreme measure but for us this is preferable to further loss of lives. We will take all necessary measures that help in early restoration of peace," said a PDP leader, not wishing to be identified.
Also read - J&K: BJP terms Kashmiri separatists as 'Pakistani agents'
On Friday, the Valley woke up to a complete communication blackout with government cutting off cellphone and internet access. Only BSNL broadband service was left untouched, probably because of its minimal penetration. There are just 17,044 broadband connections in Valley.
But this didn't stop the protests from breaking out on Friday and billowing into a Valley-wide groundswell leading to three more killings and spreading further afield into pockets of Jammu province.
The security response has been harsh and indiscriminate, racking up a grim toll of the dead and the injured. According to the figures presented by the J&K Advocate General Jahangir Iqbal Ganaie to the High Court on Friday, 1882 persons have been injured in the ongoing clashes, 600 of them receiving pellet injuries and 124 hit by the bullets.
The government produced the district-wise list of the injured persons before a division bench of Chief Justice N Paul Vasanthakumar and Justice Muzaffar Hussain Attar, which was hearing a Public Interest Litigation by an NGO, J&K Peoples Forum.
Out of the 1800 injured, the court was told that 475, 488, 143, 304, 114, 181, 39, 138, persons were respectvely from Anantnag, Pulwama, Kupwara, Kulgam, Ganderbal, Bandipora, Budgam and Baramulla districts. Around 1600 of the patients were under treatment in different hospitals.
A report by Medical Superintendent of the Srinagar's SMHS hospital revealed that out of the total patients admitted, 113 were treated for pellet-injuries in the eyes, 43 for bullet injuries, 69 for extra-ocular injuries, 10 for tear gas shell injuries, 14 for injuries due to beating, and 10 others for stone injuries.
As things stand, the situation on the ground is by no means headed towards normalcy. One more youth identified as Showkat Malik was killed at Hatmulla Kupwara, taking the toll to 42.
Some video footage and the pictures of the unrest have also managed to make it to the social media.
A short video interview of an unidentified masked stone-thrower uploaded on Facebook by the daily Kashmir Monitor has garnered 275,734 views, 2700 likes, 3243 shares and 284 comments. The youth has a grim message to deliver: that the ongoing revolt has a life of its own and can't be controlled even by separatist leaders.
"We will not heed if our leaders (separatists) end the hartal and say that all is normal now. We do not want a repeat of 2008 and 2010 when everything went back to normal. This resistance will continue till we achieve Azadi," the youth says identifying himself as a leader of an unknown organisation Karwan-i-Azadi. "This fight is ours, the fight of the youth, we will take it to its logical conclusion."
More in Catch - J&K govt asks separatists how best to re-settle Pandits
Who are the Kashmiri separatists Pakistan so desperately wants to meet
J&K BJP unit asks Mehbooba to revise 'soft policy' on separatists