Udta Punjab: state spends Rs 7,500 crore on drugs every year. Censor that.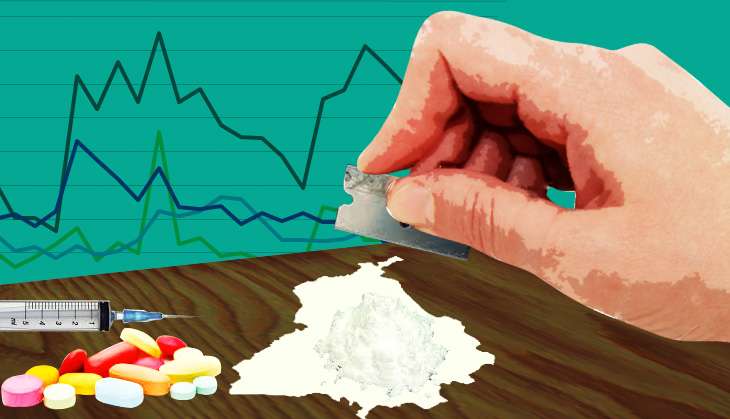 The Central Board of Film Certification has suggested 89 cuts in the film Udta Punjab, which deals with the drug menace in the state. But even this won't be able to hide how rampant drug abuse has become in Punjab.
Five years back Rahul Gandhi had highlighted the problem and in November 2014 prime minister Modi hosted a 'Mann Ki Baat' programme on drug abuse.
Also read - Udta Punjab or no Udta Punjab, there is a huge drug crisis in Punjab
However, nothing has been done to tackle the drug menace, except for the imposition of useless restrictions on a movie which is talking of this problem.
Here are a few statistics.
Quantum of drugs seized from Punjab between 2011 and 2014.
During this period, Punjab stands as the second highest drug market in the country, less than only Mizoram.
"Punjab has been known for wide spread use of poppy husk, smack, cocaine, bhang, opium and drugs like Mandrox/Cough Syrup (Corex) injection like for twin and morphine etc. The above said drugs and alcohol are mainly being used by farmers, labourers, self-employed professionals, drivers and youth, especially students," according to directorate of social security, Punjab government.
Share of drug abuse among youths in Punjab according to the National Crime Records Bureau.
The national average is 2.8%.
Additionally, Amritsar and Ludhiana are two of the leading cities in India with drug abuse and illicit drug trade.
Estimated annual expenditure on opioid drugs in Punjab, according to a study by All India Institute of Medical Sciences.
Of this, a whooping Rs 6,500 crore is spent on heroin.
This is hundred times more than what the state budget allocated for rural rehabilitation and drug de-addiction centres.
On an average a heroin dependent person spends Rs 1,400 per day.
On further crunching of numbers, the study said that an average of Rs 20 crore are spent daily on drugs. However, Surjit Kumar Jyani, health minister of Punjab had this to say -''I have my doubts".
Drug dependency has spread across the state and it has increased in the past decade and there is a major gap in the availability of treatment.
More in Catch - Clipping 'Udta Punjab' is shutting out reality, say Punjabis
Shadow Lines: the drugs and terror track in Punjab
Udta Punjab censorship: politics, not expletives, behind the move