Two years of Modi as PM and the media has taken a beating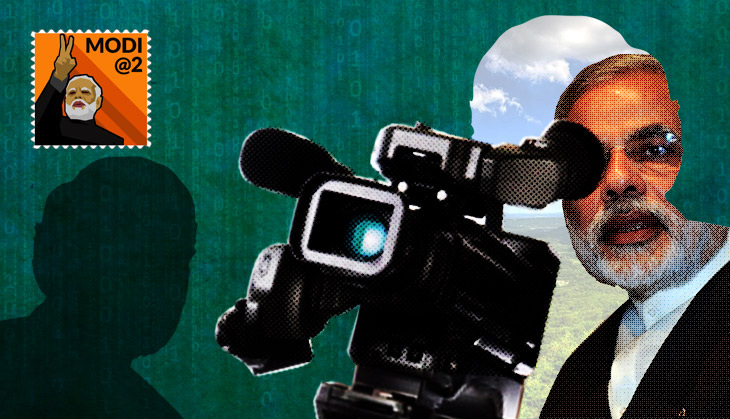 I need not go further than two recent reports in India's leading media outlets- India Today and NDTV- regarding celebrations planned to mark two years of the Modi government. While the India Today report says nothing about Modi's visit to Saharanpur in poll bound Uttar Pradesh on 26 May, i.e the day he completes two years in office, the NDTV report leads with it, but states uncertainly that 'he might address a rally in Saharanpur.'
In terms of news value this is hardly privileged information. Yet this information is being attributed to 'sources'. Not one BJP leaders is willing to come on record.
Read- Modi@2: 24 months, 24 controversies that have caught the public eye
For the media, especially the beat reporters, this is the crux of the problem. All information relating to the prime minister is tweeted exclusively by Modi himself with the help of a team of techies located in South Block.
Think of Modi's surprise visit to Pakistan; or his meeting with former Prime Minister Manmohan Singh a year ago; or the recent release of a song to mark the completion of two years in power. Nobody knew about it till the PM tweeted. Not even his powerful minister Arun Jaitley. With more than 17 million twitter followers, second only to Amitabh Bachchan, Modi has done away the need for the PMO beat reporter.
Twitter enables the PM to choose the timing and even the wording of the information without having to worry about counter-questioning by a pesky reporter. He has met the media only twice- once in 2014 during Diwali and on another occasion at Finance Minister Arun Jaitley's residence where he played host to Delhi's media corp.
Modi's style
As a veteran BJP beat reporter for more than two decades, unwilling to come on record, says, "PMO does not have a media advisor (like Sanjaya Baru or H K Dua). Instead Jagdish Thakkar, the media point man in the PMO has been designated as Public Relations Officer. He is not available most of the time and responds only after you have sent him 10 to 20 messages and called multiple times on the phone." But he adds, 'Thakkar himself does not know much. How will he know, when senior ministers are themselves clueless about the Prime Minister's engagements'?
Also read: Modi's 2-year report card's done to death. Check out how the Opposition did
Yet another BJP beat reporter from a prominent news channel says that there were indications that things would change after BJPs drubbing in Bihar. As a matter of fact, even party president Amit Shah indicated to the beat reporters that he would henceforth be meeting the Delhi media at least once a month. But after a few months this was discontinued. "It is virtually impossible to get an appointment with Shah. At most he may speak to you informally. Nothing on record", complains the reporter. Is Shah trying to do a Sonia? Or is he simply following Modi's style?
Perhaps this is Modi's style. Those attacking journalists are being given a wide berth. When journalists were attacked at Patiala House Court by goon lawyers alleged to be affiliated to the BJP, there was no formal condemnation by the party. Only Arun Jaitley issued a statement of condemnation, though another minister Ravi Shanker Prasad had earlier stated the need to 'hear alternative voices' from the JNU campus. Reporters covering the JNU crackdown were hounded by the police with midnight knocks, even as networks like Zee that allegedly aired doctored videos were allowed a free reign. Journalists in Maoist-hit Chhattisgarh reporting from one of India's most heavily policed regions have been forced to quit the area after harassment at the hands of the state administration. The examples are plenty.
The media is polarised with news networks accused of taking political positions. Zee, whose owner Subhash Chandra openly claims RSS allegiance is best known for its proximity to the government. Its editor Sudhir Choudhary is the only journalist that Modi follows on twitter. The pack leader in the English news segment Times Now was accused by one of its regular studio guests Hartosh Singh Bal, of suggesting that he tone down his strong criticism of Arun Jaitley on the DDCA controversy. When Bal refused, his studio appearance was cancelled. He can no longer be seen on Times Now.
Read more: If Narendra Modi has managed to bring Achhe Din for someone, it's the RSS
TV channels like NDTV and ABP news that are not considered pliable, are boycotted by the party. One is unlikely to see any BJP spokesperson on either of the networks these days.
The most noxious weapon in the BJP armoury is the social media trolls. While BJP has consistently disowned them, there are charges that they are paid by the party. Some of them are even followed by the PMO twitter handle.
Recently chief of BJP's IT cell Arvind Gupta was locked in a bitter war of words with senior journalist Sagarika Ghose, with the latter alleging that trolls were paid (by the BJP) and Gupta replying with the counter-charge that mainstream media was on the payrolls of anti-BJP elements. This open baiting of senior journalists by those placed in positions of responsibility within the BJP is almost without precedent.
In the recent past a number of senior anchors like Ravish Kumar and even Rajdeep Sardesai (if only briefly) have gone off Twitter after hate and poison released by trolls on social media platforms. For women journalists it has been worse. Swati Chaturvedi, Neeta Kolhatkar and even Barkha Dutt have filed police cases after receiving rape threats at various points recently. Not a single arrest has been made till date.
The central plank of Modi's media policy has been to set agenda and control the pace of information flow, yet keep the press at an arms-length. Basically, engage with the media on his terms. The jury is however out with regard to who has the upper hand in this battle of wits as Modi's rule enters the third year.
(The views expressed here are personal and do not necessarily reflect those of the organisation.)
Edited by Anna Verghese
More in Catch:
Modi@2: 24 months, 24 controversies that have caught the public eye
The issue is sexual harassment and trolling. Not 'free sex'
2016 Billboard Music Awards: the worst of fashion hits the red carpet
Selfies with Frida, sketching Begum Akhtar's childhood - Gitanjali Rao's been there, done that