Two weddings and a funereal atmosphere: life after Akhlaq in Bishara
The weddings
Two Muslims girls, sisters Jaitun and Reshma, got married on 11 October
These were the first Muslim weddings in village Bishara since Mohammad Akhlaq was lynched
The insistence
Everyone in the village went out of their way to insist that all was fine
But the atmosphere in the village was anything but normal
More in the story
The real mood of the village after Akhlaq\'s lynching
The strange gifts that the girls\' father, Hakeemuddin, received from cops
They knew the eyes of the world were on them, and not for any good reason. And the people of Bishara went out of their way to insist that the atmosphere was fine.
Almost two weeks ago, in this very village in the Dadri region of western Uttar Pradesh, a local Hindu mob had lynched Mohammad Akhlaq for eating and storing 'beef' in his refrigerator. Beef that later turned out to be mutton in lab testing.
Akhlaq's son, Danish, who had been roughed up and left for dead, was still battling for his life in a hospital.
The issue had blown up into a huge national and international story, with even the President and Vice-President of the country condemning it and appealing for calm.
Against this backdrop, on 11 October, the village hosted its first Muslim weddings since the lynching. Sisters Jaitun and Reshma were getting married to Nazim and Momin from nearby villages.
Everyone insisted the weddings would be normal. There was hardly anything normal about them.
No songs, no laughter
The grooms arrived sometime after noon, very early by Bishara's standards. The plan was to solemnise the weddings quickly and leave before dusk.
In such close-knit village affairs, women's presence is generally felt from a distance through their folk songs and laughter. On Sunday, they remained unseen and unheard. Nor was any other music played for children and elders to sing along or dance to.
And, of course, no meat was served at the feast.
Everybody chipped in
A few hours before the wedding, Sanjay Rana, Bishara's pradhan (headman), sitting at his home with several other village elders, kept repeating how everyone had pitched in to make the weddings successful.
"Everyone has participated in these weddings. Today's weddings are just the way weddings happen in this part of the world," he said.
A few minutes into the conversation, he saw Hakeemuddin, the father of the brides, passing by. He called him over. "Hakeemuddin, tell him, isn't everything normal here? Is there anything amiss with the weddings?"
Hakeemuddin was visibly anxious, and still not in a state to receive the grooms. He nodded politely and was let go by Rana.
The voice from a window
As the preparations at the village's school grounds continued in full swing, Muslim families living next door to Bishara's mosque remained inside, peeking from their windows.
A few minutes after hundreds of people had lynched Akhlaq, beat up his son and dragged them out of their house, located on the other side of the village, the mob had rushed towards the mosque. There, it attacked more Muslims.
Sisters Jaitun and Reshma got married on 11 Oct - the first Muslim weddings since Akhlaq's lynching
The mosque is now guarded round the clock by around 20 armed policemen of UP's Provincial Armed Constabulary.
A man, peeking through a window in his house next to the mosque, began talking without provocation.
"Everything is normal here. We are feeling secure and the government has promised our safety." The man said he would 'of course' join in the celebrations, but didn't seem in any hurry.
Back at the school grounds, local leaders and senior members of the administration started arriving. The local BSP MLA, the sub-divisional magistrate and their retinues made a quick inspection of the venue, greeted those present and left.
Almost off, then on again
Rizwan Ahmad, one of Hakeemuddin's relatives who'd come from Dadri, was asked about reports that everyone at the village, including the Hindus, had contributed funds to meet the wedding expenses.
"I don't know who's going around telling people this. Only we [brides' relatives] have taken out money from our savings to meet the expenses here. Nobody else parted with even a penny. We're poor people, only we know how we arranged all this," Ahmad said.
He added that the grooms' families, from nearby villages Sadullapur and Pyawali - had initially refused to come to Bishara. The weddings had come close to being called off.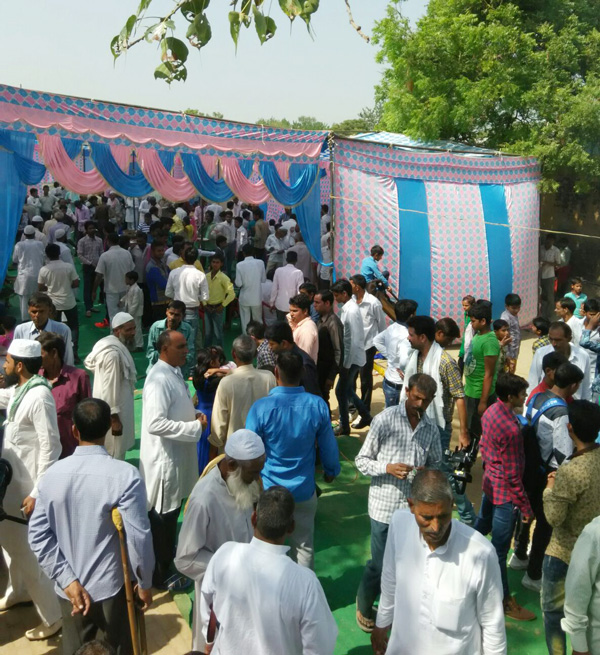 But then, many from the village assured the grooms' families of their safety.
Haji Mohammad, who came from Pilakhuwa, said the weddings had to happen here in Bishara, for the sake of their community.
"The thing is, we just can't run away. Today if we run out of Bishara, we may find shelter in Masuri [a Muslim-dominated village]. But tomorrow, if that village is also attacked, will we flee from there also? How long can we keep running like this? If we have to die, we'll die in the land of our fathers."
Odd choice of gifts
Some other invitees to the wedding, many of whom had seen each other for the first time in many days, kept murmuring about 'the incident'. Some discussed the health of Danish. And many were disappointed looking at the menu - mattar paneer, chhole, dal, but no gosht (meat).
Just before the grooms arrived, Hakeemuddin, who was still not dressed, was surrounded by cops. They posed for photographs with gifts they gave to the brides' father - two sewing machines, one for each daughter.
It was an unusual choice, given how everyone in the village knows and dreads how Akhlaq was murdered - by being smashed with his sewing machine repeatedly.
Unsurprisingly, the gifts didn't bring a smile to Hakeemuddin's face.