Troubled times: Communal unrest blights festive week in heartland India
Nasiruddin
| Updated on: 11 February 2017, 5:46 IST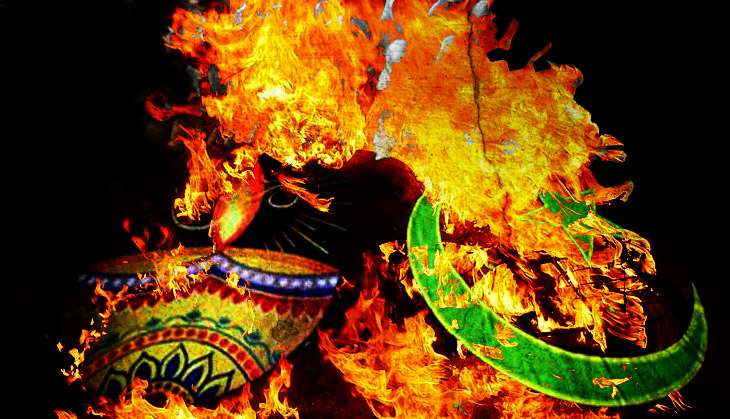 Even amidst the gaiety of the festive season, communal discord is rearing its ugly head. Last week alone, no less than 48 incidents of communal violence were recorded from across six states. At least two people, including a young girl, were killed and dozens injured.
Uttar Pradesh and Bihar were the worst affected. The eastern regions of UP are still tense, whereas Bihar is witnessing communal unrest at this scale after a long time.
Following is the brief account of some of the major communal clashes that took place last week, coinciding with the festivals of Dussehra, Durga Puja and Muharram.
Uttar Pradesh
On 12 October, Muslim and Hindu mobs pelted stones at each other in Kotwali, Gonda. Apparently to protest the violence, some people from a procession taking a Durga idol for immersion sat on dharna at Guddumal Chowk. That they did so near a mosque did not help the situation, which deteriorated further in the evening when the police tried to intervene.
Also Read: State of despair: UP tops communal violence record; who's to blame
As news of the stone-pelting spread to other parts of Gonda, members of various Hindu groups hit the streets, forcing shopkeepers to down shutters. BJP MPs from Kaiserganj and Gonda, Brij Bhushan Singh and Kirti Vardhan Singh, respectively, joined the dharna at Kotwali.
The police arrested 17 people in connection with the violence, three of whom were later released.
Gonda's Tajiadaran Committee was set to take out a Muharram procession in the evening, but refused to do so citing lack of adequate security. A local BJP leader was arrested on 13 October for inciting communal tension.
Communal tension also gripped Mau region on 12 October after rumours circulated that a Durga idol had been broken.
In Aligarh's Jalali region, there was trouble after an effigy of Ravana was allegedly burnt on land belonging to a Muslim graveyard.
A Muharram procession sparked to clashes between Hindus and Muslims in Moradabad's Bilari. Violent clashes over two days caused injuries to several people.
Bajrang Dal members conducted Shastra puja at Govind Nagar in Bilari. The ceremony was followed by aerial firing. Two Bajrang Dal leaders were arrested, only to be released later.
On 13 October, a dispute erupted in Bahraich's Fakharpur when people leading a Durga Puja procession "objected to songs being played near a mosque in Gumma Khan Purva area". The confrontation soon escalated to stone-pelting, in which the idol was broken and several people were injured. Also, several houses and huts were burnt down, leading to the death of a young girl. Two people are reported missing.
According to an official in Bahraich, at least 34 houses belonging to both Hindus and Muslims were burned. The locals alleged that the violence was incited by "outsiders". The police has arrested 34 people. The state has announced a compensation of Rs 4 lakh for the family of the slain child, while the families of the injured have been promised Rs 7,900 each.
The same afternoon, "pieces of flesh" were allegedly thrown at a Durga Puja march in Nanapara area of Bahraich. The tension was, however, contained after the intervention of elders from both communities, and the procession resumed. One person was arrested for throwing flesh at the march.
There were violent clashes in the city's Nawabganj area as well following a dispute over the route of a Muharram procession. The situation deteriorated on 14 October when members of the two communities confronted each other over the pulling down of a wall. Several people were injured in the violence that followed.
Clashes broke out between Hindus and Muslims in Deoria's Lar town after some people objected to the raising of religious chants. The police bore the brunt of the mob's fury when it tried to disperse the crowd.
In Kushinagar's Kuber, it was the route of and elephants in the Durga Puja convoy that became the reason for the confrontation. There was mayhem on the streets for hours, including stone-pelting, firing and arson. Dozens of people were injured. Two of them are said to be critical. Several shops, a godown and a school were reduced to ashes.
So tense was the situation, the Friday prayers could only be conducted amid tight security. In the evening, the police arrested several activists of the Hindu Yuva Vahini.
A Muharram procession in Baraily's Nawabganj on 13 October was stopped by a group of Hindus, who wanted it to follow a different road. The stand off led to clashes. On 14 October, stones were pelted on a Muharram procession in Hargaon, Sitapur. The violence that followed led to injuries to dozens of people.
Also Read: Uttar Pradesh: 3 cops suspended, 13 arrested after communal violence in Gonda
The raising of "provocative slogans" during a Durga Puja procession in Balrampur sparked tension, which reached a tipping out after colour was poured over some shops and a mosque.
In the same region, a group of Hindus objected to a tableau in a Muharram procession, terming it as "anti-national". This was followed by the circulation of hate messages on social media.
Similar incidents of communal violence was reported from Shravasti, Balia, Kunda, Bhinga, Pilibhit, Chitrakoot, Barabanki, Faizabad, Saharanpur and Etawah.
Bihar
Violence erupted in Motihari after a puja pandal in Turkolia was reportedly vandalised on the night of 11 October. Several shops were burnt down in the mayhem that ensued. The police had to resort to lathicharge to disperse the mob and suspend internet services to stop rumours from spreading. There is still tension in the region.
Sugauli in East Champaran witnessed violence during Durga idol immersion on 14 October. It all began when a firecracker burst by someone in the Durga Puja procession fell inside a shop and caused a fire. Some shopkeepers and local people in turn pelted stones at the parade. In "retaliation" for the stone-pelting, scores of houses and shops were torched.
Clashes also took place in West Champaran's Bettaih. Several people were injured, one of whom later succumbed to his injuries. Another man died of cardiac arrest during the clashes.
Bhojpur's Piro was gripped in communal tension after violence broke out over the route of a Muharram march on 12 October. The violence continued for the next two days; several trains were attacked and dozens of passengers beaten up. Internet services have been suspended in the region.
Similar incidents were witnessed in Sitamarhi's Riga and Madhepura's Bihariganj. Several policemen were beaten up and government vehicles smashed during the violence. In Madhepura the situation remained tense for several days. The district magistrate, along with other senior officials, has since visited the area and appealed to the people to open their shops.
Also Read: Communal violence up by 17% since 2014: Parliament report
Stone-pelting and firing took place in Gopalganj's Turkaha on 14 October. The next day, several shops, almost all owned by Muslims, were ransacked.
In Gaya's Manpur, some people allegedly eve-teased girls in a Muharram procession on 13 October, triggering violence. The Mufassil area of Gaya was deserted Saturday after a religious place was vandalised Friday night. Tension simmered in Darauli, Mahadeva and Chhapra, and there were also reports of communal tension in Aurangabad.
Madhya Pradesh
Clashes took place in Dhar's Pipalyam village on 12 October during a Muharram march. At least 10 people were injured, and several shops and vehicles were burnt. Small incidents of communal violence were reported from Dhar's Gandhwani and Dhamnod areas as well.
In Dedla village of the same area, there was a confrontation on the night of 12 October following Dussehra celebrations. Several religious places were stoned the following day. According to local newspapers, the Hindu Jagran Manch organised a bandh in Dhar to protest the violence on 14 October.
A bandh was also observed in Jhabua's Petlawad following violence during a Muharram procession. The Hindu groups accused the police of manhandling an RSS activist.
Communal unrest was also reported from Anjad in Badwani and Bhauransa in Dewas during Muharram and Durga puja processions, respectively.
West Bengal
Several places in the state witnessed communal violence and arson on 11-12 October. The worst-hit areas were Kharagpur, Hooghly, South 24 Pargana. In Kharagpur, it was a rumour about a bomb being planted to target a Muharram procession that triggered the violence.
Maharashtra
Groups of Hindus and Muslims clashed in Thane's Bhiwandi area after the Muharram march. The violence erupted after some gates erected for Navratri celebrations were damaged during the Muharram procession. The situation worsened after a video of the damaged gates went viral on social media.
Karnataka
There was violence in Belagavi's Shetty Gali after a green flag was hoisted on the night of 11 October. Several people were injured and at least a dozen vehicles were damaged.
Also Read: Jai Shri Ram: Why Modi's Dussehra speech was just dog-whistle Hindutva