Tribal dies of hunger in 'food secure' Chhattisgarh. Who is to blame?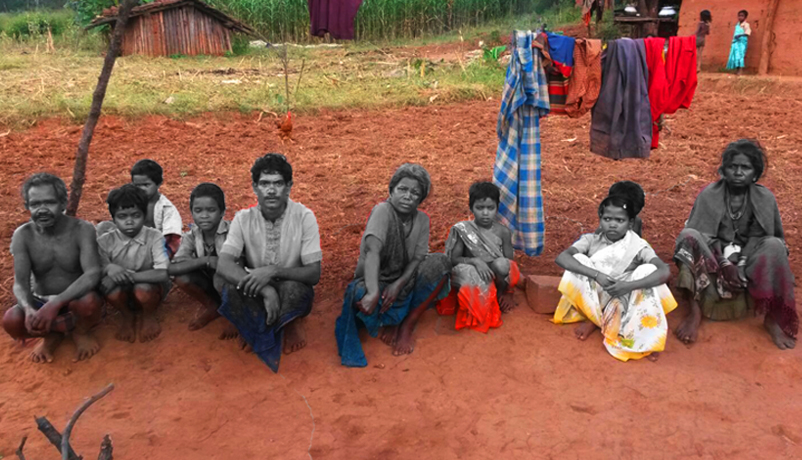 The tragedy
Lambu Ram, a Hilly Korwa tribal of Chhattisgarh, died of hunger
He had taken his wife to a PHC and went 3 days without food
He had lost his subsidised ration card to a money lender
The crisis
For most Hilly Korwa tribals, a meal a day is a luxury
Most of them make ends meet by selling forest wood
Congress alleges tribal funds arre siphoned off by politicians, officials
For years now, Chhattisgarh has touted its food security law as the best in the country.
The state claims to have freed 90% of its people from hunger by providing cheap food grains. It has even got Chief Minister Raman Singh the sobriquet of "Chawalwale Baba".
Of course, Sukhni Bai's family never got any of the largesse. Or she wouldn't have had to see her husband die - of hunger.
A meal a day is a luxury for most people in Sukhni's Sanna Keledragraha village in Bagicha. But the situation is particularly dire for her Hilly Korwa tribe.
Sukhni's husband Lambu Ram, 60, barely made ends meet by selling forest wood, like most of the 20 odd Korwa families in the area.
In early September, Sukhni got an infection in her left eye. Fearing she may lose her vision, Lambu took her to the nearest PHC several villages away. The doctors said she will need daily injections, so the couple decided to stay in some empty huts nearby.
But they had little to eat.
Lambu fed whatever he could find around the place to his wife. "He ate nothing himself," Sukhni says.
After three days, they decided to return home. "He started reeling from hunger as we entered Khutatanger village. I saw him die in front of my eyes," says Sukhni. "I could do nothing."
"Lambu often told me about his family's distress because they didn't have food. He was very poor," says Dil Kumar Bhagat, the sarpanch of Sanna.
But why didn't the Food Security Act save Lambu?
Surfeit of suffering
As per the law, Lambu's family is in the Priority Households category, which means it is entitled to 35 kg rice, wheat flour, pulses, gram and iodised salt at subsidized price every month.
This made the ration card provided by the state the family's most-prized possession.
So, when Lambu's father Jhamak became ill in 2014, the family mortgaged the ration card to borrow Rs 1,000 from a local money lender for his treatment.
Lambu Ram barely made ends meet by selling forest wood, like the other 20 odd Hilly Korwa families
Jhamak died, however, and the family used the money for his last rites. "We could not pay back the money lender and he confiscated the ration card," says Lambu's mother Vijni Bai.
Parmeshwar, the money lender, now claims he took their ration card only for "verification purpose".
The family tried to get the ration card re-issued, but in vain. "The panchayat secretary asked for Rs 500 bribe to get the card re-issued. We did not have that much money," says Sukhni, who is now staying at her parents' home in Khajrikona village.
Jashpur's collector, Him Shekhar Gupta, is sceptical of Sukhni's claims. "The ration card would not have been issued due to lack of eligibility. I have sent a team to investigate the matter," he says.
The state, though, is reluctant to admit that Lambu died of hunger. "It is not yet confirmed that hunger was the cause of his death. We are investigating," says Prem Kumar Patel, SDM of Bagicha.
Deadly politics
Lambu's death, meanwhile, has handed the opposition a stick to beat the BJP government with. The Congress accused it of "administrative terrorism" and demanded a compensation of Rs 20 lakh for the family.
The party has also vowed to take the matter to the president. "I have visited many Korwa households in the region. Every family is facing starvation. The leaders and officials are siphoning off the money meant for these tribals. The government must ensure their food security," says Bhupesh Baghel, the party's state chief.
Panchayat secretary asked for Rs 500 bribe to get the ration card re-issued: Lambu's wife Sukhni
The Chief Minister, on his part, has called for a report from the collector and promised "necessary action".
"The Hilly Korwa is a protected tribe. It's a matter of grave concern if anyone among the tribe has died of hunger. We will investigate the matter," says Jual Oram, the union minister for tribal affairs.
In 1952, India's first president Rajendra Prasad had called Hilly Korwas his godsons. In the six decades since, the country doesn't seem to have done much to give provide a life of dignity.
Will Lambu's death change anything?