Traditional, conservative & anxious: India's youth a ready vote-bank for BJP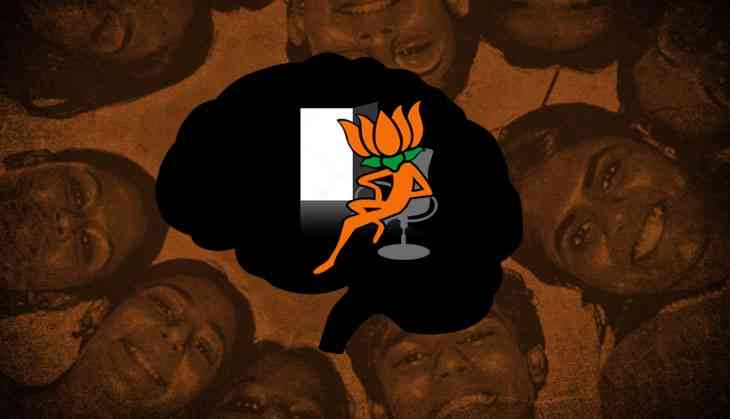 If a recent study on Indian youth is anything to go by, it is time for the country to get really worried about its future. The sample-survey based study essentially establishes a large number of young people in the country as anxious, conservative, majoritarian and desirous of only government jobs. The most surprising findings of the survey are that, contrary to popular perception, a large number of them are not glued to social media.
The Centre for the Study of Developing Societies (CSDS) conducted the survey a year ago, during April and May, 2016, in partnership with Konrad Adenauer Stiftung (KAS). They spoke to 6,122 respondents, aged 15-34. A total of 19 states were covered, with Goa, Himachal Pradesh, Uttarakhand, Jammu & Kashmir and all North Eastern states being left out. The survey has been published in The Indian Express.
Profile
About 32% of the respondents were found to be students, 18% working in the agricultural sector, 18% staying at home, 7% businessmen and 2% in government jobs. About 22% were involved in occupations other than these.
Nearly 46% of them were married and 84% among these had gone for arranged marriage. Only 4% of these had married into caste other than their own. However, over 50% found the concept acceptable.
Aspirations
An overwhelming number of these youth – 65% - aspire for a government job. Only 7% wanted a private job, with 19% wanting a to start their own business.
Beliefs
Looking at the survey's data, large number of youngsters in the country appear to be religious and conservative in social approach. About 35% of them admitted to being highly religious, with 12% among these being very highly religious.
About 41% agree, although in varying degrees, that married women should not work, 43% believe men are better leaders, 51% think wives should always listen to their husbands and only 1 in 4 approved of same-sex romantic relationships.
When it comes to acceptance of others' traits and practices, 27% expressed at least some unease about having a neighbour who cooked non-vegetarian food, 22% about a neighbour from a different religion, 26% about an African neighbour and 47% about being neighbours with an unmarried boy and girl living together.
For all their conservatism, these youngsters have shown a surprising level of support for reservations in education and jobs. About 48% support quotas for SCs and STs in jobs and 46% in education; 45% support quotas for OBCs in jobs and an equal percentage in education.
Hindu upper caste youth stand out for their opposition to quotas, which may indicate that belief in upper-caste hierarchy continues to permeate to new generations. Incidentally, casteism figures among the last of India's problems, in order of their priority.
Political views
Based on their response on various parameters, largest number of youngsters appear to be a ready constituency for the BJP. Although 48% of them said that they didn't identify with any party, 20% said BJP was their preferred party. About 16% preferred non-Congress, non-BJP, non-Socialist and non-Left parties and only 10% preferred Congress.
Many things about these youngsters identify with the 20% support for BJP. A large number of them are highly religious and identify with traditional patriarchy as well as upper-caste hierarchy. Besides, 49% want death penalty to be retained in law, 60% want ban on films that hurt religious sentiments ad 46% believe that eating beef is not a personal choice and it must be restricted. The only departure from a majoritarian point of view is that 45% of youth agree that Muslims are falsely implicated in terror cases. Within the youth, Muslims and Sikhs are more likely to hold such a viewpoint than Hindus and Christians.
The youth appear to be very little concerned with society's problems at large. Among those who do, 18% feel that unemployment is the country's biggest problem; next being poverty and economic inequality (12%), corruption (9%), access to clean drinking water (6%), population growth (4%), illiteracy (3%) and casteism and communalism (3%).
An anxious generation
The disturbing part of the survey results is that 55% respondents were found to be highly anxious, with urban youth and youth with higher economic status and better education more so. Interestingly, most of them seemed most concerned about their parents' health but in terms of other worries, variations were seen in different age-groups. Among 18-25-year-olds, 78% were worried about jobs but among 15-17-year-olds, 83% were anxious about education.
The survey also challenges a popular perception about youngsters by claiming that majority of them either never use social media (Facebook, Twitter, Whatsapp and YouTube) or use it very rarely. The organisations behind the survey have not yet released other data like urban/rural classification which leaves a few areas dark. For example it is not clear what could be the reason behind the surprising data on use of social media.
One of the possibilities could be low internet usage in rural and semi-urban areas, but that is only a guess. CSDS and KAS are likely to release the data in more detail soon and that will tell the rest of the story.