Meet Sanjiv Chaturvedi: anti-corruption crusader, Magsaysay winner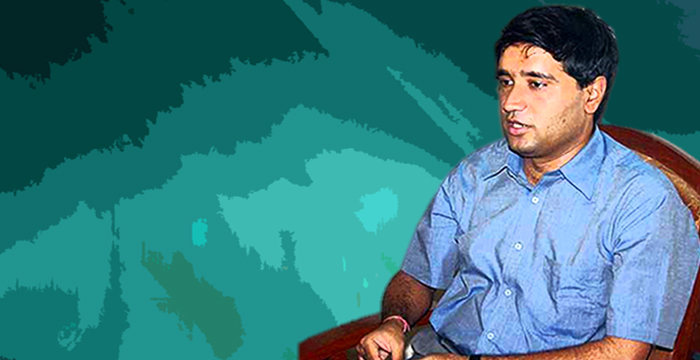 The man
Sanjiv Chaturvedi joined the Indian Forest Service in 2005
On his first posting, he exposed illegality at Saraswati Wildlife Sanctuary
As CVO of AIIMS, he unearthed 165 cases of corruption
His mission
Weed out corruption: On every posting, he unearthed illegality
Government officials, he says, are trustees of public fund, natural resources
The award recognises his \'integrity, courage and tenacity in exposing corruption\'
The cost
Transferred 12 times from 2005 to 2012
Slapped with 5 criminal cases, but cleared of all charges
Removed as CVO of AIIMS last year
Mired in court battles against the government\'s various orders
It's telling that the Philippines-based Magsaysay Award has honoured Sanjiv Chaturvedi for work that his own government has harassed him for.
And even more telling is that he's been made jobless for apparently no other reason than for exposing corruption.
It was his drive against corruption at AIIMS that brought him to attention, but Chaturvedi's crusade began as soon as he joined service as a young Divisional Forest Officer in 2005.
Early battles
Fresh out of Dehradun's National Forest Academy, he was deputed to Saraswati Wildlife Sanctuary in Kurukshetra, one of Haryana's largest protected areas which is home to the rare hog deer, blackbuck and wild boar.
There, he found contractors and officials of the state's irrigation department poaching hog deer and felling trees illegally.
The cover for the illegality: digging for the 110-km Hissar-Kurukshetra canal, which ripped through the sanctuary in violation of the Wildlife Protection Act.
Chaturvedi, new to the job, could have watched it all silently, especially knowing that the canal was a pet project of the state government.
Instead, he diligently lodged FIRs against the accused officials and contractors and alerted the Chief Wildlife Warden, R D Jakati.
To his surprise, Jakati overruled him. And within weeks, he was transferred out to the remote town of Fatehabad.
In Fatehabad, he found his department was spending crores of rupees to buy rare trees and medicinal plants for a herbal park.
The park, it turned out, was being built on private land belonging to the family of Prahlad Singh GillanKhera, a powerful local politician who was close to the then state forest minister Kiran Chaudhary.
Chaturvedi stopped the work and began investigating the sanction of funds. For this "indiscipline", the government suspended him on 3 August, 2007.
It was only after Ekta Parishad, an NGO, petitioned the Supreme Court against the park that Chaturvedi was reinstated in January 2008. But he was kept without a posting for six months.
When he was finally given one, it was below his rank. He moved the Central Administration Tribunal, and won.
Posted as DFO to Jhajjar, he continued his struggle, exposing a Rs 5 crore fake plantation scam. This time he just waited for his next transfer order. It duly arrived.
From 2005 to 2012, Chaturvedi was transferred at least 12 times, his longest posting lasting just 7 months.
On every job, he unearthed corruption or illegality. And every time, the state got him out of its way, only to realise he wasn't going to stop.
In the spotlight
Then he landed at AIIMS in New Delhi as Chief Vigilance Officer. Over two and a half years of investigations, he exposed 165 cases of corruption.
In that period, attempts were made to remove him, but it was only after J P Nadda took over as the NDA's health minister last year that Chaturvedi was removed.
And some of the corruption cases he had probed were ordered to be investigated afresh.
From 2005 to 2012, Chaturvedi was transferred at least 12 times. His longest posting lasted just 7 months
What drove Chaturvedi to keep fighting against such odds? "We are trustees of the public fund, of these natural resources," Chaturvedi once told his brother Rajiv, also an Indian Forest Service officer in Rajasthan.
He paid a heavy price for being upright. Besides the harassment of frequent transfers, he was slapped with five false criminal cases.
The charges: criminal intimidation, bribery, stealing a tree and even abettment to suicide (when one of the 40 forest officials he had suspended for corruption killed himself).
He came clean in all these cases, but is still caught in a slew of court battles against various government orders against him, including for his removal as CVO of AIIMS.
'We are trustees of the public fund, of the natural resources,' says Sanjiv Chaturvedi
Fearing for his safety, Chaturvedi family had suggested he seek protection. He refused, saying it would send "a wrong signal that I am scared".
"Dharma is doing your duty without cribbing, irrespective of the consequences," he told them. "I am enjoying myself".
It's to honour this "exemplary integrity, courage and tenacity in uncompromisingly exposing and painstakingly investigating corruption in public office and his resolute crafting of program and system improvements to ensure that" that he has been chosen for this year's Magsaysay Award.
Tellingly, the award comes at a time when Chaturvedi has been jobless for months. Chief Minister Arvind Kejriwal wants him to lead Delhi's Anti Corruption Bureau but the central government hasn't approved the request.
"I am very disappointed with the functioning of the PMO. I worked with the policy of zero tolerance as espoused by the PM, took this message to heart and took considerable personal risks to break corruption in AIIMS," Chaturvedi told the media after the award was announced.
But it was "only because of an independent judiciary that I was able to survive".
The government better take note.