The story of Yakub Memon: his hanging will leave many questions unanswered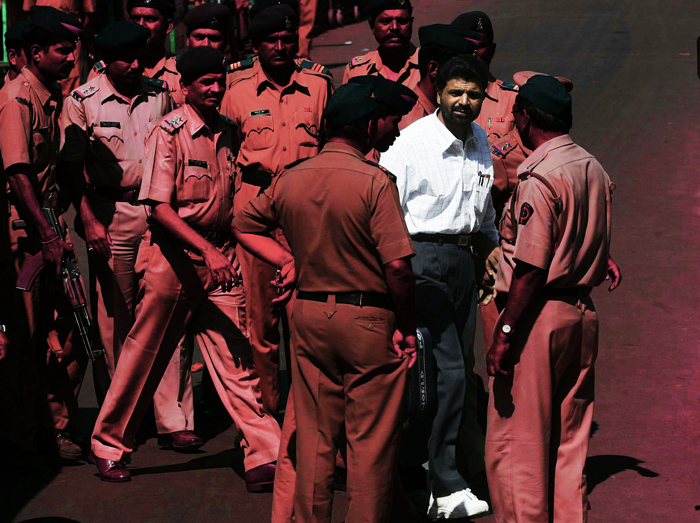 The sentence
1993 Mumbai blast convict Yakub Memon is likely to be hanged on 30 July. The Supreme Court dismissed his last legal appeal
The blasts killed 257 and injured 713.
100 other people were convicted, but Memon is the only one to be given the death penalty
The conspiracy
The blast conspiracy was hatched after the 1992 Mumbai riots. ISI called a meeting of dons like Dawood Ibrahim, Mohammad Dosa, Tiger Memon and Tahir Merchant
Yakub Memon claims he wasn\'t present in any of the meetings
The return
Yakub also claims he returned to clear his name and for the sake of his family
But CBI arrested him and charged him as the prime accused in the blast case
Tiger Memon warned his brother against returning. But Yakub claimed he had full faith in India and its judiciary.
In 1999, Yakub had written a letter the Chief Justice of India in which he called himself \"a good citizen of the country\"
When his death sentence was announced, Yakub broke down and reportedly told the judge, \"Even the innocent will be made into terrorists\".
Special TADA judge Pramod Kode, who sentenced Yakub to death, described him as a \"very educated man\". Yakub apparently cried out in court seeking the \"Lord\'s forgiveness\" for Kode because he \"did not know what he had done\".
Yakub Memon will turn 53 on 30 July. He is also likely to be hanged on the same day at 7 am in Nagpur Central Jail, after spending 20 years in jail.
On 21 July, the Supreme Court dismissed his last legal attempt to absolve himself in the 1993 Mumbai bomb blasts case.
Yakub was convicted under the Terrorist and Disruptive Activities (TADA) Act in 2007 for his alleged role in the serial blasts that killed 257 people, injured 713 and destroyed property worth Rs 27 crore.
Whether capital punishment itself is justified or not is a separate matter. The moot issue here is whether Yakub Memon deserved a death sentence. He was convicted along with 100 other people in a 10,000 page chargesheet. But he was the only one to be condemned to death. Why?
Background
On 12 March 1993, Mumbai was shattered by ten consecutive bomb blasts, the first one being at 1.28 pm. This attack was supposedly a consequence of the 1992 Bombay riots in which mobs led by the Shiv Sena went on a rampage, strategically killing Muslims, with the police acting as their accomplice.
One of the victims of the riots was Tiger Memon, a smuggler of growing influence who had started trading with clients from the Gulf. His office was allegedly burnt by angry mobs during the riots.
There was widespread anger and despair following the riots. Ever ready to fish in troubled waters, Pakistan's Inter Services Intelligence (ISI) smelled an opportunity.
This is how the plan for the Mumbai blasts was hatched. ISI called a meeting of Dawood Ibrahim (who was residing in Dubai then), Mohammad Dosa, Tiger Memon, Tahir Merchant and various other Indian Muslim dons based in Europe and the Gulf.
The conspiracy
After several meetings, the responsibility of the attack was given to Tiger Memon and Mohammad Dosa, while Dawood agreed to provide logistical support.
Tiger Memon selected a few youths, who were then sent to Pakistan for training by the ISI. A number of meetings were subsequently held at Hotel Persian Darbar in Panvel on 6 January, 10 February and 1 March, to discuss various aspects of the plan - from how the bombs would land to the bribing of customs officials. There was a meeting at Taj Mahal Hotel on 4 March for making final preparations.
According to the prosecution itself, Yakub Memon, Tiger's brother, was not present in any of these crucial meetings.
Who is Yakub Memon?
Yakub, the third of six children, was born in Mumbai and completed his bachelor's in 1983 and master's in commerce in 1985. In 1986, he enrolled as a student with the Institute of Chartered Accountants of India. After completing one of the toughest courses in India, he became a chartered accountant and started a firm called Mehta and Memon associates, along with his school friend Chaitanya Mehta.
In July 1999, having spent several years in custody, Yakub wrote a letter to the Chief Justice of India, trying to explain his predicament and seeking relief from "unbearable punishment".
He told the judge he and his friend "were doing very well". They were handling sales tax and income tax accounts of around 200 files. He gave these details, he said, to drive home the point that he was busy with his life and had no time to plot an international conspiracy.
Even during his two decade long stint in jail, he completed two masters degrees from an open university - one in English literature and the other in political science.
The Central Bureau of Investigation (CBI) alleges that Yakub managed Rs 21.90 lakhs for the operation, arranged air tickets and boarding for 15 people to be sent to Pakistan for training, purchased vehicles to be planted as bombs and requested a person who is now a discharged co-accused, to store boxes of ammunition smuggled into India by Tiger Memon.
He was convicted based on the confession of around six people - Asgar Yusuf Mukadam, Ismail Turk, Musa Biyariwala, Mustaq Sayed and Mulchand Shah.
Later, apart from Shah, everyone withdrew their statements.
The chargesheet named 189 people, 44 of them were absconding while the other 145 people had 'confessed' to the police. There have been allegations of the police eliciting confessions through brutality, during the Mumbai blast investigations.
Yakub Memon's conviction was based on the confession of six people, five of whom later withdrew their statements
The controversial movie Black Friday, based on the book of the same name by S Hussain Zaidi, documents the open secret of police torture during investigations in a vivid way. The movie's release was stalled for many years by the court.
Memon's return
According to official records, CBI arrested Yakub Memon at the New Delhi Railway Station on 5 August,1994. The agency says that it acted on a tip off that a terrorist has sneaked into Delhi and would be coming to a railway station.
The other story goes that he was arrested at Kathmandu airport, while trying to go to Karachi. He was carrying multiple passports and had just met his lawyer regarding a possible surrender to the CBI.
Yakub consistently claims that he surrendered voluntarily before the CBI on 28 July 1994.
"I gathered my strength and returned to India on 28 July 1994. The same day I surrendered to the authorities," said Yakub. The court judgment took no cognisance of Yakub' statement but was extremely critical of the CBI arrest story.
Film star Sanjay Dutt, presently serving a jail term for keeping the ammunition used during the blast, was also arrested after he was lured back from Mauritius and promised protection. However, around 100 cops greeted him at the Mumbai airport.
In his book, Zaidi observed that Yakub wanted to return in order to clear his name. He was also concerned about the failing health of his parents and the impending birth of his child.
Perhaps he thought it was better to strike a deal with the Indian government rather than stay under Pakistan's watch.
The result
In his letter to the Chief Justice in 1999, Yakub had stated that "it was a difficult and risky adventure" for him to return with a suitcase full of evidence against gangsters in Pakistan. He called himself a "good citizen of this country" who had tried to help the government in "whatever small manner he could". His "humble effort and sacrifice", he said, would be known after the Bombay blasts case came to its "logical end".
Yakub apparently cried out in court for god to forgive Judge Kode "as he knew not what he had done"
He also stated that in his lifetime he had never been to New Delhi railway station. He denied his role and claimed that all those who interrogated him know the truth.
According to him, his only fault was that he was Tiger Memon's brother. "The more I think, the more I get disturbed," Yakub wrote to the judge, "after all, why am I made to suffer? Only for the sole reason that the prime accused is in relation to me?"
Yakub also took a dig at the prosecution and said that their case was built on the following narrative: "Muslim Memon family exploded bombs in Mumbai and then fled to Pakistan. Later, with great efforts, the 'prime accused' was arrested".
In his letter he also wrote that he had great faith in his country and its judiciary. It was because of Yakub's statements that it became easy for investigative agencies to point towards Pakistan's involvement.
According to Yakub, his brother Tiger Memon had warned him against returning to India. "Tum Gandhiwadi ban ke ja rahe ho, lekin wahan atankwadi qarar diye jaoge (You want to become a Gandhian but they will brand you a terrorist) ," he had said.
Ironically, it seems Tiger Memon, the main conspirator behind the Mumbai blasts, has been vindicated.
When Special TADA judge Pramod Dattaraya Kode had pronounced the death sentence, Yakub had apparently cried out in court for god to forgive Kode "as he knew not what he had done."
On 30 July, when Yakub is hung to death on a conviction reportedly based primarily on confessions extracted in police custody, he will leave behind many uncomfortable questions.
Postcript: Since this story was posted, a letter by the now dead former RAW officer B Raman, was carried on rediff.com, in which he had argued that Yakub should not be hanged.
Now, 30 eminent Indians, including Ram Jethmalani, Shatrughan Sinha, Anand Patwardhan and other academics and politicians across party lines, have written a letter to the President urging clemency on three key grounds:
a) because someone else had masterminded the Mumbai blasts;
b) to demonstrate that while India will not tolerate acts of terrorism, the country is equally committed to the ideas of forgiveness and mercy; and
c) on the grounds of Yakub's ill-health; who apparently suffers from depression and schizophrenia.