The Opium Silence: how Rajasthan is playing blind to its rampant addiction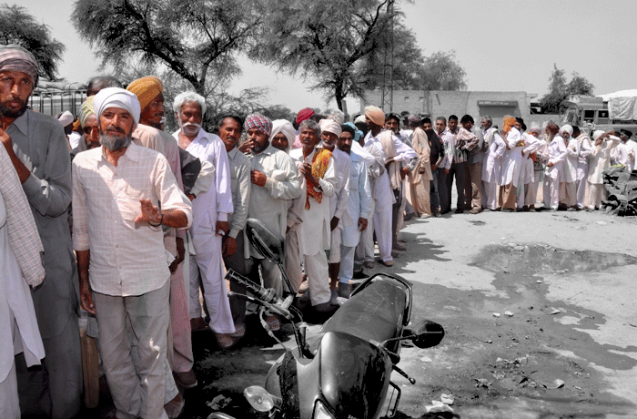 The drug
Rajasthan has a booming poppy and opium trade that has not got the attention it deserves.
Made of poppy husk, the drug is called doda-post and consumed widely in Rajasthan and Punjab.
It is taken by drivers and labourers to keep awake.
Often, people take doda in their tea in the morning itself and have it throughout the day.
The problem
Rajasthan is the only state in India to legally sell doda. It has put up vends along the Punjab border where addiction is higher.
Doda was to be banned in March 2015 but, ironically, Rajasthan extended the sale saying that a ban would lead to law and order problems.
The government earns Rs 100 crore from doda sales.
The purchase and sale of doda in the black market might be to the tune of Rs 1,000 crore.
Rajasthan has 82 legal opium depots which sold 18,000 quintals of poppy husk in 2013.
However, the illegal trafficking exceeds 1.26 lakh quintals.
The solutions
Rajasthan spends a measly Rs 2 crore on de-addiction. It needs to amp this up.
It will have to mobilise people against doda addiction.
The state will have to ensure that all poppy husk is burnt.
It needs to crackdown on the illegal trade in doda.
On 29 June, the Rajasthan police arrested a leader from the BJP and another one from the Shiromani Akali Dal with 7.5 kg of poppy husk.
Both - Vijay Kumar Kamboj alias Daddi of the BJP, and Mahal Singh Rana of SAD have been booked under the narcotic prevention NDPS Act.
This brings into focus a phenomenon that has largely gone unnoticed by the national media.
In October 2012, Congress vice-president Rahul Gandhi highlighted that 70% of Punjab's youth are addicted to drugs. This caused a furore that refused to die down.
Less than two years later, drugs became the top issue in the 2014 Punjab Lok Sabha elections, with political parties accusing opponents of trading in narcotics.
However, neighbouring Rajasthan, which has a booming trade in poppy, has largely escaped similar scrutiny.
An unusual situation prevails in the state. While Punjab had lived in denial till Rahul Gandhi's statement triggered a storm, Rajasthan officially supports its citizens' addiction.
About 2 lakh people are estimated to be addicted to poppy husk, popularly known as doda or doda-post in Rajasthan (and bhukkhi in Punjab). These addicts access their fix legally from government-licensed vends.
Doda is usually mixed into tea and taken. It gives an initial high, a sense of euphoria followed by a state of calm. It is a big hit with labourers, truck drivers and people doing repetitive tasks.
Rajasthan was supposed to ban the licensing of poppy husk from 31 March 2015. However, the addiction is so chronic, in February this year, the state government wrote to the Centre seeking an extension on the sale of poppy husk -- ironically -- on the grounds that a ban would cause a law and order problem.
The other reason that might have driven the extension is the fact that the government earns over Rs 100 crore as revenue through these sales.
This figure, of course, is just the tip of the iceberg. The black market sale of poppy husk in the state is pegged at about Rs 1,000 crore.
Poppy husk: the black gold
Poppy cultivation is carried out in seven districts of Rajasthan - Udaipur, Chittorgarh, Pratapgarh, Bhilwara, Boondi, Kota and Baran - for medicinal purposes
Rajasthan has 82 legal opium depots which sold 18,000 quintals of poppy husk in 2013. However, the illegal trafficking exceeds 1.26 lakh quintals.

Naturally, several activists are not happy with the state government's decision to extend the sale of licensed poppy instead of battling it.
Mahesh Pediwal, secretary of Ganganagar NGO, Tapovan Nashamukti Aur Punarwas Kendra, says: "The addiction has already ruined thousands of families but the government is looking only at revenue. Rajasthan is the only state in the country where doda-post is sold."
Yogesh Saran of NGO Sankalp Sewa Sansthan in Jodhpur adds that the extension has given a false sense of security to doda consumers. "This will lead to more people getting addicted. We had sent representations to the government against the extension, but it did not pay heed."
Many Punjabi youth are so addicted to doda that they consume it throughout the day
Revenues to the Rajasthan government may be big. But those in the black market are much bigger. Rajasthan buys poppy husk at Rs 125 per kg and sells it for Rs 500 per kg.
Ostensibly, the state does this to maintain the interests of the 24,841 registered doda addicts. It has clearly overlooked the reality of the new generation getting addicted.
In the illegal market, poppy husk sells for around Rs 2,000 per kg. This is the rate at which the two lakh unregistered addicts purchase doda.
This has earned opium and its by-products the sobriquet of black gold.
Uncharted users: opium haze in the state
There are two other circumstances that distinguish Rajasthan's drug problem.
First, the state has made no attempt to verify or update its database of registered doda-post abusers. Second, though it runs licensed vends on medical grounds for habitual consumers of doda, it spends barely Rs 2 crore on its de-addiction centres.
Many of these permits to buy doda were issued between 1996 and 2001 on medical grounds. However, the monitoring has been so poor, a scrutiny of Jaipur's de-addiction camps, shows that most registered addicts are either dead or untraceable.
So why did Rajasthan renew the license to sell doda?
A half-hearted fight
Mohan Ram Punia, District Excise officer, Barmer, says: "The government had initially thought that it would be able to rid the addiction by March 2015, but as it was unable to do so, it decided to renew the licenses."
He adds that the government will hold more camps now to ensure everyone is rid of the addiction.
But the de-addiction camps in the state, called Naya Sawera, have been apathetic and failed miserably so far. District Excise officer, Ganganagar, Shankarlal Sharma, says 11 camps were held in his district and "those who wanted to voluntarily quit the addiction were provided help. But we do not know how many of those finally quit doda."
The condition at the Jaipur Naya Sawera was no better. Rajasthan's capital city has 89 registered addicts but when officials tried to locate them, they could not find them.
Over 36 people had shifted residence while 18 were dead. The result - just 19 of the 89 registered users attended the camp. Another 37 trooped in, who were addicts but not registered as users.
Government officials are aware that the unregistered users of the drug have jumped manifold. As Sharma says: "We had requested the administration to increase the number of camps as Ganganagar has a large number of doda users. These 11 camps are simply not sufficient."
Consumers include women
The political apathy in combating this menace is stark.
As Kailash Chaudhary, first-time BJP MLA from Baitu, Barmer, says, "I want doda sales to close down. Otherwise the next generation will be totally blighted. Even women have started consuming doda. It destroys livelihoods and a man starts looking old at 40-years. But mostly, there is very little political will for this."
One of the reasons for Chaudhary's victory, however, was his battle against doda addiction. He claims that his drive has rid between 4,000-5,000 people of the addiction. He gathers people from up to 15 panchayats and holds camps in schools during summer vacations.
"We keep the addicts in-house for seven to 15 days and take care of all their needs. Those who are severely addicted are held back for a fortnight. Once they go back, we continue with follow-up checks also."
Chaudhary says that there is nothing wrong in growing poppy, as it is used in making medicines. He also defends the government over the allocation of vends as it is a transparent process.
A big menace in Punjab
The Rajasthan government's apathy towards its own people notwithstanding, the sale of doda is having a side effect in neighbouring Punjab too.
The licensed sale of doda is causing widespread discontent in Punjab. Youth from the Malwa belt of Punjab, that borders Rajasthan, begin their day with doda, consume it through the day and end the day with it.
The issue has become serious enough for Punjab Deputy Chief Minister Sukhbir Singh Badal to be forced to speak about it publicly. Harman Singh Sidhu, of the Chandigarh-based NGO, Arrive Safe Foundation, says that Badal even claims to have taken up the matter with Rajasthan.
Sidhu, who has witnessed the problem of doda in his own family, says: "Two kinds of people are hooked on to it in Punjab - rich landowners and the poor truck drivers. Land prices are going up, so farmers sell off a portion of the land to enjoy a prosperous life. Later they get addicted. On the other hand, employers give doda to their workers because it keeps their eyes open - which is particularly useful for drivers and daily wage labourers."
Many employers give doda to their drivers and labourers to keep them alert. This makes them addicted for life
But ironically, once they get addicted, their productivity falls and they lose their jobs.
Sidhu is critical of not just the Punjab government, but also Rajasthan and the Central government. "They are not doing much. The governments in Punjab, Rajasthan and the Centre now all belong to the same party. Now they cannot complain about not taking action."
He says that the revenues earned by the governments from liquor and doda make them blind to the social problem.
Doda has flown overseas
Doda addiction has now touched Canadian shores. Inexpensive to purchase and easy to drink, young Punjabis are increasingly resorting to doda consumption.
The Canadian police, which has risen to the occasion, has made a number of poppy seizures over the years. At the same time, it has also trained its officials to detect and seize the drug. The addiction has reached such proportions that young people are coming to Punjab for treatment. Toronto and Brampton seem to be worse affected by the malaise.
What is the way out?
Chaudhary says that for a permanent solution, "the poppy husk has to be burnt. Once it is completely burnt, no more poppy husk will be distributed," he says.
Also, the government will have to put in efforts to mobilise people against the ill-effects of doda. He also wants the government to mount a campaign to encourage doda users to visit de-addiction camps.
But Raghuvir Singh Bhatti, the manager of a de-addiction centre, Acharya Shri Ramesh Vyasan Mukti Kendra in Nanesh Nagar-Danta, Chittorgarh, says that it may not be easy to ban poppy husk.
"To keep prices low for opium-based medicines, poppy will be grown. For the government, the way out is that it will have to create awareness among the people." Bhatti, however, does agree that the government will have to find ways to burn the entire stock of poppy husk.
But this is another issue where the government is on the back foot. It does not keep any record of actual poppy cultivation. Dealers buy poppy seed pods straight from the farmers and hoard it in their warehouses. If raids happen, dealers show the official permissions even as they hide the illegally procured stuff.
It is clear that Rajasthan will have to take the final steps this year to oust doda completely. It will have to begin with de-addiction centres to cure the addicts before March 2016 looms up again. It will also have to ensure that no addict, including unregistered ones, is turned back. Lastly, it will have to put in measures to burn all the poppy husk.
The personal impact
The story of Gurpal Singh's family is a case of doda dependence that spans two generations and two continents.
When Gurpal Singh, 78, migrated to Canada along with his family from Punjab, it was a momentous occasion for the extended family. But his sons, Tajinder Singh, now 57, and Satinder Singh, now 50, both of who were already consuming doda, were not too happy.
Satinder, who was studying at a prestigious college in Chandigarh decided to drop out. Nobody knew why. He was most unhappy with his parents for migrating to Canada and trudged along half-heartedly. And then, in a surprise decision, decided to come back to India.
Soon enough, the family came to know about his addiction and the pensions of both parents now sustain his addiction. He married twice but both marriages ended. He lives from day to day surviving on and for doda.
Tajinder, the elder son, is worse off. He married and had two sons. The younger son, Navpreet, just 20, is already an addict. Navpreet got into substance abuse as a child after watching his father and chacha Satinder.
Initially he would mix it in tea to get a kick but later doda overpowered him. When he goes to Canada to meet his grandfather, he keeps his visits short and takes mithais made of doda - neither detectable not suspicious. The septuagenarian grandfather remains under pressure to financially support his sons and a grandson for their addiction.
The story of Shamim, 45 years, is another stark example of the vicious impact of addiction. It is not uncommon for the locals of Nimbahera to find Shamim lying unconscious somewhere in the town.
The father of five children - four daughters and a son - Shamim, has been an addict for such a long time that nobody really recalls when he actually got into it. Damaged severely by doda consumption, he would beat up his wife who has now moved away along with her children.
Employed as a truck driver, Shamim lost his job because of the addiction. Though he tried picking up other jobs, he was not very successful. He has even spent time behind bars for his propensity to become a nuisance and pick up fights randomly. Out on bail currently, with no hope for recovery, he is a loner now with no friends, family or neighbours on his side.
There are two lakh more doda-post abusers like him - waiting for the correct intervention.
With inputs from Rajasthan Patrika.