The many challenges Bengal faces when it comes to deporting Rohingyas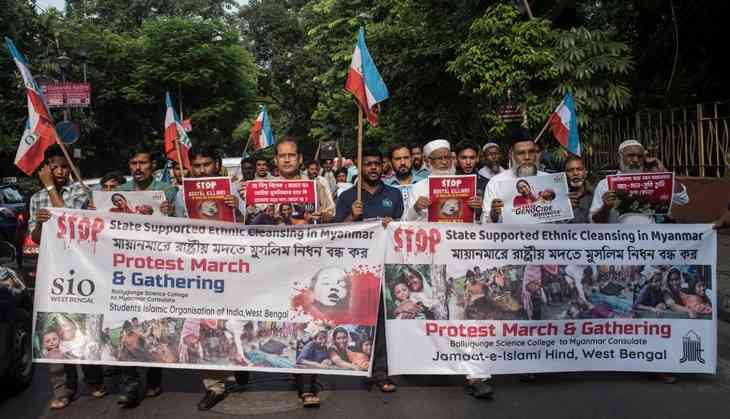 (Sushavan Nandy/NurPhoto/Getty Images)
After the Centre directed all state governments to identify Rohingya immigrants, the West Bengal government is in a quandary on how to identify and deport them.
A senior official of state government said that Rohingyas are entering from Bangladesh and are scattered in several districts of West Bengal. More so, in the past, when attempts have been made to deport them, Rohingyas have claimed to be Bangladeshi.
"Due to a variety of reasons, including political and economic turmoil in neighbouring countries, people from such countries often enter India. There are cultural and ethnic similarities… Many such migrations go unnoticed and they settle on Indian territory," said Dilip Kumar, joint secretary in the home ministry, in the letter that was sent out on 8 August.
According to the ministry's estimates, there are nearly 40,000 Rohingya Muslims across India, the highest in Jammu and Kashmir. They were forced to leave their homes after a crackdown by the army in their home state of Rakhine in Myanmar. A large number of the illegal immigrants have also enrolled for Aadhaar numbers.
"We have decided to raise the issue with the chief minister in the meeting scheduled next month, where we will urge him to speak with the Union Home Ministry and get them them to frame a policy," a senior official said.
Senior officials of the state government said that they are in the process of arresting illegal immigrants. As of now, 12 suspected Rohingya girls are being put up at a state run home in Lilulah.
On the letter from the Centre, Malay De, chief secretary of West Bengal, said: "The state government is yet to take a comprehensive decision on this regard."
But the All India Trinamool Congress has been facing criticism for not jumping into he programme quickly. According to BJP, it is difficult for the West Bengal government to identify Rohingya immigrants as they do not want to arrest them as they too indulge in terrorist activities.
"TMC government indulges in subversive and terrorist activities. That's why they do not want to arrest the illegal Rohingya immigrants of Myanmar. What happened at Khagragarh blast? State government has failed to arrest anyone in this connection and so NIA investigation has been initiated," said Sayantan Basu, BJP's state general secretary.