The ghost of Rohith Vemula won't leave the BJP any time soon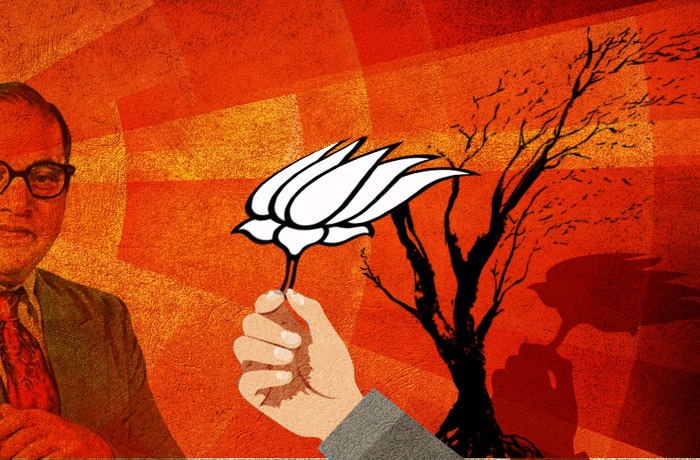 Pushed the wall following the suicide of Rohith Vemula, many RSS and BJP leaders and supporters are alleging that he wasn't a Dalit in the first place, but an OBC . As if being an OBC somehow makes his suicide more justified.
The truth is that few of them can digest the fact that Rohith was a topped the university entrance examinations and got admitted to the Hyderabad Central University on merit.
Also read - Death knell: How #RohithVemula suicide has derailed RSS' Dalit agenda
Why Rohith's caste doesn't matter
This is the little I know about Rohith. I won't know which caste he belongs to. It is not important for me for of a couple reasons.
First, Rohith was a staunch Ambedkarite. This means that he stood for the principal of equality among non-upper castes. BR Ambedkar and Jyotiba Phule stood for the emancipation of the "Bahujan" or the masses. For Ambedkarites, standing up for Bahujan as a concept includes bringing together all those who are lower in the caste hierarchy. This also includes religious minorities and women of all castes.
This is the Bahujan tradition. This is why it doesn't matter whether Rohith was a Dalit or an OBC.
Being Ambedkarite, Rohith stood for equality of lower castes. The Dalit-OBC debate is meaningless
Babasaheb Ambedkar considered 3 people to be his heroes - Buddha, Kabir and Phule. Buddha was from a farmer community, Kabir was a weaver and Phule was a gardener. Even Shahuji Maharaj, who Ambedkar held in high regard, was from the Kunbi Maratha community. All these leaders were from communities which are considered OBC in the present day.
By saying that Rohith was not a Dalit, RSS and its supporters are only betraying their ignorance of the Bahujan movement. It was never a movement exclusively for Dalits. It took everyone along. That's why their efforts to divide and rule haven't resonated with the people.
But this is only one half of my argument.
Also read: What killed Hyderabad university Dalit scholar, Rohith Vemula?
What Rohith stood for
Let us now assume that Rohith belonged to an upper caste. Rohith is a person who had great admiration for Ambedkar and Phule. You can see it in his university pictures. He celebrated both their birthdays. Being part of the Ambedkar Student Association, he took to their vision of an ideal society. He was empathetic towards Muslims who were killed in the 2013 Muzaffarnagar riots. He admired Irom Sharmila and took part in the solidarity meetings against AFSPA in Manipur. He marched against the rape of Nirbhaya.
He opposed death penalty in principal. It wasn't specific to Yakub Memon. He was against it everywhere, be it in Saudi Arabia or in a democratic republic like ours. To say that he supported Yakub Memon is ridiculous. In the 268th report of the law commission of India, there is a great deal of debate among jurists and almost all of them oppose the death penalty. Rohith's participation was only part of that pre-existing debate on death penalty.
Rohith was against the death penalty. That doesn't mean he supported Yakub Memon
So Rohith is the symbol of Dalit-OBC unity against communalism. He is a symbol of humanitarian, non-brahminical, democratic values. That's why his suicide has become a flashpoint among the youth in all sections of society.
The RSS has tied itself in knots on this issue. They thought that projecting Rohith as an OBC would make it easier for them to deligitmise him. But what will they do with an Ambedkar-loving person who had the guts to stand up against discrimination of any kind?
Either choice they make, will mean stepping into quicksand.
As told to Shriya Mohan. Edited by Aditya Menon.
Dilip Mandal is a former managing editor of India Today, Hindi
More in Catch - Mohan Bhagwat has some important things to say about caste, tradition and discrimination
#HydStudentSuicide: Why you've got your facts totally wrong, Smriti Irani!
Why BJP supporters are in a hurry to paint Rohith Vemula as anti-national