The dead and their currency notes: The human cost of sudden demonetisation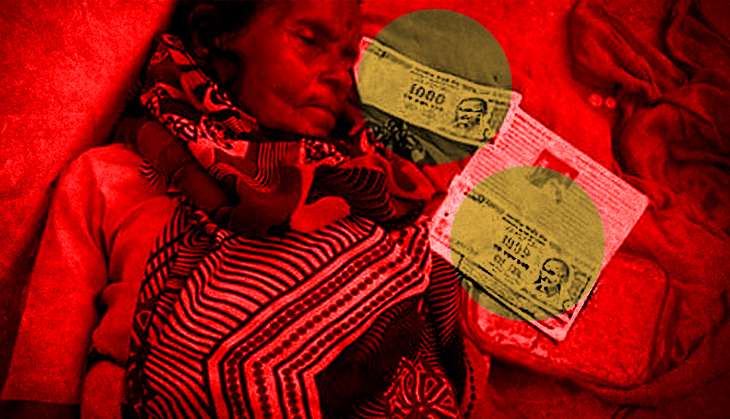 There is a reason why Congress spokesperson Manish Tiwari's branding the sudden demonetisation move as a 'Tughlaqi' order does not sound entirely out of context.
Tiwari's comparison of Prime Minister Narendra Modi with Muhammad Bin Tughlaq, the 14th century monarch, is because of the latter's sudden decision to demonetise gold and silver coins and replace them with copper and brass ones.
Tughlaq's move, just like Modi's, was hailed as a bold one initially, but it soon turned into a major disaster.
Whether Modi's move will lead to significant benefits will emerge only with gradual passage of time, but one damaging impact is already clear - the lives of millions of poor have been sent into a tizzy.
They are confused about relevant facts and therefore unsure about the fate of their hard-earned savings.
Those with access to bank branches and ATMs are the relatively privileged ones and even they are spending hours in queues with only one thought - how to secure their hard-earned money.
But in the hinterland, where they are far away from bank branches and ATMs, this insecurity is fast turning into despondency - a sinking feeling that is making their hearts stop.
The saddest outcome of the shock demonetisation is what has been lost in the newspapers as just another fall-out story. At least four deaths have been reported so far from various corners of the country.
These were people whose heart probably skipped a beat only because of this precise worry - all my hard-earned money is gone.
The deaths have implications
The image of the dead-body of Tirtharaji Devi of Gorakhpur lying on the road outside a bank branch will make you squirm.
The middle-aged woman, who reportedly worked as a washerwoman, is lying dead and two thousand-rupee notes are lying in front of her, one of them lies between in the pages of her bank pass-book.
Some reports have suggested that she collapsed after getting a wrong sense from a tea-stall discussion outside the branch that all her money was as good as gone.
Try to step into her rubber slippers for a moment and gauge the shock of that prospect.