Telangana gangster's encounter: is TRS trying to curry favour with BJP?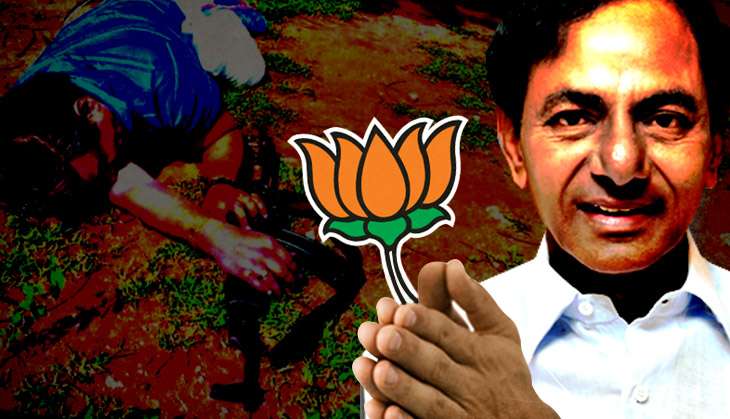 By eliminating Nayeemuddin, renegade Naxalite and dreaded gangster, near Shadnagar in Mahbubnagar, has the Telangana Rashtra Samithi regime killed the proverbial two birds with one bullet?
It may not appear so but Nayeem's killing could have political consequences that may turn the wheel of fortune in favour of the TRS.
Nayeem's criminal history was long and brutal - he was an accused in the 1993 murder of KS Vyas, the police officer who conceived the anti-Naxal force called the Greyhounds in the erstwhile Andhra Pradesh.

Also Read: Telangana encounter: 2 shot dead in joint operation
Afterwards though, knowing Nayeem had turned against the People's War Group, a Naxal outfit that has since dissolved into the CPI (Maoist), some police officers began mentoring him and helped turn him into the gangster that he died as.
The police used Nayeem to terrorise Naxals and even activists. Leveraging his clout with the state machinery, he ran kangaroo courts to resolve disputes, making a killing in the process. It's only now after his death that investigators are stumbling upon land, cash and other properties Nayeem had acquired. A ballpark estimate values his assets at about Rs 1,000 crore.
This raises the question: why would the state apparatus that so blatantly patronised Nayeem for so long want him killed? Was it solely because his criminal activities had got out of hand, or was there more to it?
One serious line of argument in the state goes like this: Nayeem's killing is an attempt by the TRS to curry favour with the BJP.
But how exactly?
Trail of blood
Including Nayeem's killing, Telangana has witnessed three encounters since the state's formation in 2014.
Two alleged operatives of the banned SIMI, Aslam Ayub and Eizajuddin, were shot dead by the police at Janakipuram in Nalgonda on 5 April 2015. The duo, along with three other undertrials, had escaped from Tantya Bheel jail in Khandwa, Madhya Pradesh, on 3 October 2013. Thereafter, they had allegedly robbed a bank in Karimnagar, bombed a place in Burdhwan, West Bengal, and killed two police officers at Suryapet in Nalgonda two days before the encounter.
In the encounter with Ayub and Eizajuddin, Constable Nagaraju was killed, while Sub Inspector Siddaiah was wounded and succumbed three days later. Inspector Balanagi Reddy was also grievously injured but survived.
Three days later, on 8 April, the police shot dead five suspected terrorists, including Vikaruddin Ahmed, the founder of Tehreek-e-Ghalba-e-Islam, a "local terror module", near Alair. They were killed in the police van taking them from Warangal Central Jail to a court of Hyderabad when one of them , allegedly tried to snatch a policeman's weapon. None of the five men were connected to any of the known terror groups in the state - Lashkar-e-Taiba, SIMI or the Indian Mujahideen.
While the killing of these "terrorists" helped draw the TRS regime closer to the BJP on an "ideological plane", it was limited to creating "covert political cordiality". There was no sign of the blossoming of love, as it were. It is in this context that Nayeem's killing within hours of Prime Minister Narendra Modi's maiden visit to the state assumes significance.
Nayeem's encounter was no accident. The police had been after him for a while. Reportedly, Chief Minister K Chandrasekhar Rao had been briefed about "veiled and open threats" issued by Nayeem against some TRS leaders, including the MLAs Vemula Veeresham of Nakrekal and P Shekar Reddy of Bhongir.

Also Read: Endless cycle in Bastar: of 'fake' encounters and alleged rape
Nayeem used to organise a "Ganesh Utsav" in the name of his brother Aleemuddin, who had been killed by the Naxals, and coerce the public representatives to participate in it. While Veeresham did not mince words, accusing Nayeem of "unleashing a reign of terror", the other MLA parried questions about it. A few local TRS leaders had also been targeted by Nayeem in Nalgonda district, where he operated out of.
Angered by this, the government apparently greenlit the elimination of the "Frankenstein's monster-like character".
Cost of friendship?
It's the timing of the encounter though that has raised questions, coming as it did just hours after the public demonstration of bonhomie between KCR and Modi.
Nayeem was suspected to have been involved in the infamous "encounter killing" of Sohrabuddin Sheikh of Gujarat and his wife Kausar Bi, in which BJP president Amit Shah was an accused.
Nayeem's relatives had been questioned by the CBI during its investigation into the killings. Nayeem was reportedly with the Gujarati couple when they were picked up by the police from a bus bound for Ahmedabad. In fact, according to sources in the police, Sohrabuddin and Kausar Bi had visited Hyderabad for Eid on the invitation of Nayeem. Whether the invite was part of a "covert operation" to trap Sohrabuddin is not known, however. "Who could have provided leads on Sohrabuddin's travel plans is anybody's guess," says a police officer on the condition of anonymity.
In Hyderabad, Modi also addressed the BJP's Maha Sammelan - where he spoke against "fake gau rakshaks" - but he did not utter a word against the TRS government or KCR. This, taken together with the timing of Nayeem's killing, is construed as evidence of the sprouting friendship between the TRS and the BJP. So, was the Friendship Day visit of Modi to Telangana the start of a new political camaraderie?
Also Read: Lots of questions in Sohrabuddin case still unanswered: Harsh Mander