Tamil Nadu: Cattle slaughter ban adds to anti-Centre anger. Stalin threatens stir
S Murari
| Updated on: 1 June 2017, 22:45 IST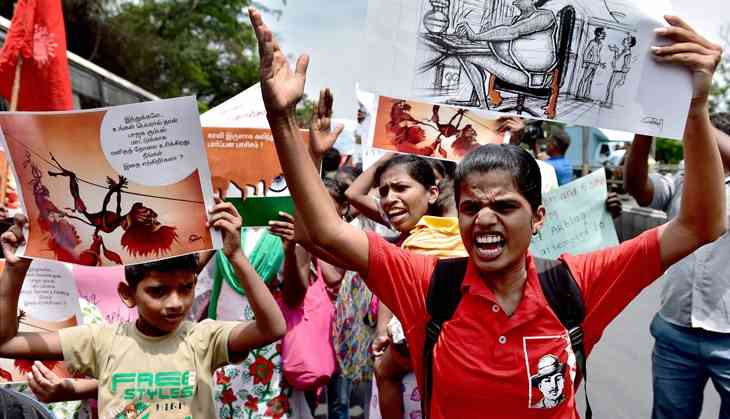 The Centre's notification banning sale of cattle for slaughter has caused widespread resentment in Tamil Nadu, not just among political parties but also those engaged in the tannery industry.
The DMK-led opposition has taken up cudgels against the notification, terming it as an encroachment on the state's rights and dared beleaguered Chief Minister Edapaddi Palanisamy to come out against it like his counterparts in Kerala, West Bengal and Puducherry.
Tamil Nadu accounts for 40 per cent of leather exports. Tanneries in Ranipet, Vellore and Ambur have protested against the notification which has extended the restrictions on sale of cattle for slaughter in fairs to buffaloes, besides cows. The thick buffalo hide is used in shoe-making.
Vice-chairman of the Council for Leather Exports Aqeel Panaruna has said "We have already petitioned the Centre to remove buffalo from the list as they have no religious significance". S Faiyaz Ahmed, general secretary of the Ambur Tanners Association, has said " The campaign against cow slaughter has already brought down sales and over 250 companies in Ambur will be hit if the ban is extended to buffaloes".
Now, the Rs 5,000 crore tannery sector in Vellore sources 90 per cent of skin and rawhide from other states.
According to Ahmed, "Farmers with two or three animals sell them to small traders from whom we buy in bulk". The rest of the skin and raw hide come from Maharashtra, Punjab, Kerala and Andhra Pradesh
Ahmed says there are roughly 1,230 leather companies in Vellore and they employ one lakh people directly and another 2.45 lakh indirectly and earn around Rs 2,000 crore in foreign exchange. They will be hit by the notification.
It will also affect farmers in other ways. They sell only aged and ailing cattle in fairs and they are transported mainly to Kerala. Though Kerala government has opposed the notification, traders who buy the cattle from Tamil Nadu for slaughter are waiting and watching, fearing trouble while transporting these cattle across the border.
The courts have taken divergent views on the notification. The Madurai bench of the Madras High Court has stayed the notification for four weeks, while admitting two public interest litigations which have challenged the notification as an encroachment on the State's domain.
Though slaughter is in the state list, cruelty to animals is in the concurrent list. The notification has invoked the Prevention of Cruelty to Animals Act. The court has however said that only Parliament can enact law on subjects coming under the concurrent list and the executive cannot usurp that power.
While leading a protest rally in Chennai by all Opposition parties, DMK working president MK Stalin has warned of another Marina revolution if the notification is not withdrawn.
The reference is to the massive protest staged on the sands of Marina when the Centre invoked the very same PCA Act to outlaw Jallikattu in January.
Stalin has said that Prime Minister Narendra Modi who spoke about cooperative federalism while assuming office, had since turned States into subordinates to the Centre, particularly in Tamil Nadu where Chief Minister Palanisamy is afraid of speaking up against Modi for fear of inviting CBI and income-tax raids.
Similar protests have been held by the Congress and Left parties. Congress leaders have said that the notification will not be enforced in states ruled by them like Puducherry and Karnataka.
Tamil Nadu Law Minister CV Shanmugham has said that his government will not work against people's interest.
Meanwhile, a beef fest organised in the IIT, Madras, led to a clash. Sooraj, a research scholar
was admitted to hospital after being thrashed by right wing students.