Sunrise sector: what Modi is getting right about solar energy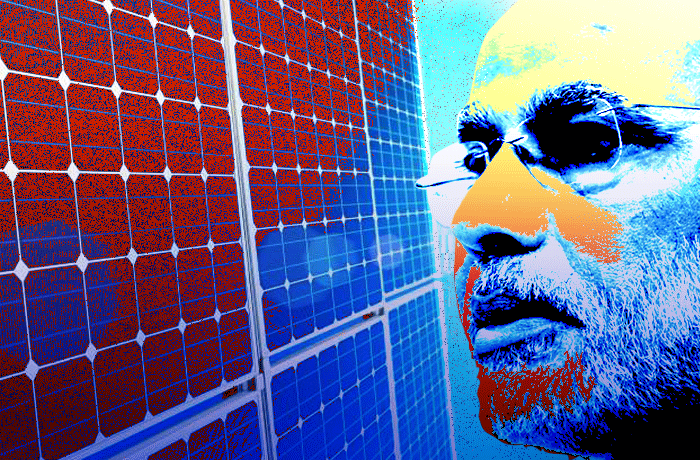 The campaign
The central govt wants to give a push to clean, renewable energy
To this end, it has launched a portfolio of policy initiatives
This would be a boon, since import of fossil fuels makes up 36% of India\'s import bill
The plan is to generate 175 gigawatts of electricity through renewable energy by 2022
The initiatives
The govt organised a RE-Invest summit in February to attract corporates
Giving coal, power and clean energy ministries to the same minister, Piyush Goyal, helps cut the red tape
Fiscal and regulatory policies have been streamlined and import duties waived
Govt also allows 100% FDI to attract foreign firms
Clean energy cess on mining and importing coal has been doubled to help startups
The impact
Ernst & Young has rated India the fifth best country to invest in renewable energy
About 300 companies have pledged to generate 266 GW of electricity
In the small town of Neemuch in Madhya Pradesh, three months before becoming the Prime Minister of India, Narendra Modi addressed a rally where he promised to bring an 'energy revolution' in the country.
Making India's economy less dependent on imported fossil fuels would be a boon, for energy constitutes 36% of the India's total import bill. In addition, renewable energy plays a central role in increasing energy access in the country.
On paper, 97% of India is electrified. But this hardly means anything, since by definition, electrification implies that the bare minimum - one hour's supply of power - is available.
In terms of real energy access, India still has a long way to go. Deploying many small-scale solar, wind or biomass farms, where each could power a village or two, could go a long way in ensuring a continuous supply of power, at least during the day.
Also read: Solar up, nuclear down: why India should not bark up the nuclear tree
The importance of renewable energy
To put things in perspective, consider the recent heat wave that killed over 2,000 people in southern India. Such a travesty could have been avoided, or at least mitigated, by a continuous supply of electricity.
Experts say such heat waves are only going to become more common in the future, as climate change increasingly becomes a force to reckon with. Such changes in the environment affect the poor more than the rich, and more so, the poorest in the innermost parts of the country.
It is heartening to note that the Modi government has acknowledged the importance of renewable energy and is taking active steps towards a cleaner and greener economy.
A silent campaign
After coming to power, silently yet unequivocally, the Prime Minister launched a 'Swachh Energy Abhiyaan' so to speak.
Its mission to wean India off 'dirty' energy, and become a world leader in harnessing the power of the sun and the wind.
The agenda of replacing fossil fuels like coal with renewable energy has been in the spotlight since the government came to power.
In the budget speech on 28 February 2015, Union Finance Minister Arun Jaitley announced the government's vision to have 175 Gigawatts (GW) of installed capacity generating clean energy by 2022.
Of this, solar energy will constitute 100 GW, wind energy 60 GW, small hydro power 10 GW and biomass-based power 5 GW.
Apart from providing clean energy, government initiatives like the National Solar Mission also hold potential to create a million jobs in the economy.
In the 2015 budget, Arun Jaitley had announced a plan to have 175 Gigawatts of clean energy installed by 2022
In February 2015, the government organised the first ever Renewable Energy Global Investors' Meet. It was an initiative to promote the growth of the sector through innovation and research, and attract much needed investment.
The event, embellished with Modi's signature PR activities, a Twitter handle, a Facebook page and various other ways to connect, was a resounding success. 'RE-Invest 2015', in its three days, attracted around 300 companies, who committed to generate a total of 266 GW of renewable energy in five years.
Cutting through the red tape
The media has been replete with news every other day about new investments in this sector, or new projects being setup in different parts of the country.
However, it is not only Modi's effective PR that is driving the buzz. There is also substance in the political machinery underneath, which has been galvanised by the PM.
In the government's first year, Modi has picked up what was considered a "step-down" ministry, the least visible of the infrastructure ministries in the Cabinet, and put it at the top of his agenda.
Piyush Goyal, its minister, has also been allotted the ministries of coal and power, with a view to streamline the transition from dirty to clean energy, and reduce bureaucratic hassles.
It has streamlined the fiscal and regulatory policies around the sector. Waiving off duties on import of equipment required in the solar and wind energy industries, and allowing companies to undertake accelerated depreciation of equipment, enables them to save costs.
The government also allows 100% Foreign Direct Investment (FDI) in the sector, allowing foreign players to get a bite of the Indian pie without necessarily having to partner with local companies.
As announced in the budget of 2015, the clean energy cess on mining and importing coal was doubled from Rs 100 to 200.
This cess, which goes to the National Clean Energy Fund, is used to provide part of the capital to entrepreneurs wanting to start up in the sector.
The fund also enables loans to be given at cheaper rates, and projects which further the research and innovation in clean energy are funded.
Besides, various public sector arms of the government will soon roll-out 'green bonds', much like other government bonds, to raise debt and allow individuals to invest in the sector.
Change in corporate mindset
Such incentives have brought about a change in corporate mind-set. Investment in the growing green energy sector, which was earlier considered as part of a company's corporate social responsibility, now holds a very important place in its growth strategy.
Ernst & Young's Renewable Energy Country Attractiveness Index ranks India as the fifth best country to invest in, in the clean energy sector.
Boost to rural entrepreneurs
So how will renewable energy help the poorest of the country? The government plans to train 20,000 unemployed graduates in setting up small-scale solar grids, with the capacity to power a small village.
With a target of setting up solar capacity of 1 MW each, and sufficient subsidies from the government, this new army of clean energy entrepreneurs will start projects worth 20,000 MW to power rural India.
If successful, this plan could bring a windfall of renewable energy capacity in only a few years.
Modi's vision of 'making hay while the sun shines' holds tremendous promise. If deployed well, renewable energy could solve many problems for the Indian economy, and provide a backbone for it to grow.
While some of the promises made are overly ambitious, most of them are achievable.
As for Neemuch, that is one promise which the government has definitely fulfilled. The town is now home to the world's largest solar power plant.