Special NIA court acquits Aseemanand in Ajmer blast case. Here's a look back at the case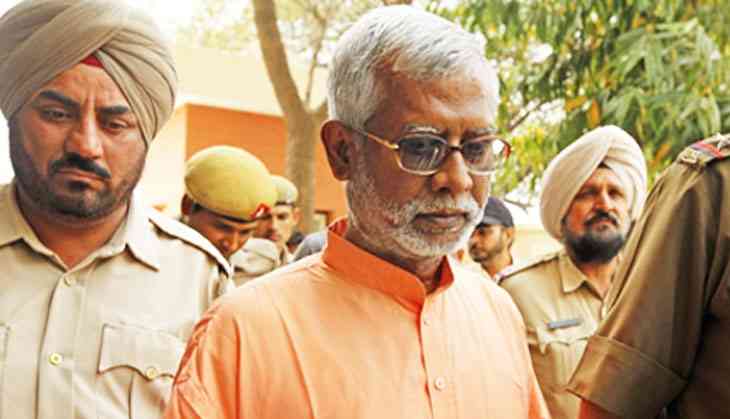 Ten years after a series of bomb blasts ripped through the country in 2006 and 2007, which were later linked to Hindutva extremist outfits, a special NIA court pronounced its verdict for one of the cases – the Ajmer blast case.
In its judgement, the NIA court while convicting three persons, acquitted six others, including Naba Kumar Sarkar alias Aseemanand.
One would remember that the confession Aseemanand made in front of the magistrate in December 2010 – where he shared details of the conspiracy and said how the attacks, including the one in Ajmer, were in retaliation to the bomb blasts by Islamist outfits at temples – had caused an uproar.
However, Aseemanand had later retracted his confession claiming that he was under pressure from investigating agencies – the NIA and the ATS – and had been coerced into giving the statement.
According to reports, the other three convicted in the Ajmer case – Devendra Gupta, Bhavesh Patel and Sunil Joshi – have been convicted under sections:
– 120(B) (Criminal conspiracy)
– 295-A (Deliberate and malicious acts intended to outrage religious feelings of any class by insulting its religion or religious beliefs) of the IPC, Explosive Substances Act and Prevention of Unlawful Activities Act.
The quantum of sentence for the three will be announced in March 2016.
Sunil Joshi, a RSS pracharak and a key cog in the conspiracy, according to investigations, was found murdered in 2007. The Rajasthan police had claimed that Joshi was killed to cover up the terror acts.
Apart from Aseemanand, those acquitted include Harshad Solanki, Lokesh Sharma, Mehul Kumar, Mukesh Vasani, Bharat Bhai and Chandrashekar.
Reports suggest that the court has also given a clean chit to Indresh Kumar, who heads the Muslim Rashtriya Manch, an outfit said to be close to the RSS. He, too, was under the arc of the investigations and was part of the first confessional statement given by Aseemanand.
The case
At around 6.14 PM on 11 October 2007, in the month of Ramazan, barely two minutes after the pilgrims had started breaking their fast, a bomb went off next to a tree in Ahata-e-Noor, on the campus of the Dargah of Moinuddin Chishti. The blast left three dead while another 17 people were injured.
Like the Mecca Masjid blast that took place in the same year, this explosion too according to investigations, first by the Rajasthan ATS and later by the NIA ,confirmed that it was triggered through a timer on a cell phone. Two sim cards were recovered from the site of the blast.
Aseemanand and several others including Lokesh Sharma were arrested for the Mecca Masjid blast as well. However, NIA discharged Sharma last year, citing the paucity of evidence.
According to investigators, the blast was the handiwork of Abhinav Bharat, a right-wing group, which is also facing investigations in other terror cases including the blasts in Malegaon, Mecca Masjid and the Samjahuta Express.
In the recent past, the NIA, which is investigating all of these cases, has faced immense criticism from various quarters, including prosecutor Rohini Salian who alleged that the agency officials had asked her to go slow on the accused in the Malegaon bomb blast case. It has also been alleged that NIA was shielding the accused, like Sadhvi Pragya, by not opposing their bail.
Sadhvi Pragya and seven others who were facing charges were acquitted by a Dewas court in February 2017.
Aseemanand's first confession:
In his initial confessional statement that was given in front of the magistrate, after he was arrested by the CBI from Haridwar in November 2010, Aseemanand had made some startling claims.
He had said that he, in the presence of others including Sunil Joshi and Pragya Singh Thakur, first conspired in 2006 on how to retaliate to the spate of bomb attacks targeting temples by Islamist outfits.
Aseemanand claimed that during his stay in a Hyderabad jail, he had a change of heart after he met Kaleem, who was in jail for the Mecca Masjid blast case.
"Sir, when I was lodged in Chanchalguda district jail in Hyderabad, one of my co-inmates was Kaleem. During my interaction with Kaleem, I learned that he was previously arrested in the Mecca Masjid bomb blast case and he had to spend about one and- a-half years in prison. During my stay in jail, Kaleem helped me a lot and used to serve me by bringing water, food, etc for me. I was very moved by Kaleem's good conduct and my conscience asked me to do prayashchit (penance) by making a confessional statement so that real culprits can be punished and no innocent has to suffer," he told the magistrate according to a report published in a weekly.
Aseemanand had also claimed that both Indresh Kumar and Sunil Joshi played key roles in the conspiracy, and that the Ajmer blast was carried out especially to deter Hindus since the shrine also sees a lot of Hindu visitors.
Edited by Jhinuk Sen