Sorry state of govt printing presses: just 10% employees, no new machinery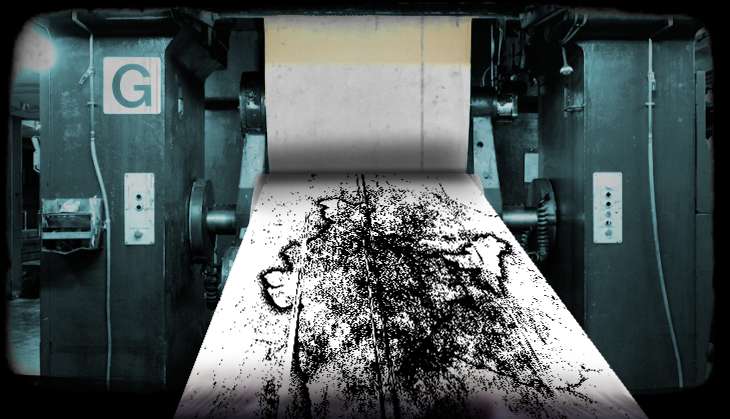 One hundred and fifty years - that's how long some of the government's printing presses have been in existence.
These presses still print parliamentary papers, classified documents, the Union Budget, ballot papers, question papers, CAG reports and text books, among many crucial government papers.
But did you know - all these crucial documents are printed on machinery that is at least 30-40 years old? Did you know that all these presses face severe manpower shortage, forcing employees who are meant to operate the press machinery to sweep, cook and clean too?
Despite this sorry state of affairs, these presses function day and night, in three shifts, with obsolete printing machinery and, surprisingly, even manage to surpass their targets.
But the non-availability of paper, severe fund crunch, lack of manpower and an outdated accounting system are among several issues plague these units, which are staring at a possible shutdown.
Successive governments' apathy
This has had a crippling effect on the efficiency and morale of workers at 21 of these printing presses. Moreover, successive governments have shown apathy towards these presses, which has seen them fail to update to the latest technology, resulting in a bulk of printing work being outsourced to private players. This has further burdened the state exchequer.
These revelations came into the spotlight after a Standing Committee on Urban Development submitted its report on the 'Modernisation of Directorate of Printing, Government of India Stationery Office and Department of Publication' in both houses of Parliament.
This reports exposes how neglect and contempt have wrought havoc on these units, which have been in existence since much before India gained Independence.
Historic significance
India's tryst with government printing presses dates back to 1862, when the British established the Central Printing Office at Calcutta. Two more units were added later, at Shimla and at the Viceroy's House (now Rashtrapati Bhavan), New Delhi.
Before 1947, India had six printing presses. Post independence, the government felt the need to add more units to support the increased workload. At present, there are a total of 21 such presses operating across India.
With the government striving to go digital, these presses have not lost relevance, since they publish sensitive documents which are crucial to the everyday functioning of the government. Some of these documents are so sensitive that they cannot be allowed to get into the public domain.
For instance, documents like the Union Budget and CAG reports, among other crucial documents, cannot be put out in public before they are presented in Parliament.
Credit must be given to the employees of these presses, since these documents have never been leaked into public domain post independence - the only exception being 1950, when Budget papers were leaked from the Rashtrapati Bhavan press. Since then, no classified documents have ever been leaked, even though some of these presses do not even have secret sections meant for storing these papers.
The standing committee flagged these security concerns, and cited the example of Chandigarh's text press, which doesn't even have a secret section for confidential jobs such as printing question papers. "...Lack of security staff compels them to engage industrial staff for security work, as the press building is established in six-acre areas," reads the report.
The Chandigarh press is one of the worst hit, and the committee report points out how, despite winning the best press award on four occasions, it has not be provided any new machinery since 1985.
Adding to the misery, the Chandigarh press has not been receiving paper to meet its demands. In 2014-15, it had no paper for more than 10 weeks, following which, the committee noted: "Moreover, if they demanded 500 metric tonne of paper, they got only 20 metric tonne during 2014-15... if they are provided with more variety of papers, they can perform still better by doing more work."
Responding to issues raised by the committee, the nodal ministry for Urban Development confirmed that during 2014-15, 120 metric tonnes of paper was provided, as against 291 metric tonnes requested for.
Acute staff shortage
What makes matters worse is the acute shortage of staff at these presses. There have been no new appointments in many years, and this reflects in the data shared by the ministry, wherein the existing sanctioned staff strength of these presses is 7,227, out of which only 2,619 employees are on the rolls. A total of 4,608 posts lie vacant.
In its scathing report, the parliamentary committee highlighted: "In some of the presses, the vacancies are more than 90%, such as Koratty Press (90%), Coimbatore Press (83%). Nilokheri and Temple Street and Faridabad Presses have 75% vacancies."
And with employees retiring each year, the count has only been going down. The committee has raised its concerns on the damaging effects of such a high shortage of human resources.
This, the committee believes, is leading to dwindling morale and efficiency amongst the employees. Also, the use of obsolete machines and outdated technology has further aggravated the dissatisfaction amongst the employees, who sometimes use parts from other similar machines to make one machine work to meet the deadlines. The committee noted that employees "feel like orphans where nobody cares for them".
The question of modernisation
Modernisation remains the most pressing issue for these presses. This has led to an overall downfall in the demand for high quality and state-of-the-art jobs. The ministry has acknowledged that in the last two decades, the required modernisation has not happened.
The government claims to have taken note of the desperate need for modernisation, and is finally considering initiating steps for the survival of these units. Citing the lack of funds as a constraint, leveraging surplus lands with these presses for commercial purposes is also being considered.
In its suggestions, the parliamentary committee has said that enhanced budgetary support; land leveraging pilot project; and modernisation through Pilot PPP are some of the ways to revive these presses. Even the National Buildings Construction Corporation has been asked to survey the land and suggest ways to allow these units to become self-reliant.
The committee observed that government has initiated the modernisation process of the Minto Road Press in New Delhi, which is to be renovated in the first phase as a pilot project over two years. However, the committee has expressed its reservations about the time frame and noted: "If it takes three years per press for modernisation and renovation, then, at this pace, the 15th Press will be modernised after 45 years, even if we presume that these are going to be renovated back to back."
Edited by Shreyas Sharma
More in Catch
70 years of uber Hindutva on cheap paper: the story of RSS Organiser
Undeclared emergency in Kashmir: police seize newspapers, gag media
Bandra plot adds to the Gandhis' woes in the National Herald case