Social media shocker: Some of Modi's own ministers don't follow him on Twitter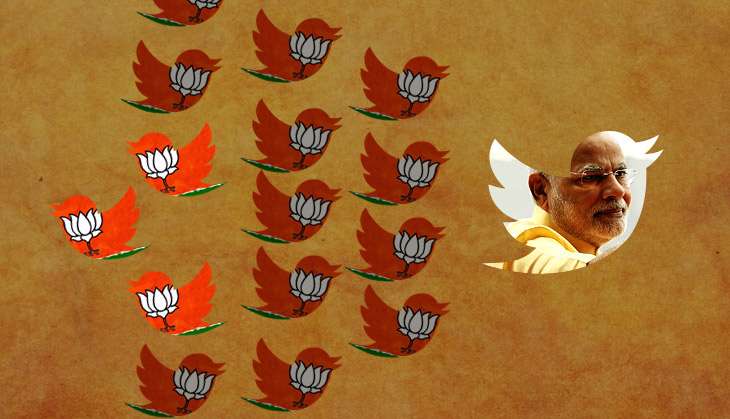 With over 20 million followers on Twitter, Prime Minister Narendra Modi is the world's second most popular leader on the micro-blogging site, Twitter. He is second only to United States President Barack Obama.
Yet, as it is always dark at the foot of the lighthouse, some of Modi's own ministers are not in his followers' list. Interestingly, many of these ministers have a huge fan following themselves on social media. But, they seem reticent in following other prominent personalities. In contrast, Modi himself follows 1,371 people on Twitter, a fairly large number for the leader of world's largest democracy.
However, the apparent lack of interest among Union Ministers in Prime Minister's Twitter activities, has surprised many political observers. Many analysts think this online game, of 'following' and 'unfollowing' at the top echelons of power, could be an indication of dissent among the ministers. It seems Modi, who claims to be changing the face of the country, is having a tough time 'transforming' the heart of his own lieutenants towards himself.
It is not that Modi's differences with some of his ministers are evident only on the social media. Several of them are known to belong to the anti-Modi faction. But, considering the clout that the Prime Minister enjoys in the government as well as within the party, few are willing to risk their political career by coming out in the open against him. Maybe, what they can't do explicitly, is reflected in how they behave on the Twitter.
Ministers caught
A case in point is Sushma Swaraj, who is the Minister of External Affairs in the government. It is no secret that she was one of the hopefuls, of being declared as BJP's Prime Ministerial candidate, before thr 2014 elections. Her apparent antagonism to Modi, stems from the fact that she is known to be the protege of veteran leader LK Advani, who has been marginalised after Modi's rise to power. This equation is reflected in Sushma not following Modi on Twitter.
Likewise, Nitin Gadkari, the Minister for Road Transport and Highways and Shipping, is no stranger to social media. The tech-savvy minister is a follower of BJP's official Twitter account. Curiously, he has not extended the same courtesy to party's National President Amit Shah. This has fuelled the speculations that all may not be well between the two BJP stalwarts.
Ministers reluctant to be 'followers'
Most of the ministers in Modi's cabinet have adhered to the party guidelines and the Prime Minister's wish to see them active on social media platforms. Many of these prominent ministers have huge followings as well.
Around 5.21 million people follow Sushma Swaraj on Twitter. According to the "2016 Twiplomacy" study by the global communications firm Burson-Marsteller, she is the most followed woman world leader on Twitter, ahead of the Queen of Jordan. She holds the 10th rank in the overall list of the most popular world leaders on Twitter, according to the study. The eloquent minister does not follow anybody herself.
Similarly, Home Minister Rajnath Singh is followed by around 2.84 million people on Twitter. He himself follows only 100 personalities. Nitin Gadkari has 883 thousand followers, but he has chosen to follow only two people. Defence Minister Manohar Parrikar has about 1.44 millon followers while he follows only 11 people from around the world.
Finance Minister Arun Jaitley has a slightly better record in this respect. He has 4.59 million followers and finds a place in the followers' list for 162 people. Urban Development Minister Venkaiah Naidu is another Union Minister active on Twitter. He has 215 thousand followers and follows only 42 people.
Railway Minister Suresh Prabhu is said to be just a tweet away from the railway passengers. He has made headlines on several occasions for extending help to the distressed commuters who sought help on Twitter. While Prabhu boasts of a followers' list of 980 thousand, he has followed only 88 people. The rustic Uma Bharti, who has been assigned the task of rejuvenating Ganga has over 55 thousand Twitter followers. But, she follows only 53.
The ministers who 'follow'
The Union Minister for Minority Affairs Najma Heptullah seems to be having two accounts. One of them follows 975 people and the other a paltry 61. As for followers, the first one has 7,144 and the other has 1,091 followers. Union Law Minister Sadanand Gowda has 186 thouand followers on the website, while he follows 364 important personalities.
Gowda is followed by Minister of Communications & Information Technology Ravi Shankar Prasad who follows 315 people. The minister has around 0.99 million followers.
Kalraj Mishra, the Minister of Micro, Small and Medium Enterprises is next on the list. The figure of his followers is a modest 85 thousand, but he follows as many as 257 people. The Union Minister of Chemical & Fertilisers Anant Kumar is not far behind. He is following 124 people and has around 169 thousand followers on the micro-blogging site.
Dr Naresh Dadhich, the Chairperson of the Rajasthan Pradesh Congress Committee's Vichar Vibhag, sums it up aptly, "The Twitter is one of the most powerful mediums of reaching out to people in a short time. The decision to follow someone on Twitter is a personal one. Nevertheless, celebrities are only interested in expressing themselves. They seldom like to listen to the others. This is the reason they follow only selective persons," he says.
Translated by Deepak Sharma