Sin city: is Bengaluru becoming unsafe for elderly people?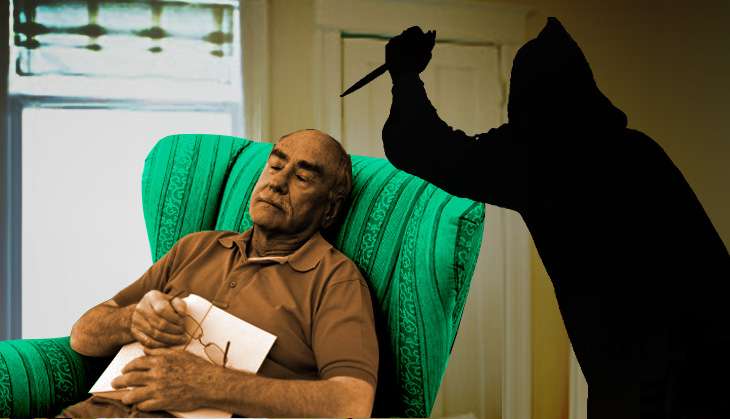 Motives
All murders of elderly citizens seem to have been done by petty thieves
Cops say property might be a motive for murder in some cases
Modus operandi
Killers usually gain access to the house after building trust with the inhabitants
After the murder, they leave with all the money and jewellery in the house
More in the story
Who were the four elderly people murdered in Bengaluru recently
What are the police doing about the rise in crime?
Not long ago, Bengaluru was known as a 'pensioners' paradise'. Senior citizens having spent most of their productive years elsewhere, returned to the city in their old age for a peaceful, retired life in a congenial atmosphere.
Many non-Bangaloreans too preferred the city because of its cosmopolitan outlook and pleasant climate.
But this might no longer be true.
If one goes by the spate of brutal murders of elderly people in recent times, the city might get dubiously renamed as a 'pensioners' nightmare.'
Also read: IBM techie murder: Bengaluru cops claim to have solved case in 24 hours; nab Sukhbir Singh
Three recent murders of elderly people staying alone at home by first-time offenders, for no apparent reason other than petty thieving, has unnerved the city and its police.
The kill list
Sixty-year-old Kiran Singh from Delhi, a divorcee who had worked as an HR executive in some private airlines, chose to live in Bengaluru five years ago. Living alone in her own house at Chikkagubbi, Kiran loved her work as a volunteer with Manasa Foundation teaching meditation.
On 19 May, her neighbours reported to the police that she had been murdered by unknown miscreants who ran away with all her gold.
Sixty five-year-old Lakshmi Rajam who lived in BEML layout, managed her affairs on her own. Her son Kiran, who lived in the US, visited her only once in every two years. Aware of her vulnerability as a person living alone, she never entertained strangers at home.
On 2 June, the police found her strangulated to death and her jewellery missing.
The murder of an elderly couple, Parvatharaju (61) and Chandrakala (58) at their residence in Frazer Town, went unnoticed for several days, before the police recovered their bodies in a highly decomposed state.
The police found multiple stab injuries and slit marks on their throats and termed it 'a murder for gain'.
One out of three solved
Of the three cases, the police have only been able to solve Lakshmi Rajam's case.
On 9 June, they arrested Krishna Kishore, who allegedly confessed that he had killed Rajam along with three others.
He gained entry into the house as he had known her for two decades.
The police subsequently recovered stolen gold chains and bangles which the culprits had sold to pawn-brokers.
Scary statistics
The National Crime Records Bureau figures for 2012 showed that Bengaluru was the second highest crime-prone metro in the country.
It topped the list in the number of cases of robbery and dacoity and with 266 murders, the city stands next to Delhi, which reported 408 murders.
Apart from 'murders for gain', what worries the Bengaluru police is the rising trend of relatives or other unknown persons targeting elderly people for their properties.
The market value of houses they own in the heart of the city, have suddenly skyrocketed to several crores, drawing malevolent attention.
A senior police officer said, "The land these old bungalows occupy is generally large and well-suited for apartment buildings. We suspect that there are well-oiled gangs operating on behalf of realtors who are always on the lookout for properties which fetch maximum revenue. In this respect, the elderly people are extremely vulnerable. But it is hard to find sufficient evidence to nail them."
Property issues
There are many instances of close relatives becoming impatient with the elderly and collaborating with criminals when they face uncertainty over their claims being met after the person's demise.
In a shocking incident, the police arrested a 19-year-old girl who allegedly murdered her grandmother and looted her jewellery. She was unhappy with her life as a salesgirl with a low pay.
The murder case was solved when the police followed the trail after they found that she had spent around Rs 50,000 on a party she threw for her friends and colleagues.
Also read: Bengaluru racism: Tanzanian woman stripped, beaten by mob, car torched for a stranger's crime
In another instance, T Thimmaiah, a retired official, found himself holding the wrong end of the stick, when his granddaughter began to ill-treat him after getting him to transfer his property in her name.
When he complained to the authorities, an assistant commissioner of revenue, in a first instance of its kind, cancelled the gift deed and ordered the granddaughter to pay the victim Rs 5,000 per month as maintenance allowance.
Law and order
The Karnataka Maintenance and Welfare of Parents and Senior Citizens Act has set out a series of guidelines for the police to help elderly people.
The rules framed under the Act require every police station to maintain up-to-date list of senior citizens living in its jurisdiction, especially of those staying alone.
A representative of the station is required to visit the elderly people regularly along with a social worker or a volunteer. The police are also supposed to do background check of domestic servants and others employed by persons staying alone at home.
Additional commissioner of police KSR Charan Reddy said following the recent series of murders, the police have stepped up the vigil.
The police have started building a data base of senior citizens and keep a watch on their houses during daily patrols.
He said those living alone should keep the police or their neighbours informed whenever labourers or workers visit them for repair or service.
He has also suggested that they should install CCTV cameras in their homes and outside if they could afford to.
On the occasion of World Elder Abuse Awareness Day earlier this week, HelpAge India, a charity organisation, launched an app for elderly citizens.
It has an SOS red button, connecting HelpAge's helplines across India that functions round the clock, besides offering other useful information on local retail outlets.
Are we better off than those abroad?
After watching news from abroad, especially those about the recent massacre in the US, Indians may feel that they live in a relatively safe country as they don't have a 'gun culture' at least in urban centres.
But according to the 'murder map' prepared by Igarape, a Brazilian think tank which tracks homicides across the globe, Brazil figures on top with over 58,000 murders in 2012 and India came in second with 43,355 murders.
"The problem of homicides is absent from public scrutiny and development agendas in India and that's why it hardly gets discussed," says Robert Muggah, founder of the think tank.
Muggah could not be more correct.
Edited by Jhinuk Sen
Also read: Bengaluru: Wife slashes husband's fingers for checking her phone