SIMI encounter cops rewarded. Is it Batla House redux?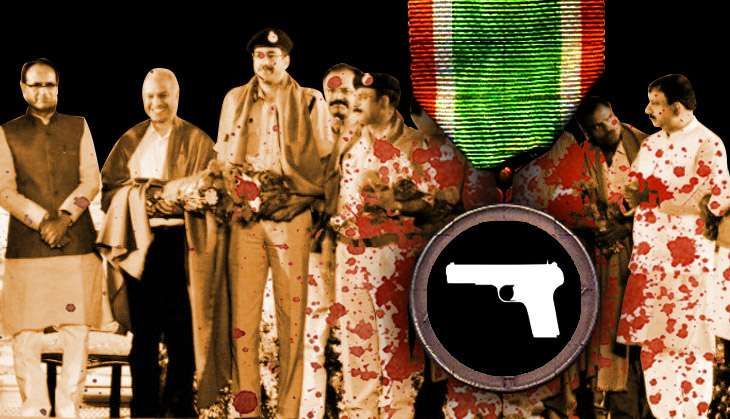 In October 2013, just before the Delhi Assembly elections, the Bharatiya Janata Party (BJP) was looking for planks to create a buzz. In Dwarka sub-city of south-west Delhi, the BJP-controlled South Delhi Municipal Corporation hastily completed the construction of a community centre and held a grand function to inaugurate it. SDMC named the centre after late inspector Mohan Chand Sharma who was killed in the dubious Batla House encounter of 2008.
The idea was to revive memories of the deeply polarising 2008 incident so that the electorate could be drawn in again by presenting Sharma as "shaheed" (martyr).
Vijay Goel, the then BJP chief in Delhi, inaugurated the facility and said at the function, "No Delhiite can ever forget the martyrdom of Mohan Chand Sharma who lost his life in the operation against terrorists hiding in Batla House in the Jamia Nagar locality. It is sad that petty political considerations have worked to discredit the operation."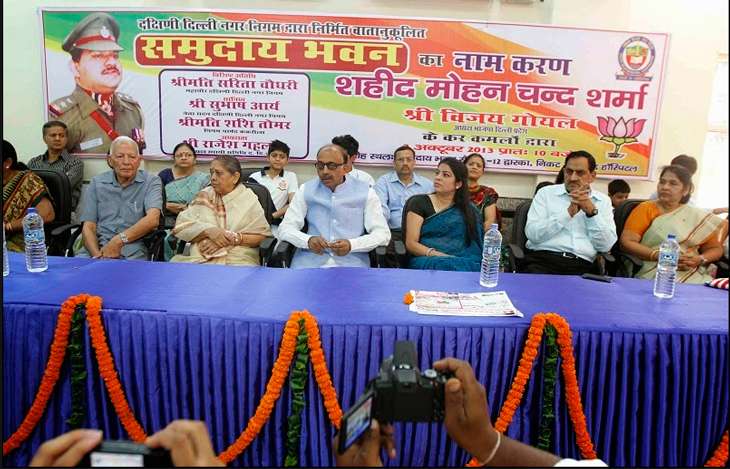 www.bjp-delhi.blogspot.in
Note the similarities between Goel's words and recent statements by Madhya Pradesh Chief Minister Shivraj Singh Chouhan after the encounter of alleged SIMI operatives near Bhopal.
On being pointed out that there are gaping holes in police's version of the 'encounter', Chouhan chose to drown out all claims of its dubiousness by invoking the dead prison guard Rama Shankar Yadav, said to have been killed by the men while escaping from Bhopal Central Jail.
शहीदों का सम्मान न करने वाले राजनेता और ऐसी राजनीति पर लानत है। कर्तव्य की बलिवेदी पर चढ़ जाने वाले शहीदों पर राजनीति करना अशोभनीय है।

— ShivrajSingh Chouhan (@ChouhanShivraj) November 1, 2016
कुछ राजनेताओं को शहीदों की शहादत दिखाई नहीं देती है। जो नेता शहादत पर दो शब्द नहीं बोले, वो कार्रवाई पर सवाल उठा रहे हैं।

— ShivrajSingh Chouhan (@ChouhanShivraj) November 1, 2016
Chouhan consistently maintained that the men were 'terrorists', even though their trial was still going on, and that the cops did a good job by killing them. He sent out an appreciative tweet on the day of the encounter itself.
सिमी के सभी ८ आतंकियों को जनता के सहयोग से प्रदेश पुलिस ने मुठभेड़ में मार गिराने का कार्य किया है, उनके साहस और पराक्रम की सराहना करता हूँ।

— ShivrajSingh Chouhan (@ChouhanShivraj) October 31, 2016
As the debate over incongruities in the police narrative heated up, he gave out another statement, standing fully behind the encounter-cops and once again asserting that the slain men were terrorists.
आज विशेष रूप से प्रदेश पुलिस को बधाई देता हूँ, जिन्होंने दुस्साहस करने वाले सभी क्रूर आतंकियों को कुछ घंटों में मार गिराया। #MPSthapnaDiwas

— ShivrajSingh Chouhan (@ChouhanShivraj) November 1, 2016
I want to thank MP Police for prompt response when their own was martyred, they neutralized terrorists: CM @ChouhanShivraj #MPSthapnaDiwas

— CMO Madhya Pradesh (@CMMadhyaPradesh) November 1, 2016
Of chicken biryani and cash rewards
Several video and audio clips have surfaced that indicate that the encounter was a pre-meditated exercise. Several points in the police's story don't add up but neither the MP police, nor the administration has chosen to give any explanation.
Also read: Finish everyone: Orders to kill 8 SIMI-linked undertrials came from the top show audio clips
The ATS chief of the state has said on record that the eight slain men did not have any weapons when they were shot down. The NHRC has issued a notice to the state government, asking it to explain the incident.
There have been demands for probing the encounter but all that the CM announced was a probe into the jail-break.
Further, he effectively also tried to argue that it was better to shoot those accused of terror than keeping them alive for a long time in jails and serving them 'chicken biryani'. And all this while, he received ample covering fire from BJP's central leadership, including from Union ministers Venkaiah Naidu, Ravi Shankar Prasad and Kiren Rijiju.
Finally, Chouhan has now indicated that he is no mood to encourage these debates any further by formally felicitating the cops who were involved in the encounter.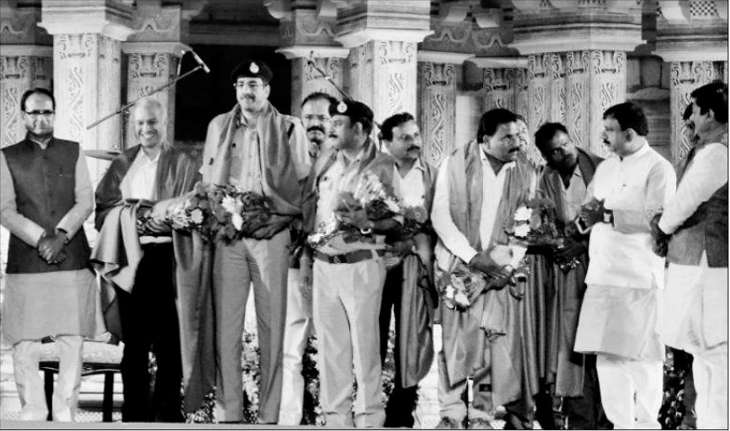 PTI
He welcomed and honoured them at a public function in Bhopal on 2 November and also announced a reward of Rs 2 lakh for each cop. Further, he reportedly also announced a reward Rs 40 lakh for the villagers who allegedly tipped the police about the slain men.
Shraddha nidhi to be Rs. 25 lakh for State's police personnel who lay down their lives protecting citizens on duty. pic.twitter.com/c4EQGGbPOs

— CMO Madhya Pradesh (@CMMadhyaPradesh) November 2, 2016
What exactly was the reward-worthy act?
What is the meaning of this felicitation? Even if one goes by the government's narrative, these cops were supposed to nab a group of prison inmates who were on the run, not shoot them point blank.
How is killing unarmed under-trials an act that deserves a reward? The answer lies in BJP's dangerous use of, as grave a phenomenon as, terrorism as a political tool.
Be it the famed multiple 'encounters' of Gujarat or those at Batla House or those of alleged SIMI operatives in Bhopal, there is a common narrative running through.
Either use the police or turn a blind eye towards them for extra-legal killings, reject all protests in the name of national security and polarise the debate by presenting those killed as evil agents of Islamist terror and the cops as living or martyred warriors of Hindutva.
While CM Chouhan was busy defending his cops, all eight killed under-trials have been buried. There is no information whether any evidence from the entire incident has been preserved to aid a probe, if at all it is ordered at a later date.
Just like the Batla House encounter, there is no telling if the doubts over this incident will ever be dispelled. But Chouhan's act of felicitating the encounter cops has dealt a finality to the incident from the BJP's side and the cops have been turned into heroes. Just like late inspector Mohan Chand Sharma of Batla House fame.
Also read: SIMI shooting: Here's India's track record when it comes to fake encounters
Also read: SIMI encounter: How media wrongly labelled undertrials as 'terrorists'
Also read: Dead men walking: the SIMI encounter was about more than just a jailbreak