Sikhs & Kashmiri groups come together in Amritsar to air demand of self-determination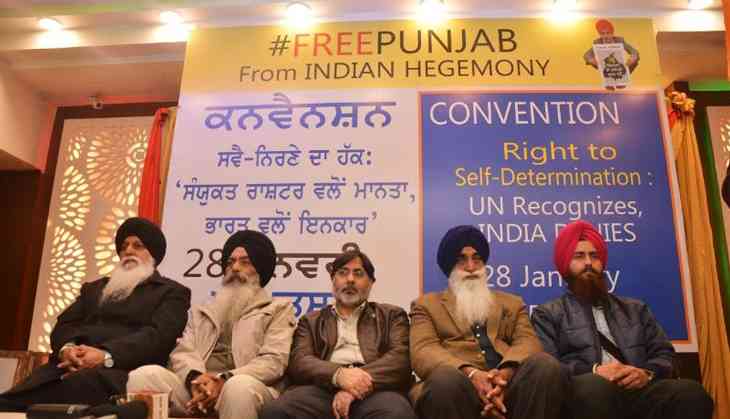 Sunday evening saw the coming together of Sikh and Kashmiri groups at Amritsar to air their demand for right to self determination. The convention on 'Right to Self-determination: UN recognizes, India defeats' organised by Dal Khalsa saw the groups contesting and challenging what they call the "highly negative stance" of the Indian state towards the right to self-determination.
A call was given to invoke the international community, the United Nations (UN) forums and other nationalities across the Indian subcontinent to seek and ensure enforceability of the 'UN recognised right' denied to them.
It was underlined that there is no other peaceful route to resolve the existential crisis of Punjab and Kashmir that aspire to be sovereign and independent. Dal Khalsa spokesperson Kanwar Pal Singh told Catch, "We will now be launching a mass awareness drive on the issue on which both the Kashmiris and us have been working for the last decade. We have to take the masses on board for this common goal of right to self determination."
Addressing the gathering through a video connection the Hurriyat Conference chief Syed Ali shah Geelani accused India of gone back in honoring its commitment to the world community and the people of Kashmir. He said, "We are facing worst kind of atrocities day in and day out. Nothing is secure and safe including our lives, our resources, our honour and dignity. We are deprived of all fundamental rights. The world is mute." He sought the help of Punjabis to help their northern neighbour.
Dal Khalsa president underlined that self determination is nothing but a simple expression by the peoples of a nation about their intent about non-acceptance of their allegiance to their present dispensation under which they are forced to live due to an undesirable twist in their history and a declaration to move towards self-rule.
He said that Indian leadership, pseudo-intellectuals and media says the right self-determination is vague and restricted to colonized states and some even question the Sikh claim to it. "We would like to clarify that the Sikh claim to statehood is deeply entrenched in their history and tradition," he asserted.
Prof SAR Geelani of Delhi University said the people of Kashmir have a UN resolution supporting their legitimate claim but it is the prevarication of the Indian state that publicly delegitimizes this right and continues to crush it through military occupation.
In his keynote address, Kanwar Pal Singh asserted that the people of Punjab have the full right to invoke the December 14, 1960 resolution of the UN General Assembly on 'Declaration of the Granting of Independence to Colonial Countries and Peoples'. "Punjab fully fits the bill. We were a country, which had diplomatic relations with China and Tibet. We were a country whose borders extended up to present day Afghanistan. We had treaty relations as a people with the British," he said.
"We seek the transfer of power back to the Sikhs through the exercise of this right to self-determination guaranteed under this UN resolution. As simply put by the UN, the goal of decolonisation cannot be achieved without the right to self-determination. Heretofore, Sikh organisations have petitioned the UN individually and collectively, though there has been no response so far," he pointed.
According to him the focus of the right in the declaration on granting of independence to colonial countries and peoples in 1960 was on 'the necessity of bringing to speedy and unconditional end colonialism in all its forms and manifestations'.
"This restrictive interpretation has however become rightly discredited both by subsequent international law and by state practice:
Since 1960 not one of the major international instruments which have dealt with the right of self-determination has limited the application of the right to the colonial situations. For example, as we have already seen common Article 1 of the two International Human Rights Covenants of 1966 applies the right to 'all peoples' without any restriction as to their status and the obligation is on all states, 'including those having responsibility for the administration of [colonial] territories'. Article 20(2) of the African Charter refers to both 'colonized and oppressed people' as having the right. In fact, the substantial increase in membership of the United Nations in the 1991-1992 period is a reflection of this broader application of the right of self-determination to non-colonial situations," he added.
The speakers concluded that self-determination is now recognised as the bedrock of all human rights in international law and without self-determination all individual human rights can be breached without impunity. Furthermore, self-determination is a key to the resolution (and prevention) of scores of violent conflicts invariably take a massive toll on human life and development.
Former Dal Khalsa chief HS Dhami said since the creation of a Commonwealth of the Khalsa, that Commonwealth which had the name of Sarkar-e-Khalsa in 1849 and was annexed by British India, through chicanery, deceit and plain political craftsmanship - first the British and then Indian regimes have ensured that the Sikh nation is denied this fundamental right to them to determine their political freedom.
"We stand colonised in all respects. What happened in 1947 was the colonisation of Punjab. As Sirdar Kapur Singh had put it, "Our potential to be masters of our own destiny was taken away." The sovereign character of the Sikh people cannot be compromised. It may have been held in abeyance still, but it is not the wont of Sikhs to continue to live like this," he said.
The resolution adopted at a convention says that self-determination is the inalienable right of all nationalities and peoples including people of Punjab and Kashmir. People of both the states are struggling to get the right and are facing hawkish Indian state, which has not only denied them their right but crushed and stifled their rightful aspirations to be free by portraying them separatist and classifying their demand as illegal and parochial.
It was pointed that getting such a right is not easy. The participants said that "countries like India which otherwise advocate peaceful methods to solve problems, use draconian laws, brute police and military might to crush such aspirations. Nevertheless, beleaguered nations like the Sikhs and Kashmiris have no choice but to stand up and protect their future generations from being subsumed in the cauldron of 'Indian-ness'," they underlined.