Should forest guards be allowed to shoot poachers at sight? Experts are split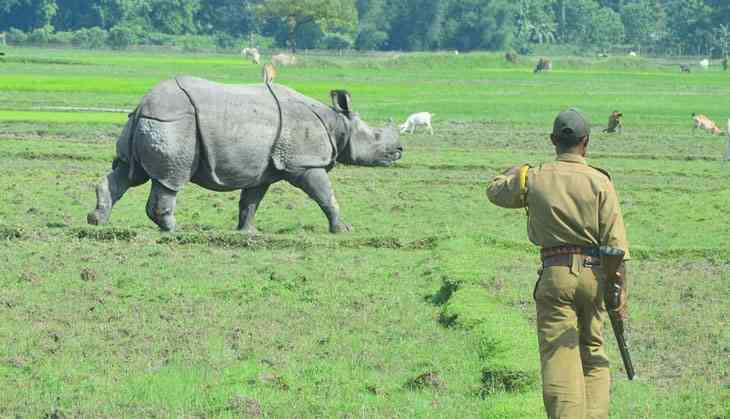 Barely days after the BBC documentary Killing for Conservation sparked a controversy by portraying of the forest officials of Kaziranga National Park in Assam as trigger-happy killers, a similar controversy has led to the ouster of Corbett National Park acting director Parag Dhakate.
Dhakate created a storm by asking his staff to shoot poachers at sight while announcing a special five-day anti-poaching drive in one of India's key tiger habitats. The forest department later clarified no such orders had been issued. Dhakate, on his part, claimed he had just reminded the staff that they enjoyed immunity from prosecution and that he was misquoted.
These controversies have led to a debate among wildlife and legal experts on shoot at sight orders in national parks and reserves.
Also Read: The board have mercy: how the govt is riding over wildlife protection
"There are no provisions in CrPC and IPC about shoot at sight orders. Even the police do not have such a right and can only do it in a curfew. People will talk about it but can someone show any such official order? We cannot have such a draconian law. There is so much hue and cry about shooting people in Kashmir, any order like this will have similar response across the country," said SP Yadav, Assistant Secretary General, Global Tiger Forum (GTF). He was earlier posted as DIG, National Tiger Conservation Authority (NTCA).
About the BBC documentary, Yadav claimed it was highly exaggerated. He claimed the poachers enter Kaziranga "with the intent to kill or get killed". Pointing out that rhino skin is almost bulletproof, he said poachers need to be at least 10 meters away from the animal to do any damage. "The bullets don't kill a rhino, they just immobilise it. Then the horn is sawed off while it is still alive. But if the rhino charges at them, they are as good as dead. If the forest officials see them, they fire at them. Such extremist elements are confined to Kaziranga, however, and similar rules can't be applied in other national parks in the country," he added.
Backing Yadav's argument, Dharmendra Khandal of the Tiger Watch said such an order would wreak havoc in a place like Ranthmbore National Park in Rajasthan. Khandal has been working with the various hunting tribes living in the periphery of Ranthambore, training them to find livelihood options. Khandal is of the opinion that antagonising the locals would only turn them against conservation.
"We have over 150 temples inside the park which are visited by people throughout the year. If there is such an order here, hundreds could get killed, and that would backfire completely. People defecate in the forest, they take their cattle to graze deep within the reserve, some even go inside to collect firewood. If they get killed because of such an order, there will be chaos," he said.
Khandal, however, agreed that Kaziranga is a different case and that if poachers come armed with AK-47s, stern action must be taken. Khandal claimed this was not the case in Rajasthan where his organisation has been working with local communities to make them stakeholders in conservation, an effort that is working. Still, he added, "If anybody poses a grave threat, even a tiger, then it should be eliminated."
A senior official at Corbett argued along similar lines: the forest officials should defend the reserves with whatever they are allowed within the law. "It is not that these are foreigners who have declared war against our country. You need to apprehend these people and deal with them as per the law. This is not the wild wild west. Human rights have to be respected," he added.
The official, however, added that his hand would not tremble before shooting a person who poses a threat to forest staff and wildlife. He said, " But it must not be casual. One must do everything in his capacity to show restraint."
Also Read: Corbett tigers are getting poached at an alarming rate
Differing with these views, another section of experts claims that poachers are "desperados" who come with the intent of destroying wildlife, and they should be dealt with sternly. Dr MK Ranjitsinh, who is credited with creating more national parks than anyone alive and for being the principal author of the Wildlife Protection Act, 1972, is all for shooting poachers who come with the intent to killing wildlife. "Why would one carry a firearm in a national park when it clearly says that no one is allowed inside with a firearm. Should the forest department wait for the poachers to kill them? The stakes are very high and if it wasn't for such stringent action in Kaziranga, we wouldn't have seen these many rhinos surviving," he claimed.
Ranjitsinh is of the view that poachers should be asked to surrender and if they don't, then the forest officials must deal with them like any other law enforcing agency would. He, however, cautions that laws should not be allowed to be misused to settle personal scores and that "encounters" of poachers should be probed to ensure no innocent has been killed.
Jagdish Kishwan, former Additional Director General of Forests (Wildlife), maintained that it was alright to shoot hardened criminals who would not hesitate to shoot the forest officials. He added that if the forest officials are confronted with poachers armed with AK-47s, then the only option left is for them to fire. "It is better to kill an armed poacher than lose a forest guard," he said.
Kishwan added a new dimension to the controversy by putting much of the blame for the current situation on the failure of intelligence agencies to bust poaching networks. "We catch these poor poachers who are from certain communities, but we rarely hear that the entire network has been busted. Rhino poaching has been happening for decades and yet we have not been able to apprehend the big fish who recruit innocent people to carry out their jobs," Kishwan said.
Speaking about the role of communities living on the fringes of national parks, Kishwan said they should be made stakeholders in conservation so that instead of aligning with poachers, they help bust poaching networks. "We get and act so judiciously when it comes to trafficking of drugs but wildlife products are so easily being taken out of the country but we have not been able to identify these routes or zero down on the big fish. If we improve our intelligence, no innocent, or even a poacher, would be killed," he argued.
Also Read: Are Kaziranga game-keepers killing innocents? Experts rubbish BBC report