Shocking: 500% rise in kids put up for sale, 330% in girls sold into sex work
Most victims of trafficking in India come from Karnataka. Trafficking of minors for illicit sex has increased by 460% over the last 10 years, and 332% more minor girls are sold into prostitution now as compared to 10 years ago.
This and other data was released by Haq, a child rights NGO, at an event in Delhi on 22 June. At a time when debate is raging on the new anti-trafficking draft legislation, these numbers provide a peek into the challenge facing the country.
According to a recent study conducted by Haq, the period between 2004 and 2014 saw a rise of 1,400% in the cases of girls being abducted and trafficked as brides. While there was an 81% drop in trafficking for the purpose of slavery, the number of children put up for sale in underground bazaars rose by over 500%.
Bharti Ali, co-founder of Haq, said they have found that India not only receives abducted girls from African countries such as Uganda, it also regularly sends trafficked girls abroad.
"You know, even our regulations on adoption are framed in a way that encourages the underground trafficking market. The rules allow that a child who is up for adoption and has been rejected thrice, based on her pictures, to be put up on international adoption lists. And a parent that rejects three kids to be put on a wait list," Ali said.
This makes many such prospective adoptive parents to try other, often illegal, ways to get children.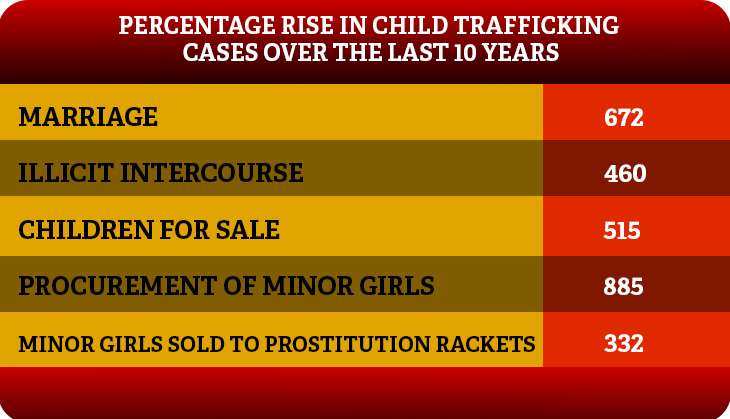 Malik/Catch News
To hell and back
At the event held by Haq, Catch spoke to some young girls who had been trafficked mostly for sexual slavery and are now working with programmes run by Haq and its associates. There were also a few women who had been drugged by "friends" and sold off in distant places; they were to found out they had been "married" off, only the marriage was a financial transaction.
Then there were girls burnt with cigarettes and continuously drugged; those who had conceived during their sexual slavery and had to escape with their children; those who remain entangled in legal cases even years after being rescued.
Arefa's story
The story of Arefa, 16, is particularly horrifying. She was just 13 when she was abducted. It is not easy to speak with victims of trafficking like Arefa. How do you react to their history? What do you ask them?
It is difficult to imagine what this girl would have gone through when she was cornered by predators in a dark alley and smothered with chloroform, or the trauma she would have suffered over the year after she was kidnapped from Delhi. In this time, she was raped daily by several men for months, then sold for Rs 80,000 to other men who treated her as a sex slave, forced her into drug peddling, and sent her off with men to Uttar Pradesh, Haryana and West Bengal.
Arefa was also injected with steroids to make her look older than her age. It caused severe medical complications, which she has to deal with on a daily basis.
If this wasn't traumatic enough, Arefa, after being rescued from a brothel in West Bengal, was brought back to live in the same locality where she had been initially abused. It has been so painful that she can't recount it without breaking down.
"I do not want to fight this battle in court anymore. When my father was alive, I had the strength to stand up to these people but now that he is no more, I have no strength left to fight," she says, weeping.

Malik/Catch News
Suspended lives
Arefa is not the only minor victim of trafficking who continues to live her worst nightmare, even after being rescued.
Shrishti was 14 when her neighbour abducted her, and then sold her to a brothel in Dhanbad. She was then brought to Delhi but abandoned by her traffickers who panicked on seeing policemen.
Her parents initially didn't want anything to do with her when they heard about the hell she had been through. Even after the family took her in, she was ostracised by her village.
Ten years on, Srishti, now, is still being called to court to depose against her traffickers. Her counselor talks about the trauma Shrishti is suffering now.
"Sometimes the accused change their lawyer, and the new lawyer demands time to study the case. Sometimes the judge goes on leave; other times court holidays are declared. It's hell for her because every time she has to relive those moments. We know this is being done to turn her into a hostile witness but there's nothing we can do about it. We're helpless," the counsellor says
Shrishti, having broken down several times as her counsellor spoke, is unable to speak.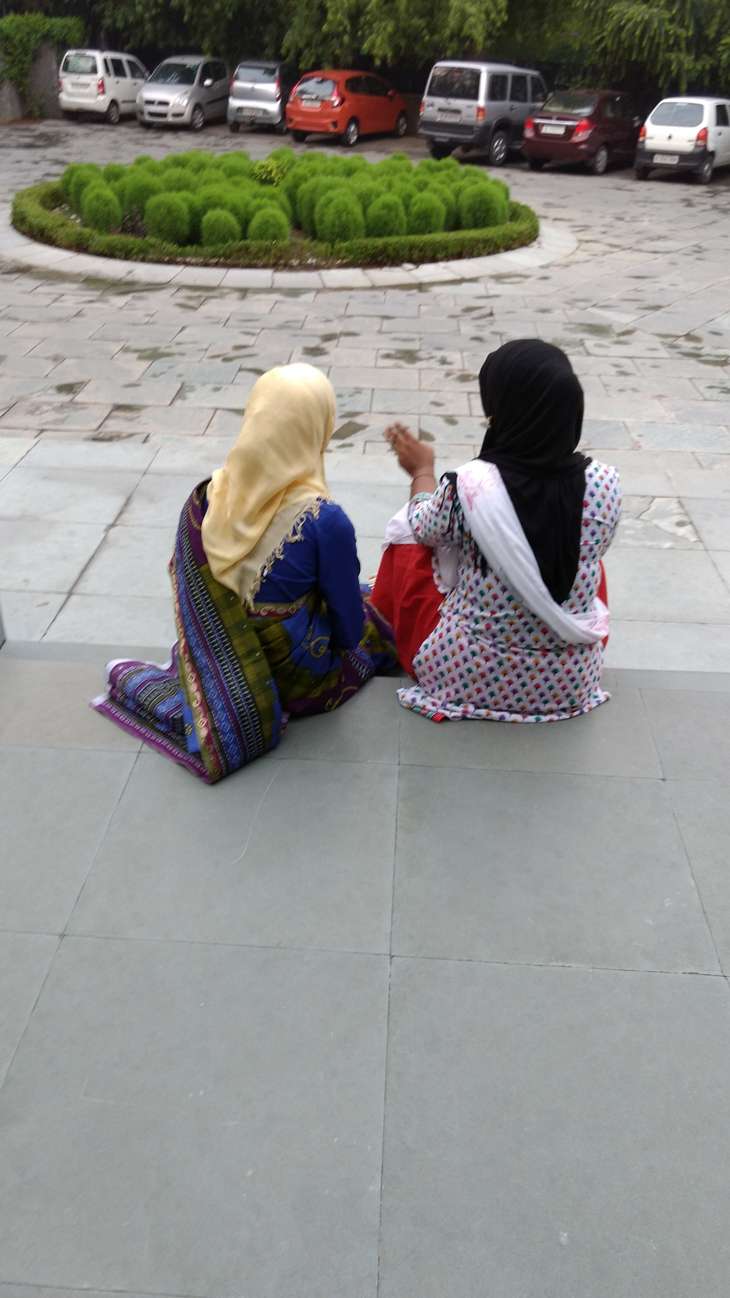 A victim of child trafficking with her counsellor at the Haq event in Delhi (Suhas Munshi/Catch News)
Ray of hope
Fortunately, not every survivor of child trafficking is looking at a grim future.
Archana, a minor who was abducted from a train she and her two siblings had taken to escape poverty, is doing well in school. She has even become a bit of a celebrity as a poset.
"You must be wondering who these children are that beg on train platforms. They must come across as eyesores. I was one of them at one point and then became a prey of sex trade. Today, I go to school and am counted among the best students and, God willing, I will study as much as I want," Archana says.
At the Haq event, as she recited her poems, everyone gathered there stood up to applaud her spirit. Listen to her recital here:
*Names of victims have been changed to protect identity