Sense of insecurity: why a spate of proposed yatras has Kashmir on edge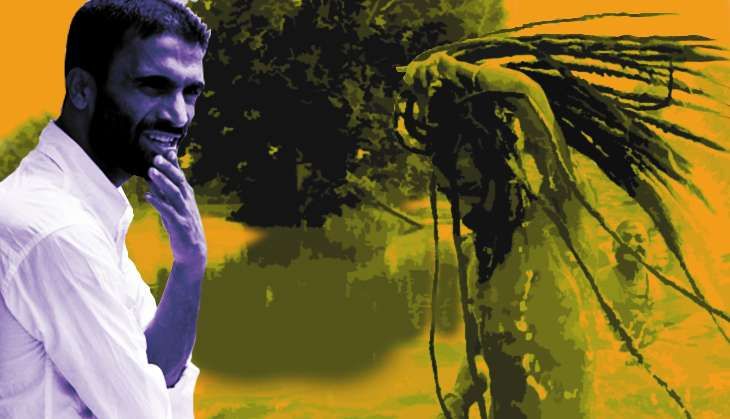 A Maha Kumbh is being organised in Kashmir at the confluence of Jhelum and Sindh rivers in Ganderbal district on 14 June. The religious event, which will coincide with the proposed new yatra to Abhinavgupta cave at Beerwah in Badgam district, is creating deep unease in the valley, where successive attempts at starting new yatras, coupled with proposals to build Sainik and Kashmiri Pandit colonies, are perceived as part of a larger design "to dilute the valley's Muslim identity and change its demographic character".
The event is being held by the Maha Kumbh Celebration Committee after 75 years, says its convenor Dr A K Kaul. The last Kumbh, he said, was held on 4 June 1941 and attended by thousands of Hindus who had come from several parts of the then undivided India.
"Then, there was no India, Pakistan. Devotees had come from Lahore, Karachi, Gujarat, Delhi and from as far away as Chennai," Kaul said. But tragically, the seven members of one Tickoo family had lost their lives when their boat capsized while crossing over to the little islet in the middle of the Jhelum-Sindh confluence marked by an old Chinar tree. "Their bodies were never found," Kaul said
The spot of confluence has a Shiv Lingam which is kept under the Chinar. People reach the islet in a boat and worship there. However, the Kumbh is fundamentally about a bath in the sacred waters of the merged holy rivers -- Jhelum, also called Vitasta in Kashmir, and Sindh or Indus.
Kaul expects thousands of devotees to turn up. The event will be attended by Kashmiri Pandits who have returned to the valley to attend the annual Kheer Bhawani festival at the nearby Tulamulla village. "We also expect devotees from other parts of the country," Kaul said, adding the place was well known in India. "The ashes of the first prime minister of India Jawahar Lal Nehru and Bollywood actor Shammi Kapoor were immersed at the confluence as per their wills".
Saffron agenda?
The planned congregation, however, is playing to a deep seated fear in the valley about attempts being made to alter with J&K's demography. More so when a Sangh Parivar-allied outfit Acharaya Abhinavgupta Sheshadri Samroh Samiti is leading a parallel yatra to Abhinavgupta cave in Beerwah on 11 June.
"We will conduct puja at Kheer Bawani in Ganderbal and other temples on 10 June before starting the yatra to Abhinavgupta cave the following day to do puja there as well," the yatra's convenor Ajay Bharti told reporters.
The samiti, Bharti has said, is an alliance of various organisations with members from all over India and is headed by the founder of the Art of Living Foundation Sri Sri Ravi Shanker.
Also Read: Mehbooba openly bats for staying with India. Is it for real?
Revealing the Sangh's plans to commemorate Abhinavgupta, a 10th century Kashmiri Shaivite philosopher, earlier this year, RSS general secretary Suresh Joshi had said a yatra to the philosopher's cave would celebrate his literary and spiritual contributions.
"It would be a true homage to Acharya Abhinavgupta to enlighten the whole world, especially the youth of Kashmir, with the life and deeds of the legend who interpreted the ancient spiritual and cultural heritage of Kashmir in a new unifying philosophy with the challenges of times, in this era of ideological fanaticism," Joshi had said in a statement.
Soon after the plan for the yatra was made public, a Muslim religious outfit from Beerwah, Anjuman Mazharul Haq, threatened to hit the streets against the pilgrimage. The organisation has said the cave was used by a Muslim saint Mian Shah Sahab and that there was no historical evidence to support the RSS claim about its use by Abhinavgupta.
"It is our request to not hold a yatra forcibly. If it's still done, it can disturb the traditional amity between the communities," Anjuman Mazharul Haq patron Moulana Syed Abdul Lateef Bukhari told the media in an informal meeting in Srinagar after state government denied him permission to hold a press conference.
He held up a court judgment of 2014 which, according to him, stated that "the tale of Abhinavgupta is not based on any historical evidence but seems to be a story concocted by the petitioners".
However, a Muslim activist Tanveer Ahmad had earlier moved court to stop mining near the cave by J&K's Geology and Mining Department, pleading it had religious significance for Hindus.
Fearing loss of identity
In the valley, where a discourse about New Delhi's alleged attempts to change the state's demography has acquired a deep resonance, the yatras seem part of a deliberate design. In 2015, the decision of a Kashmiri Pandit group, All Parties Migrants Coordination Committee, to start yatras to the freshwater high-altitude lakes of Kausarnag and Gangabal had threatened to tip the valley into mass unrest. This despite the fact that the yatra to Kausarnag had been going on for the preceding five years via Reasi in Jammu province, but the group wanted to mount it from the valley, with Kulgam as the base camp.
Also Read: 20 easy steps Modi can take to make Kashmiris feel better
After the pilgrimages faced public opposition, the state government held back permission. This, in turn, triggered an equal and opposite reaction from Jammu province, providing politicians handy constituencies to pander to.
What alarms people in the valley is that these pilgrimages do not seem to have evolved naturally out of a sense of religious obligation. Their sudden and coordinated emergence in recent years has bred suspicion.
And when Kashmiri Pandits oppose this denial, demanding a right to restore their religious practises in the valley, it often triggers a full-scale identity war in which Kashmir is pitted against the rest of India.
Adding to this smouldering cauldron is the government's proposal to build a Sainik colony for ex-servicemen and a "transit accommodation" for Kashmiri Pandits. The state government's assurances that the colonies would not violate J&K's constitutional safeguards under Article 370 haven't helped calm the nerves.
"Kashmiris are not against the Indian people or their religion but they are struggling for their birth and basic rights. We have always welcomed the yatris and tourists from India but we cannot compromise with our Muslim and cultural identity," Hurriyat chief Syed Ali Geelani said. "We will resist every move which is aimed to challenge the Muslim majority status of the state".
Also Read: Positive pushback: Kashmiri Pandits protest against cow politics in Kashmir & the murder of Zahid