SC tells Chhattisgarh: Learn from Colombia, hold peace talks with Maoists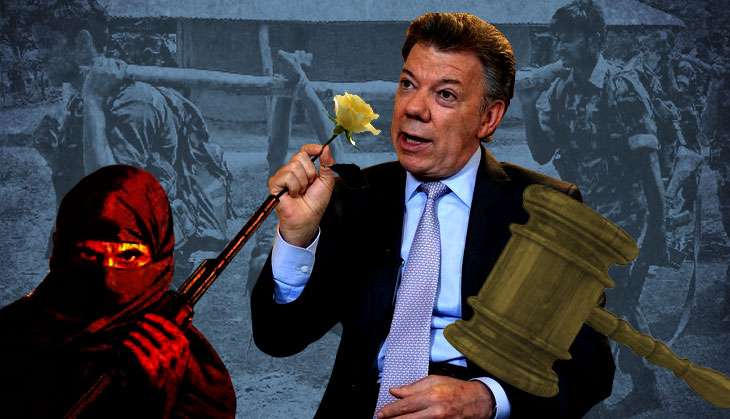 The Supreme Court on Friday suggested peace talks to end the Maoist insurgency in Chhattisgarh.
Citing the example of this year's Nobel-prize winning Colombian peace deal, a Bench of justices Madan B Lokur and AK Goel called for a similar initiative in the case of Maoists, as well as North-Eastern rebel groups.
The Bench was hearing a five-year old case related to the alleged violence by state forces in Bastar's Morpalli, Tadmetla and Timpuram villages. The CBI apprised the court about the results of the investigation. Last month, the apex court had questioned the CBI's pace of investigation.
Raman Singh's government of Chhattisgarh has defended the security forces, blaming the Maoists for the violence. But the CBI's findings suggest otherwise. It has presented documents and witnesses to claim that the violence was perpetrated in the presence of CRPF, Special Police Officers (SPO) and state police contingents.
A five-year probe
According to the chargesheet filed by social activist Swami Agnivesh and Professor Nandini Sundar, these forces had conducted a joint search operation in Morpalli, Tadmetla and Timpuram from 11-16 March 2011. Three Adivasis were allegedly killed, at least three women raped and 252 houses torched by the time the operation was over.
On 26 March, Swami Agnivesh went to the area for relief work. He was attacked by Salwa Judum activists in the Dornapal area.
The Supreme Court asked CBI to probe the allegations on 5 July 2011. It filed chargesheets against seven SPOs at CBI's Raipur Special Court for assaulting Agnivesh in October this year. Twenty-six Salwa Judum activists were also made accused in the case.
However, the probe into rape and killings of Adivasis is still inconclusive.
Police cover-up?
Initially, the administration had denied the atrocities. However, there was an outrage when social activists like Himanshu Kumar gave voice to the victims' pleas.
Former Collector R Prasanna wanted to visit the affected villages. He was prevented by Sivarama Prasad Kalluri - who was then the Senior Superintendent of Police (now Inspector General of Bastar) - on the pretext of a security threat from Maoists.
The confrontation between the two officers over the issue had made the headlines at the time.
Eventually, Agnivesh managed to reach the area. But, his convoy was pelted by stones.
After the Supreme Court ordered the CBI probe on a petition by Professor Nandini Sundar, even the CBI team came under attack in the area.
Sundar had pleaded before the court to expedite the investigation. The court had asked the CBI to complete the probe in one month.
Edited by Shreyas Sharma
More in Catch
Bastar encounters: Is IG Kalluri's war against Maoists or Adivasis?
Salwa Judum in a new guise? AGNI goads Bastar villagers to go after Maoists
Bastar man crucified, shot. He shared his name with Maoist commander