Lots of questions in Sohrabuddin case still unanswered: Harsh Mander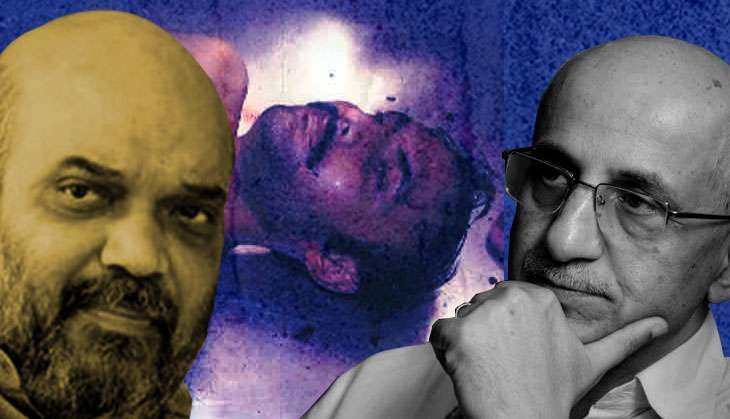 Public interest in the Sohrabuddin Sheikh fake encounter case has never waned in the past 12 years. And the reason is mainly because the prime accused, who wielded serious influence at that time as the Home Minister of Gujarat, is now arguably the second most powerful person in India - Amit Shah.
Sohrabuddin's brother Rubabuddin had pursued the case against Shah, who he believed was behind the murder of Sohrabuddin and his wife Kausar Bi, for 11 years before he decided to pull out of the case last year, while it was being heard in the Bombay High Court.
In an interview to Catch, Rubabuddin had claimed that a serious threat to his life and the life of his family had forced him to drop the case. The threat had come, Rubabuddin told this reporter, from someone "very, very high up".
"I've received many threats in my life, but this one carried weight," he said during the interview.
Rubabuddin had alleged that Sohrabuddin was picked up along with his wife - Kausar Bi - by Gujarat's Anti Terrorist Squad (ATS) between 26 November and 28 November 2005 on Shah's orders.
A few days later, Sohrabuddin's bullet-riddled body was found. On 28 December, the only eye-witness in the case, Sohrabuddin's aide Tulsiram Prajapati, was also murdered. Kausar Bi's body has not been found till date.
In January 2010, the Supreme Court handed over the case to the CBI, which went ahead and arrested Shah in July that year. But the special CBI court in Mumbai, in a remarkable manner, dismissed the case against Shah even before the case came up for trial.
Mander's efforts
After Rubabuddin pulled out of the case, social activist Harsh Mander intervened, asking for a reinvestigation into the case. But the High Court upheld the session court's decision to discharge Shah from the case.
In July this year, Mander again petitioned for a reinvestigation, this time to the Supreme Court. On Monday, an SC bench dismissed Mander's plea, remarking that Mander was "not even remotely connected with the case" and therefore had no locus standi to challenge Shah's discharge.
While granting relief to the 51-year-old BJP president, the SC bench said, "When the person is genuinely aggrieved, then the issue takes a different colour, but when the person is not remotely connected and wants to revive the case, then it is a different matter".
While dismissing Mander's petition, the court asked whether "once he [Shah] has been discharged, can he be continuously prosecuted?"
In an interview to Catch, Mander talks about this case, his reaction to the Supreme Court dismissing his petition, and his plans to pursue this case further.
You were not connected with this case in any manner. Why did you decided to pick up this case and pursue it in the first place?
When Kapil Sibal [who argued for Mander] was arguing the matter in court, he said, "Do this for the country, my lord." He said that a reinvestigation into this case should be ordered to convince and reassure the people of India that there is only one law in this land, and that will apply to all - that there is only one law for the ordinary and the powerful in this country.
That is the spirit in which I have pursued the case.
It is not my claim that Amit Shah is guilty, but the manner in which the case has been investigated and pursued has made me want to question the circumstances in which Sohrabuddin was killed.
You see, when CBI put forward its case to the sessions court, which remarkably dismissed it even before the trial began, it did not even appeal to the higher courts. Its own investigation was trashed, and yet, it did not feel the need to pursue it further.
And then, Rubabuddin backed down in the High Court, obviously due to some pressure. So, I felt the need to take this up.
The SC bench dismissed your petition by saying that you had no locus standi to challenge Shah's discharge, as you were "not even remotely connected with the case". What do you have to say about it?
I feel it's an extraordinary moment. Any heinous crime like murder or rape is never seen as an issue of personal grief, or the grief of that individual's family. It is the State that prosecutes. It is always the State versus the accused person. It is the State that fights for the victim who's aggrieved.
In this particular case, this was a crime in which the then home minister of the state, who is now the second most powerful person in the country, was charged with murder and misusing his official position.
It cannot be looked at just as the private grief of Sohrabuddin's brother Rubabuddin. There is a larger public interest involved in knowing whether a public office was being misused. That public interest has been lost here.
There are many Supreme Court rulings that tell us that a petitioner need not be directly involved in a case to pursue it. Despite all these rulings and observations made by various benches of the apex court, the bench chose to reject my petition.
And this is happening when there are a lot of people, like Subramanian Swamy, who are intervening in several matters simultaneously.
I am disappointed. The question of locus standi, the idea that my petition is not admissible, I think goes contrary to all of this.
Have you ever met any of Sohrabuddin's family members? What has been their reaction to your efforts?
As I said I'm doing this independently. No, I have never met them.
Is this the end of the road for you, as far as this case in concerned, or are you thinking of some other legal measures?
If there is any legal option I will pursue it, because I think this is not a battle which is based on a foregone conclusion that Amit Shah is guilty. My need to pursue this case is based on the belief that there are a lot of questions about this case that haven't been answered so far.
If you allow this kind of investigation system, as the CBI has done, we would then have to believe that these were acts of God [laughs].
Edited by Shreyas Sharma
More in Catch
Sohrabuddin case: SC rejects appeal challenging exoneration of BJP president Amit Shah
Meet the 23 cops who embody Gujarat's carrot-and-stick policy