Saharanpur simmers: one more dead in fresh clashes, Yogi suspends SSP & DM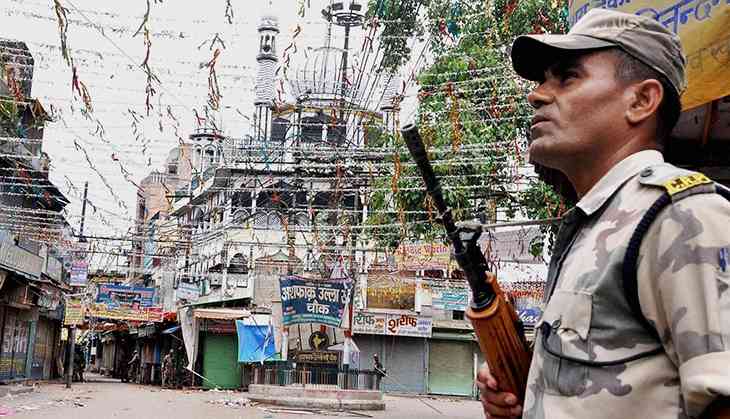 Saharanpur continues to simmer, even as top law and order officials of the state, including home secretary Mani Prasad Sharma, camp in the district, and the state government vows strict action against the culprits.
The state government has also finally removed and suspended Senior Superintendent of Police SC Dubey and District Magistrate NP Singh for their inability to contain the violence. Babloo Kumar, SSP Muzaffarnagar, has been given additional charge of the district, while Pramod Kumar Pandey is said to be on his way from Lucknow to take over as the DM.
Top police officials in all districts have been asked by the state government to be extra vigilant in light of the violence.
Uttar Pradesh Chief Minister Yogi Adityanath, in a series of tweets from his own handle and that of his office, has urged the public to calm down and help the government control anti-social elements, who he says are behind this unrest.
#UPCM श्री @myogiadityanath ने प्रदेश की जनता से भड़काऊ बयानों पर ध्यान न देने की अपील की।

— CM Office, GoUP (@CMOfficeUP) May 24, 2017
@myogiadityanath कुछ अराजक तत्व प्रदेश में कायम अमन व चैन के माहौल को खराब करने की कोशिश कर रहे हैं: #UPCM

— CM Office, GoUP (@CMOfficeUP) May 24, 2017
@myogiadityanath जनता के सहयोग व समर्थन से राज्य सरकार ऐसे तत्वों के मंसूबों को सफल नहीं होने देगीः #UPCM

— CM Office, GoUP (@CMOfficeUP) May 24, 2017
@myogiadityanath #Saharanpur की घटना के दोषियों की पहचान कर उनके खिलाफ सख्त कार्रवाई की जा रही हैः #UPCM

— CM Office, GoUP (@CMOfficeUP) May 24, 2017
@myogiadityanath मौजूद प्रदेश सरकार किसी जाति, सम्प्रदाय या मजहब का प्रतिनिधित्व नहीं करती, बल्कि 'सबका साथ, सबका विकास' की भावना से काम करती हैः #UPCM

— CM Office, GoUP (@CMOfficeUP) May 24, 2017
सहारनपुर की घटना दुःखद और दुर्भाग्यपूर्ण है । घटना के दोषी व्यक्तियों को चिन्हित कर उनके खिलाफ कठोर कार्रवाई की जा रही है ।

— Yogi Adityanath (@myogiadityanath) May 24, 2017
Internet services in the district have been suspended, in a bid to control rumours from spreading.
Wednesday's incidents
Incidents of violence continued for the second straight day on Wednesday. One more person died after he was attacked by masked men in the morning.
According to reports, Yashpal and Nitin from Mori village, not far from Shabbirpur, were on their way to a brick kiln, when they were waylaid by masked men. According to the story narrated by Yashpal to local journalists, he was attacked by swords, while Nitin was shot at by the attackers, as the attackers mistook them to be Dalits. Both belong to the Prajapati community, a backward caste group.
This followed the violent clash around BSP supremo Mayawati's visit to Shabbirpur village on Tuesday, which left one Dalit dead and several injured. The police arrested around two dozen people from the Thakur community for Tuesday's violence.
Meanwhile, in another incident, Pradeep Chauhan, a Thakur, is reported to have been shot at by two people on a motorcycle in Chak Hareti village, not very far from Saharanpur city. He is reported to be critical. Police is investigating the incident.
It is not clear if these two incidents are related to the caste clashes between Thakurs and Dalits that the region has witnessed since 5 May, when a clash in Shabbirpur had led to the death of Sumit from the Thakur community, and injuries to more than a dozen Dalits, who were attacked by Thakurs, and their homes burnt down.
SSP Dubey's past
It took three deaths and as many as four violent caste clashes within a span of less than a month for the Yogi Adityanath government to send the local top officials packing. The way the situation has been spiralling out of control is likely to be because of administrative lapses and laxity.
Dubey was SSP Muzaffarnagar, from 28 August to 9 September 2013, during which time, a series of incidents finally culminated in a full blown riot on 7 and 8 September, which left more than 50 people dead in Muzaffarnagar and Shamli districts.
Dubey had also been suspended after the riots broke out.
After Dubey was sent to Saharanpur, as a replacement for Love Kumar on 27 April, many had questioned the move. Love Kumar had found himself in the crosshairs of the local BJP MP Raghav Lakhanpal, when he stopped a Dalit mob led by Lakhanpal to celebrate Ambedkar Jayanti in a predominantly Muslim village, which had already seen tensions on the issue.
Series of incidents
The violence in Shabbirpur is the third instance of a Thakur-Dalit clash since Dubey took over.
It all started on 5 May, when violence erupted after Dalits objected to, and attacked, an unplanned procession of Thakurs, some of them wielding swords and other weapons, on their way to celebrate Maharana Pratap Jayanti in the neighbouring Simlana village. Dalits had objected to Maharana Pratap Jayanti celebrations after some locals from the Thakur community had stalled the installation of an Ambedkar statue in the village.
In retaliation to the stone pelting, several Dalit houses were burnt by the Thakurs in the two villages of Shabbirpur and Maheshpur, and more than a dozen Dalits suffered injuries. Sumit, from the Thakur community, died due to his injuries. The police had arrested eight persons from the Thakur community and seven Dalits for the violence that day, according to reports.
Saharanpur is also the base for the Bhim Army, a Dalit group, which claims to fight for the rights of the community and does not shy away from violence. This was clear when this group attacked senior district administration officials on the outskirts of the city after being denied permission to hold a protest against Thakur violence in the city.
The police had registered more than 20 cases against Bhim Army activists, including its chief Chandrashekhar Azad 'Ravan'. However, the police had refrained from arresting them, perhaps under pressure, as some locals say, after the massive protest called by the group at Jantar Mantar in the national capital. The protest saw the participation of more than 10,000 people.
In his address, Chandrashekhar Ravan had claimed how the BJP-led state government was anti-Dalit, and how Dalits had now risen to speak out against atrocities.
The violence on Tuesday followed Mayawati's visit. According to an eyewitness account, some of the Dalits returning from Shabbirpur were attacked with swords and shot at in Chandrapura village. Ashish, a Dalit, had died of gunshot injuries, while more than a dozen had stab wounds and other injuries.
According to an eyewitness account, this followed the stone pelting and harassment of some Thakur women by Bhim Army activists present in Shabbirpur.
Tricky first test
Containing the situation is not just tricky, but the first big test for the BJP government in the state. Dalits complain that it's a biased regime, while the ruling party continues to deflect it by claiming it was the BSP that precipitated matters. They say, the BSP, after being trounced in the state polls, is looking for ways to stay relevant, and the Bhim Army is one of its instruments.
Sanjiv Baliyan, the Union Minister, in a statement to a news agency, claimed the BSP was trying to politicise the matter.
Shrikant Sharma, UP government minister and spokesperson, said: "It was expected that the visit of the former Chief Minister (Mayawati) would lead to return of peace, but what happened was the reverse."
Mayawati, in her address, had held the BJP responsible for the caste violence. "BJP leaders frequently refer to BR Ambedkar, but the followers of Ambedkar are facing injustice. They refer to Ambedkar merely for votes. People will not accept such anti-Dalit party," she had said in her address.