Why the Sanatan Sanstha man's arrest for the Pansare killing is a bombshell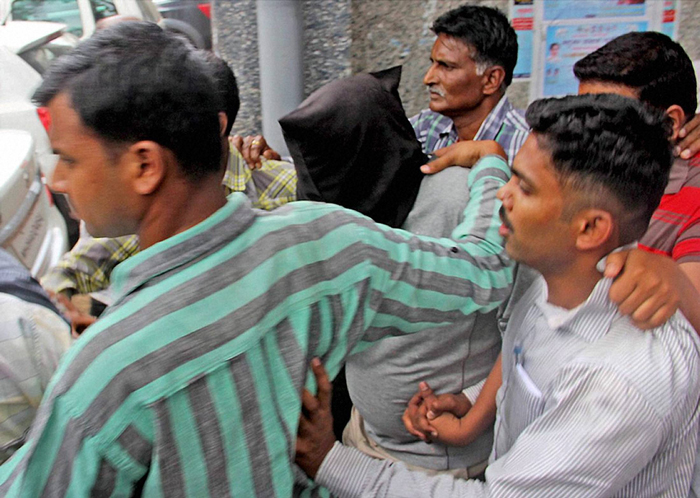 Foul murder
Social activist Govind Pansare was killed in February 2015
Narendra Dabholkar was killed before him & MM Kalburgi afterwards
They all campaigned against caste discrimination and superstition
Suspected murderer
The police have arrested Samir Gaikwad as the suspected killer
He is a full-time volunteer of Hindutva outfit Sanatan Sanstha
Does this mean Dabholkar, Kalburgi were also killed by Hindutva groups?
Seven months after rationalist Govind Pansare was murdered, the Kolhapur police have arrested his suspected killer.
"The suspect is Samir Vishnu Gaikwad, 32, a resident of Sangli," said Special IGP, Kolhapur, Sanjay Kumar. "He is a full-time volunteer of the Hindu organisation Sanatan Sanstha."
That this is a bombshell of a revelation can't be overstated. Here's why:
It seemingly confirms that Pansare was killed by Hindutva elements enraged by his criticism of certain religious practices and superstition.
It lends credence to the claim that the murders of other anti-superstition crusaders - Narendra Dabholkar in 2013 and MM Kalburgi in August this year - were the handiwork of the same people.
Critics claim the BJP's rise to power has emboldened extremist Hindu groups to strike against people they don't agree with. They will now hold up Gaikwad as proof.
To get the full import of the arrest and its significance, however, it's helpful to sketch out the main characters and events in the case.
The victim
Govind Pansare, a veteran communist leader, actively campaigned for social and political causes in Maharashtra, particularly in Kolhapur, and led many trade unions. Pansare founded Shramik Pratishthan, a socio-cultural organisation, devoted to encouraging inter-caste and inter-faith marriages.
Govind Pansare's Shramik Pratishthan encouraged inter-caste marriage and fought against superstition
After Dabholkar was assassinated in Pune in August 2013, Pansare asked his followers to continue the work.
Pansare authored 21 books on various social issues and subjects. His Shivaji Kon Hota? has been translated into Hindi, English, Kannada, Urdu and Gujarati and sold close to 1.5 lakh copies since publication in 1988.
The murder
Pansare was walking home with his wife Uma on the morning of 16 February when two motorcycle-borne assailants shot them. He died four days later in Breach Candy Hospital, Mumbai. Uma survived with severe head injuries.
The killing triggered national outrage with many people blaming extremist groups link to the RSS, the fountainhead of the ruling BJP.
The Maharashtra government dismissed the claims and announced a Rs 25 lakh reward for information about the assailants.
On 4 March 2015, the police prepared sketches of the suspects and showed them to Uma. But she couldn't recall the faces, apparently because of her head injuries.
On 15 March, the police recorded Uma's statement. This time she told them the assailants were two young men who approached the couple on the pretext of asking for directions.
The suspect
Samir Gaikwad was picked up from Sangli at 8 pm on 15 September and brought to Kolhapur for questioning. "After we confirmed the information we had, Gaikwad was arrested at 4 am today. He was produced in the court and sent to police custody for a week," IGP Kumar said.
Gaikwad, the IGP added, had been under electronic surveillance for several months. "He was one of the several people under surveillance. Over the last seven months, we detained many people for questioning. Based on their inputs and the clues we got by tapping Gaikwad's mobile, he was arrested. We have enough evidence against him."
Samir Gaikwad's entire family is associated with the extremist outfit Sanatan Sanstha, police say
"Gaikwad has also given us clues which we are currently verifying," Kumar said. "Although we have arrested him, it does not mean the case has been cracked."
Gaikwad joined Sanatan Sanstha since 1998. In fact, according to the police, his entire family is associated with the outfit.
He ran a business repairing cell phones in Sangli, Navi Mumbai and Mumbai. "We have sent teams to search his properties at these places. The operation is underway," Kumar said.
Late on 16 September, the police detained a woman from Mumbai and a man each from Pune and Goa who had allegedly been in touch with Gaikwad. Four more people were detained the next morning, including Sushil Jadhav and Shriram Jadhav from Karnataka. The Jadhavs are said to be related to Gaikwad.
The ideology
Sanatan Sanstha describes itself as a socio-religious organisation. Founded by Jayant Balaji Athavale in 1990, it's considered an extremist Hindutva outfit and has several centres across India and abroad. Apart from Pansare, it's suspected of killing Dabholkar.
The Sanstha first gained widespread notoriety in 2008 when six members of the outfit were arrested for planting a bomb inside Ram Ganesh Gadkari Rangayatan, a theatre in Thane. Two of them, Ramesh Gadkari and Vikram Bhave, were subsequently sentenced to 10 years in prison and are currently out on bail.
The previous Congress-NCP government in Maharashtra had sought to ban the Sanstha and even pressed the Centre for it, but the move never went through.