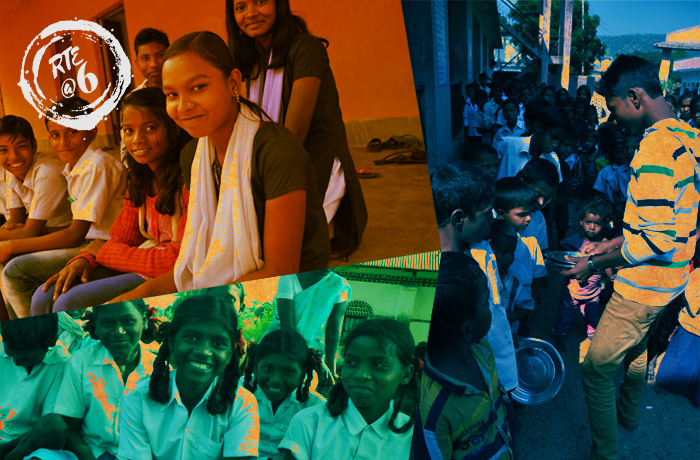 On 1 April, the Right of Children to Free and Compulsory Education Act turns six.
The Act talks about "development of curriculum in consonance with the values enshrined in the Constitution, and which will ensure an all-round development of the child, building on the child's knowledge, potentiality and talent and making the child free of fear, trauma and anxiety through a system of child friendly and child centred learning".
Bal Sansad is a useful tool to bring this about.
The School Sanitation and Hygiene Education programme of Sarva Siksha Abhiyaan, launched in 2006, proposed to set up a Bal Sansad or Children's Parliament in every government-run school across the country. Bal Sansad is a novel way to teach children about democratic processes and values. Though the concept of Bal Sansad is not incorporated in the RTE Act - it remains the state government's prerogative to make Bal Sansads functional - it's perhaps a good time to do so.
I met Asmita Kujur, 13, at a middle school in Janawal village in Jharkhand's Gumla district a few months ago. Clad in a neat blue and white uniform, hair braided and tied together with a red ribbon, she was waiting with 20 other students with bouquets, ready to perform a well-rehearsed song. The bouquets were fresh and colourful, the song lively and euphonious. As we got talking, it turned out that Asmita was the prime minister of her school's Bal Sansad.
Also read - #NotesForMrJaitley 8: India's students deserve a little more generosity
"If the students don't turn up, we go to their houses. If they have bunked school, there is penalty. The parents have to shell out Rs 2 for each day of missed school. Obviously, we don't take the money if the student is sick," Asmita said, smiling. Christopher Lakra, who has taught at the school for over 20 years, chipped in, "The attendance has improved dramatically."
Elementary democracy
Led by a prime minister, Bal Sansad has a deputy prime minister and a council of ministers looking after portfolios such as finance, health, sports, and in some cases environment. All are elected, with the prime minister and her deputy being from the senior most class. The MPs are chosen in a manner that all classes are well represented. The elections are held annually.
The members of Bal Sansad have their tasks cut out. They see to it that students and teachers turn up for school, the children maintain cleanliness, the midday meal is cooked and everyone gets it, the campus is tidy, toilets are in working condition, notebooks and textbooks are in order, and the school doesn't run out of sports supplies.
Bal Sansad isn't just about role-play. The members take their portfolios seriously. And no, they do not fling microphones at each other!
We fine parents Rs 2 for each day their children miss school: Asmita Kujur, PM, Janawal Bal Sansad
At Danua village in the neighbouring Hazaribagh district, Bal Sansad PM Ram Prakash Kumar and his ministers were busy getting the students in a file, distributing clean plates and keeping the din low. We had reached the school at about lunchtime. Ram and his 20-member cabinet managed 500 students; their primary school was upgraded to a middle school over five years ago.
The sports minister, a young chirpy kid, said the Bal Sansad had made it mandatory for all children to participate in some sport - cricket, kabaddi, hockey. Though the sports equipment was provided by the school, he added, the students collected money to buy an occasional ball or a skipping rope in case the old ones were lost or broken. This idea had been proposed by Ram, the PM, at a meeting of the School Management Committee, which cleared it. Once elected, the prime minister automatically becomes a member of the SMC, which comprises teachers and parents.
Practical lessons
Besides educating them about electoral processes, roles and responsibilities, Bal Sansad has instilled confidence among students. Phoolmani Banara, the health minister at the primary school in Haldishahi in Odisha's Mayurbhanj district, was a bright but shy kid. You could barely get a word out of her. But election to the Bal Sansad, her teachers said, did wonders for her. Not only does she ensure that students come to school bathed and in a clean uniform, she sees to it that the water filter is never empty, the playground is tidy and the first aid kit well stocked. She has even donned the hat of the students' spokesperson, promptly answering any questions from the visitors.
Bal Sansads have helped improve attendance in schools. One of the jobs of the prime minister is to keep a check on the probable dropouts and get them back to class. It involves visiting homes and talking - requesting and cajoling even - to parents who keep their children from school to help with tasks like grazing and collecting wood. Sometimes, imposing fines as Asmita's school does helps in keeping a full house.
The Rs 2 penalty system was Asmita's idea. She proposed it at a meeting of the SMC, and got their approval. I asked about the fine collection so far and how they intended to spend it. She quickly checked with her finance minister, another 13-year old girl, and said the Bal Sansad had collected Rs 200. "Well, this is our last year. We want to leave something for the school that they can remember us by." Touche.
Thanks to Bal Sansad's efforts, attendance has improved dramatically: Christopher Lakra, Janawal teacher
I thought of Asmita when the Parliament met for the budget session. As each party was throwing around arguments and counter-arguments, trying to outdo each other in the race to claim the "nationalist" mantle, I could not help but think of Asmita, Ram, Phoolmani and their dedication and respect towards their schools, colleagues and the education system. And I thought about all the small lessons in conduct they have for our prime minister and MPs.
Indeed, making Bal Sansad integral to school education could not only strengthen the Right to Education, it could also deepen and enrich our grassroots democracy.
More in Catch - Budget 2016: what does it hold for the social sector
Education reforms: RTE may soon span school education from nursery to grade tenth