Mohan Bhagwat still wears shorts inside his pants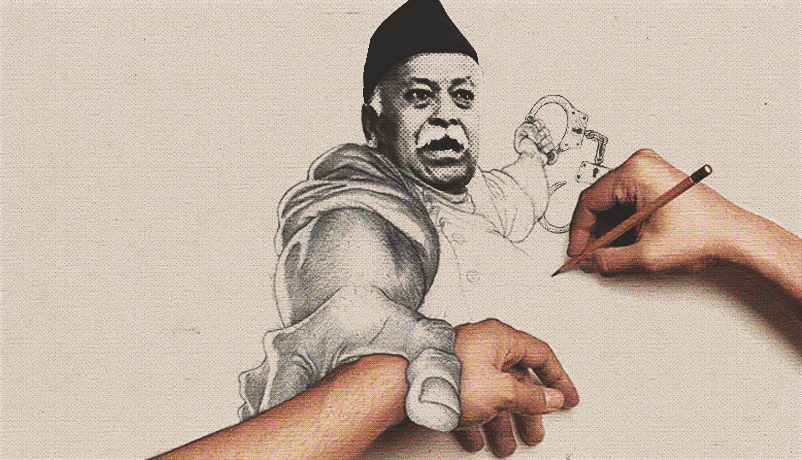 Rashtriya Swayamsevak Sangh (RSS) leader Mohan Bhagwat is a vet by trade.
A few days after Shakir Yunus Banthia and Vasim Shaikh, two men in their early 20s from Madhya Pradesh, morphed and sexed up Mr Bhagwat in a pair of tight khaki trousers and high heels and taking a breast-salute to widespread titters in the social media, a horse was beaten so badly by a BJP leader in Mussoorie, his leg was amputated.
Mr Bhagwat hasn't uttered a word about the incident. But his morphed picture has evidently offended him, which essentially means the "Hindu sentiments". The two youngsters have been remanded to judicial custody.
Mr Ganesh Joshi, the BJP MLA responsible for converting a perfectly normal four-legged horse into a three-legged one, thus morphing nature, is at large. This is despite the fact that a horse, like the cow, is a Vedic animal.
We get a rather fluid scale here. The scale and sensitivity of the "Hindu" sentiment.
Also read - For appearance sake: RSS may finally be ditching its khaki shorts
It's a safe bet that the morphed image of the RSS leader would have been amputated from the social media by the time this piece sees the light of day. Or efforts would be in full swing in that direction.
The name of that direction is 'censorship'. In this case, it stems from the need to protect one's image, one's need for deification. Add to that scale, the word 'Muslim' and we have a rough idea of what's at work.
Had the horse been beaten up by a Muslim, there would have been mayhem in the north of this country. Up 'Naarth', as they would say, if you are not Ram, you are the antonym, Rahim.
The RSS is all set to change their khaki shorts to full-length pants "to move with the times". This is not a sudden decision. A couple of years ago, at the paper I worked for, we had broken the story and front-paged it. If the RSS is moving into full-length trousers now, it's a considered decision.
The trousers might cover the fat legs of their sentimental leaders, but not the dark stuff and scowl of their minds. That needs exposure and an understanding of history, which is not mythological in its foundation.
A sorely lacking sense of humour - call it the fashionable name, tolerance - is precisely why the RSS appears ill equipped to move with the times. Most organisations striving for order, a prescriptive life style, display it.
Free speech is conditional on the right to offend
Stalin is a very good example of how censorship became the central pillar of his sombre regime. And very often it is not censorship enforced as in pre-empting dissent by making clear what is correct in the nature of a nation's discourse; it is retroactive as well.
Stalin had a whole department working at existing records both written and visual; a department, which deleted people from his surroundings in addition to physical extermination.
There is the famous picture of Yeshov, Stalin's favourite NKVD chief at one time (before he was shot in 1940) to his left in a picture on a bridge. But after Yeshov fell from favour, Stalin had him airbrushed from the picture.
There is the even more famous photograph of Lenin addressing the troops in May 1920 with Leon Trotsky and Lev Kamenev in the foreground under the dais; both were "enemies of the people". Stalin airbrushed them away from the picture, after he had them murdered. He was not purging the party. He was purging history so he became more and more important in the telling of it.
The Indian situation perhaps is not so bad. But a leader like Mohan Bhagwat or an organisation like the RSS has no real future in a multi-cultured society if they cannot tolerate a joke, especially by a minority.
I have said this before; unfortunately I must parrot it again. Free speech is conditional on the right to offend.
Bhagwat would be doing a great service to himself and the "nation" if he laughs at his high-heeled, butt-thrusting image, and tell the remanded youngsters to go home and do a better job. And he, like a good vet, take care of the poor horse.
The views expressed here are personal and do not necessarily reflect those of the organisation.
More in Catch - RSS men have a choice of pants: pleated for the fat, flat-front for the slim