Rijiju says no connection between rationalists' murders. Kin appalled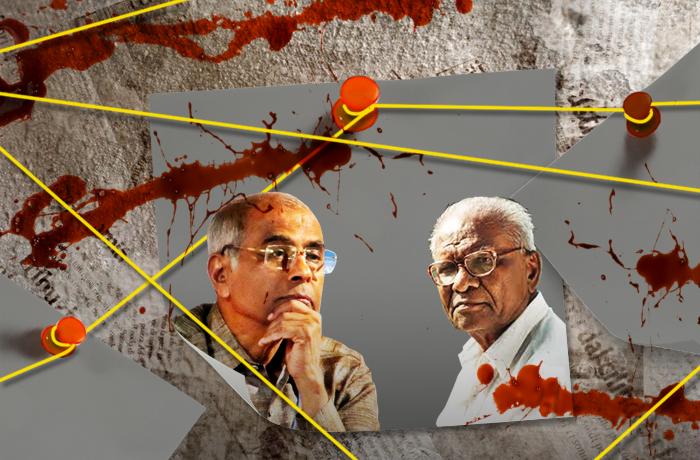 The statement
MoS for Home, Kiren Rijiju, told Parliament that the murders of the three rationalists weren\'t connected
It seemed to be an attempt to deny that there was \'intolerance\' in the country
The reaction
The slain rationalists\' kin have reacted strongly to Rijiju\' comment
Govind Pansare\'s daughter Smita says there\'s a lack of political will in solving her father\'s murder
More in the story
Narendra Dabholkar\'s son Hamid alleges something more fishy
Why the govt needs to take action - to restore its own credibility
Earlier this week, when the intolerance debate was taking place in the Lok Sabha, Kiren Rijiju, the Minister of State for Home Affairs, claimed there was no connection between the murders of rationalists Govind Pansare, Narendra Dabholkar and MM Kalburgi.
His boss, Home Minister Rajnath Singh, had put up a similar defence when talking about the Dadri lynching of Mohammed Akhlaq. Rajnath had claimed that in the report he had received from UP government, there was no mention of 'beef' or 'communalism'. This despite evidence in the form of statements by eyewitnesses and accused, claiming that it was over the rumour of Akhlaq having slaughtered a cow that he was lynched by a mob.
Also read: #DadriLynching was not communal: Rajnath & Akhilesh's doublespeak. And the case so far
The idea behind both their defences was simple: reiterate that 'all is well' and refute any larger influence of a right-wing ideology or organisation behind these murders, and thus, deny there was 'intolerance'.
And Rijiju, like Rajnath, ended up scoring an own goal.
The connection
To say there was no connection between the murders of the three rationalists doesn't fit in with the facts. After all, all three were Left-leaning rationalists dedicated to dispelling the myth of godmen.
But it's not just about their beliefs or the sort of work they did either. The police's own investigations led them to an organisation - Sanatan Sanstha - suspected to be behind these murders.
To be sure, negligible progress has been made in all the three cases, just as in the case of Akhlaq. No one has yet been arrested for the murders of Dabholkar and Kalburgi, while the police haven't managed to get any substantial leads from the one accused arrested for Pansare's murder.
Lack of will
Friends and relatives of the three murdered rationalists have slammed Rijiju for presenting these cases as isolated incidents.
"This is an irresponsible statement. It's not based on facts. If the cases are not connected, why has the High Court decided to club the Pansare and Dabholkar murder cases? Isn't it clear these cases were not about personal enmity?" asked Hamid Dabholkar, Narendra's son.
Also read: Every Radhe Maa kills my father again
Hamid added he hadn't seen any will from the political class towards solving these crimes.
"It has been 27 months since [Dabholkar's] murder and hardly any progress has been made in the cases, despite the CBI investigating it for last 19 months. There has been not a single arrest; not one major breakthrough. Shouldn't the government answer why?" he asked.
MoS Home Rijiju told Parliament that the Pansare, Dabholkar and Kalburgi murders weren't connected
Pansare's daughter Smita also claims that politicians have shown little interest in the investigations.
"I have seen no political will in helping solve the murders. Some time after the murder, we sought an appointment with the Chief Minister and, during our meeting, reminded him about his promise to nab the people behind these murders. But he said nothing to us, and till date, doesn't talk about these murders," Smita said.
The lack of will in solving these crimes, she said, clearly meant the government was "trying to protect whoever was the person or organisation behind these three crimes".
Pansare's daughter Smita: "I have seen no political will in helping solve the murders"
"We need to nab the people behind these crimes, because the question is the survival of ideas. For us, it doesn't matter who the real killer is. We go a step back when we suffer a big setback like this, so only with a successful conclusion to the case can people like us get the will to continue my father's work," she said.
Advice for the government
Kalburgi's neighbour, Shivanand Kanavi, thinks the government needs to ensure the cases are solved soon, just so that the belief and confidence in the government can be reinstated and it can be proved that intolerance is not appreciated in this country.
"The thing is that Kalburgi was not a political leader. He was a man who believed in certain things and put them forth openly. You could argue and disagree with him, and maybe even force him to reassess his position. That is the environment he created for us. And that's the environment government needs to ensures is put back in place," he said.