Right to deport them: Rohingyas are a serious threat to security, Centre tells SC
Anurag Dey
| Updated on: 18 September 2017, 22:47 IST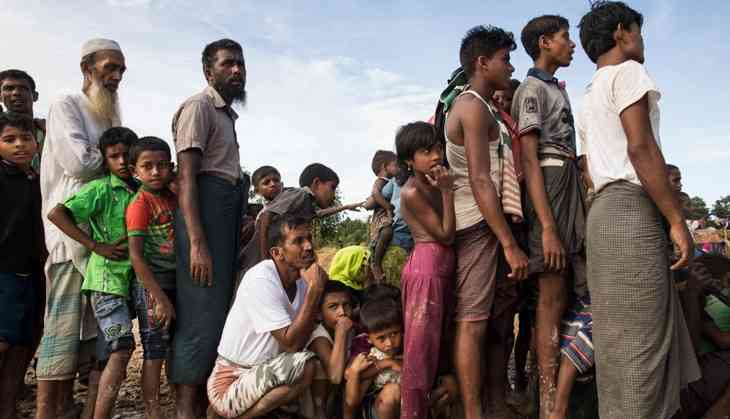 (Paula Bronstein/Getty Images)
There is no change in the government's stance on the Rohingya refugees in India. Defending its decision to deport Rohingya refugees, the Centre told the Supreme Court that their stay in India was not just "absolutely illegal" but also has serious ramifications on national security.
In an affidavit before the apex court, the Ministry of Home Affairs (MHA) said there were intelligence inputs on how many of the Rohingyas figure in the "suspected sinister designs" of Pakistan's notorious spy agency the ISI, and terror outfit IS.
The government told the court that it has agency inputs and other authentic material indicating linkages of some of the Rohingya immigrants with Pakistan-based terror organisations, and similar organisations operating in other countries.
Opposing the petition filed by two Rohingya refugees, the Centre said the decision to deport over 40,000 Rohingyas was an executive decision based on several executive and administrative considerations which would not be 'justiciable'.
While the Centre's stand in court makes it clear that the Indian government may continue to pressure Myanmar to resolve the crisis in Rakhine, in all likelihood it will not take in more refugees. However, this stance still raises multiple questions over some of the assertions.
For example, recently, Jammu and Kashmir Chief Minister Mehbooba Mufti told state Assembly that no Rohingya in Jammu has been found to be involved in any terror activity. Moreover, in other places like Mewat, Hyderabad, Delhi or Jaipur etc, which have Rohingya settlements, there have been no reported instances of these refugees being ever arrested over any terror link.
Interestingly, the United Nations High Commissioner for Refugees (UNHCR), the agency which has been registering the refugees since they started coming in towards the end of the last decade, has repeatedly said that the government has never raised any security concerns about the Rohingyas with it.
The agency has some 16,500 Rohingyas who have been registered with it, as the process continues, despite government's insistence that it wants them deported. Although, as some activists claim, the agency has stopped registrations in Jammu.
Blame game?
Involvement of Rohingyas in any criminal activities is rare. One Sheikh Mohammad was alleged to have been involved in the 2014 Burdwan blast, but so far he's only suspected to be a Rohingya.
In 2016, the Bihar Police claimed to have held one Mustafa Kamaal and one Mohd Saleem while they were on their way to Jammu from Bengal and they allegedly "confessed" that they were "in touch with anti-India elements in Jammu and Kashmir". There have been suggestions that the duo are Rohingyas though not much is known about them.
December 2016 International Crisis Group (ICG) report on Arakan Rohingya Salvation Army (ARSA), based on interviews of some of the members of the group, had mentioned a possible India link though where it said, that the outfit with 20 people at the top, is run from Saudi Arabia and that "all are Rohingya émigrés or have Rohingya heritage. They are well connected in Bangladesh, Pakistan, and possibly India".
And that to gain legitimacy for the October 2016 attack, the groups used fatwas or religious decree, some of which may have come from India.
"Fatwas (religious rulings) to this effect were apparently obtained shortly after 9 October in several countries with a significant Rohingya diaspora, including Saudi Arabia, Dubai, Pakistan, India and Bangladesh," the report reads.
Meanwhile, it is still not known if the government has worked out modalities of deportation with Myanmar. The authorities in Myanmar have launched an unprecedented crackdown leading to an exodus of over 4,00,000 more Rohingyas to Bangladesh.
India has not deported any Rohingya refugee so far, including those who are in detention in various states including West Bengal and Mizoram.
Rohingyas' terror links
"Continuance of Rohingyas illegal immigration into India and their continued stay in India apart from being absolutely illegal is found to be having serious national security ramifications and has serious security threats," the Centre said in the affidavit.
"Illegal influx of Rohingyas in significant numbers started since 2012-13 and from security agencies, inputs and other authentic material indicates linkages of some of the Rohingya immigrants with Pakistani based terror organisations and similar organisations operating in other countries. It has been found by the Centre that many Rohingyas figure in suspected sinister designs of ISI/ISIS and other extremist groups," the affidavit added.
"Centre has observed that some Rohingyas indulging in illegal and antinational acts like mobilisation of funds through hundi/hawala channels, procuring fake/ fabricated Indian identity documents, and also indulging human trafficking. Many of them have fraudulently obtained pan card and voter cards," the affidavit further states.
Serious change in demographic profile of bordering states
"Due to an already large influx of illegal immigrants from neighbouring countries, the demographic profile of some bordering state has already undergone a serious change which is already causing far-reaching complications in various contexts and is taking its toll and has a direct detrimental effect on the fundamental and basic human rights if country's own citizens," the Centre said.
"Over and above, the said serious security concern already in existence, more disturbing part is that there is an organised influx of illegal immigrants from Myanmar through agents and touts facilitating Rohingyas into India via Benapole-Haridaspur (West Bengal), Hilli (West Bengal), Sonamara (Tripura), Kolkata and Guwahati. This situation is seriously harming national security of the country," the Centre added.
Further destabilisation of North East
The government claimed Rohingya militancy was growing and if the immigrants were allowed to stay, it may further destabilise the "fragile north east corridor".
"There is also serious potential and possibility of an eruption of violence against Indian Buddhist staying in the country by radicalised Rohingyas. Some of Rohingyas with militant background are found to be very active in Jammu, Delhi, Hyderabad, and Mewat and have been identified as very serious and potential threat to internal/national security," the Centre said.
Owing to open/porous borders with Nepal, Bhutan Bangladesh, Pakistan Myanmar etc. and an easily navigable sea route with Pakistan and Sri Lanka, India was vulnerable to a continuous threat of an influx of illegal immigration and resultant problems arising therefrom, the Centre explained.
India is already saddled with a very serious problem of illegal migrants and is attempting to address this situation in the larger interest of the nation, keeping national resources requirement of India's own population, national security concerns and several other facts in consideration. These facts, as the Centre claims, are based upon objective facts derived from empirical data which are in the knowledge and contemporaneous record of the Centre.
Principle of non-refoulement not applicable to India
Filed by Mohammad Salimullah and Mohammad Shaqir, two UNHCR registered Rohingyas, the petition challenges the legality of the deportation decision on the grounds that it violates right to equality under Article 14 and the right to life and personal liberty under Article 21 of the Constitution.
It also seeks protection under the 'principle of non-refoulement' in the United Nations Convention on the Status of Refugees that prohibits sending back refugees to a place where they face danger.
But the Centre contended that the preserving demographic structure is its constitutional obligation.
"As a sovereign nation, India has the first and the foremost constitutional duty and obligation towards its citizens to ensure that demographic and social structure of the country is not changed to their detriment, the resulting socio-economic problems do not occur to the prejudice of its citizens and most importantly, resources of the nation are utilised to fulfil the fundamental rights if its own citizens and are not diverted to the detriment of the citizens of India due to influx of illegal immigrants into territory of India," the Centre said.
It also opposed the provisions of the UN Convention on refugees on the grounds that India was not a signatory to it.
The non-refoulement is codified under the provision of 1951 Convention and since India is not a party to the Convention, the obligations are not applicable to India," the Centre explained.
The bench headed by Chief Justice Dipak Misra adjourned the hearing and has scheduled the next one for 3 October.
Meanwhile, as the government submitted its affidavit, some of the fears that it has expressed seem to be coming true. The Delhi Police Special Cell arrested Shumon Haq, a British citizen of Bangladeshi origin, said to be an Al Qaeda operative.
Haq, who was arrested from Central Delhi claims to have fought with the Al Qaeda-linked Al Nusra front in Syria. The police said that Haq was deputed to recruit people for Rohingya resistance, by setting up a base in Manipur and Mizoram, the two states which share a border with Myanmar.
Bengal speaks up
Meanwhile, the West Bengal government has claimed that they are facing trouble in deporting Rohingya children as the West Bengal Commission for Protection of Child Rights has not agreed to the Centre's proposal or deportation.
While addressing a press conference Chief Minister Mamata Banerjee said –
"We are unable to deport the Rohingya children to their original homeland as Child Rights Commission has not given us the permission to deport them. Moreover, the Center cannot issue such an order as the UN Charter clearly mentions that states cannot deport any people if they seek shelter on their land. We support the UN appeal to help the Rohingyas. We do believe that all commoners are not terrorists. We are really concerned."
According to Banerjee, the deportation of Rohingya Muslims should be dealt carefully and their problems should be treated from a humanitarian angle.
Senior officials of the state government said the state has around 50 Rohingya children staying at various state-run homes and they are also verifying the identities of the new children who have been staying at some of the state-run homes.
"Trinamool Congress is trying to shield the terrorists and that's why they are not in favour of deporting the Rohingyas. We won't indulge anyone who poses a threat to the nation," state BJP president Dilip Ghosh said.
With inputs from Sadiq Naqvi & Sulagna Sengupta
Edited by Jhinuk Sen