Republic of the Right: Will Arnab Goswami's channel bat only for the BJP govt?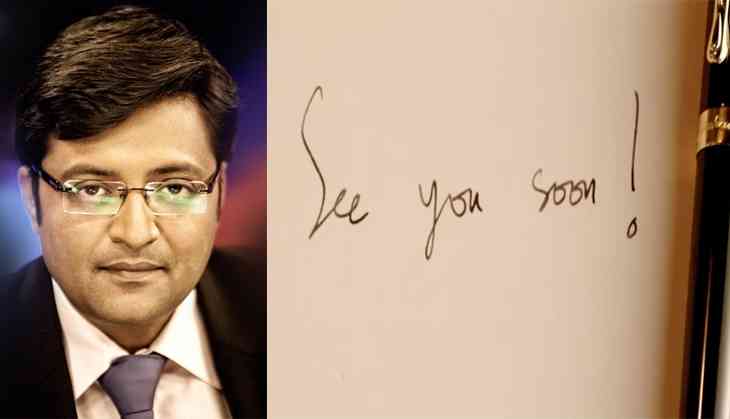 In November 2016, noise pollution levels in the country plummeted following Arnab Goswami's resignation from Times Now. However, just as we were starting to get used to an Arnab-free world, the self-appointed voice of the nation emerged into public life again. From speeches at college campuses, to a spate of interviews, Arnab was back in the news as he attempted to drum up interest in his new media venture, Republic TV.

Now, with the channel finally receiving its broadcast license, Arnab's promotional pitch is only getting louder. Already, billboards across the country have been emblazoned with his face, alongside the tagline, 'The nation still wants to know'. However, while Arnab has gone about proclaiming that "news is back", a closer scrutiny of the channel's activities so far indicate that it will be closer to a government mouthpiece than "independent" the way Arnab has claimed.
Shooting at sitting ducks
Arnab has, for years, built a reputation as a fearless take-no-prisoners anchor. In keeping with this image, the Republic TV twitter handle has gone to great lengths to reinforce this with a series of short videos.

The series started with a video of a faceless Arnab writing a letter to viewers, announcing his imminent return. However, the series soon took on a far more combative tone, with the remaining videos featuring letters from Arnab addressed to people he intends to hold accountable. These 'targets' range from the Muslim Personal Law Board, to Arvind Kejriwal, Vijay Mallya, Rahul Gandhi, and Uddhav Thackeray.
While the videos are meant to portray Arnab as a fearless crusader for what is right – from defending the Constitution to upholding women's rights, his choice of targets tells a different story.

By and large, Arnab has chosen targets who can, at best, be described as soft. Vijay Mallya has been the face of corporate conmen for half a decade now. The Muslim Personal Law Board also has little support, with both the Right and the Left critical of its archaic views, while Kejriwal and Rahul Gandhi have always been ripe for ridicule, both online and off.

Of all the people Arnab has taken aim at, the only one who seems like genuine opposition is Shiv Sena supremo Uddhav Thackeray. However, here too he has avoided actually taking on Thackeray. While he name-drops Thackeray, he chooses instead to target far less influential Ravindra Gaikwad.
Rather tellingly, when Arnab did interview Thackeray for Times Now, his manner of speaking was markedly different from the the smug, dismissive tone his 'letter' drips with. During the interview, Arnab spoke in a level, measured voice, picking his words carefully, and making sure never to really grill Thackeray. This exposes Arnab's letter for what it really is - pretend toughness. The fact that he chose to use Thackeray's name while actually targeting Gaikwad only reinforces this notion.

But to truly understand exactly how quiet Arnab seems to get around any tough opposition, we need look no further than his interview with Uddhav's less powerful cousin, Maharashtra Navnirman Sena head Raj Thackeray.
In the two interviews Arnab had with Thackeray while at TimesNow, he was far from the firebrand he otherwise is. In one of the interviews, he even allowed Thackeray to make a thinly-veiled threat to journalists, offering little more than a mumble in response, where he would usually foam and froth with anger.

This refusal to go after anyone of consequence is not new to Arnab. While he may claim to speak truth to power, he has built a career on eviscerating fringe elements and easy marks. At the same time, he tends to steer clear of anyone enjoying populist support, or in a position of real power.

As such, while he has routinely skewered low-level BJP spokespeople, his interview with Narendra Modi before the 2014 Lok Sabha election was tame. There was no tough questioning of the kind he normally boasts about. All signs from Republic TV thus far indicate that his new venture will be more of the same.
Pro-government?
While Arnab has previously been accused of going soft on the Modi government, choosing instead to adopt a 'nationalist', right-of-centre view, his new innings is likely to take that to a new extreme. This is already evident in the fact that while Arnab's 'letters' took on every one from from businessmen to politicians, and even religious boards, it was devoid of any criticism of either the establishment, or its supporters.

Even as his 'letters' claim he wants to protect the Constitution and the rights of women, Arnab conveniently didn't find space to take on extra-constitutional activities by gau rakshaks, or the harassment of women by anti-romeo squads, both of which are remarkably more current than Rahul Gandhi or Ravindra Gaikwad. Both of which have unmissable links to the ruling dispensation.

This seeming bias becomes even more evident when we take into account Republic TV's response to the recent killings of CRPF jawans in Sukma, Chhatisgarh. Following the attacks, the channel's Twitter handle put out a series of tweets establishing Arnab's stance on the situation:
ARNAB ASKS: Can the cocktail circuit media and maoist sympathisers please stand up and name themselves?

— Republic (@republic) April 25, 2017
ARNAB ASKS: Aren't these shallow foreign funded anti nationals tired of their own duplicity?

— Republic (@republic) April 25, 2017
ARNAB ASKS: Can the PSEUDOS who call terrorists 'Gandhians in arms' speak up on the massacre of our soldiers ?

— Republic (@republic) April 25, 2017
Interestingly, while Arnab seeks to hold everyone from "PSEUDOS", to "cocktail circuit media" and "shallow foreign funded anti-nationals" responsible for Sukma, the government is conspicuous by its absence from Republic's tweets. Though the Arnab has absolved the government of any responsibility, he sang a very different tune in 2014, when the UPA was still the government in power:
@TimesNow In April 2014, when attack happened in Sukma, Times Now questioned then Union Govt, in 2017, they're questioning student leaders. pic.twitter.com/vAL3PSDn5i

— Pratik Sinha (@free_thinker) April 24, 2017
This flip-flop is hardly the mark of unbiased journalism, and this pro-right, pro-establishment slant becomes even more pronounced when we take a look at Republic TV's biggest investor.

One of Republic TV's most prominent investors is Independent MP Rajeev Chandrasekhar, who owns a host of news outlets through his company, Jupiter Capital Investments. Earlier this year, a leaked internal email, sent from Jupiter Capital's Chief Operating Officer Amit Gupta, exposed both Chandrasekhar's leanings, as well as his insistence that his news channels toe this line.

The email, accessed by Newslaundry, was sent to editorial heads of all news houses owned by Jupiter Capital and made certain demands. It insisted that all editorial hires must be "Pro-India", "Pro-military", and "aligned" with Chandrasekhar's "ideology".
While this may seem innocent enough, especially considering Chandrasekhar is an 'Independent MP', it should be noted that Chandrasekhar was appointed the vice-chairman of the BJP-led National Democratic Alliance in Kerala in September, 2016. To then expect Republic to not be pro-government, given how Chandrasekhar runs his other media interests, is beyond optimistic. That the obviously pro-BJP Anupam Kher has been given his own show on the channel, only makes Republic's slant more pronounced.

With all of this being the case, one wonders whether Arnab meant 'independent of government criticism', when he boasted that Republic TV would be "independent news".