Releasing soon: the sensational story of Kashmir, by the separatist
Catch Team
| Updated on: 13 February 2017, 3:40 IST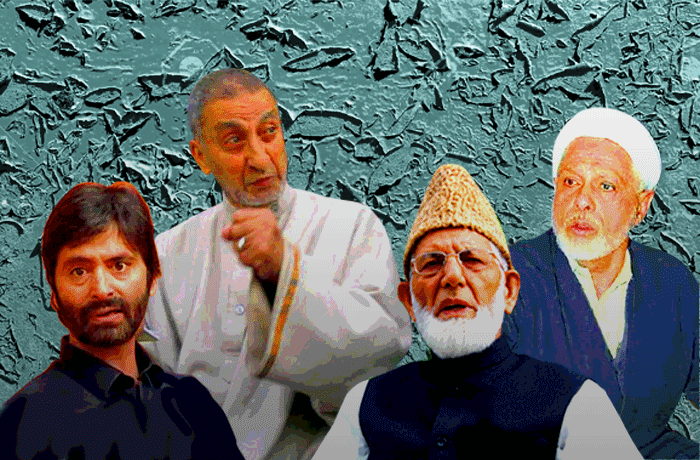 On the paper
Yasin Malik, Abbas Ansari, Prof Gani Bhat are writing memoirs
They want to put out their own versions of the Kashmir story, after AS Dulat\'s book on the state, \'Kashmir: The Vajpayee Years\' was released earlier this year
In his memoir, the former RAW chief hasn\'t been kind to most separatists
Former CM Farooq Abdullah is also penning his autobiography
In the air
Syed Ali Geelani has released his memoir, but hasn\'t made many revelations
Farooq and Bhat can be counted on to make sensational details
Ansari\'s book has \'details which were not known earlier\', says his son
In his recently published memoir, former RAW chief AS Dulat made startling revelations about the Kashmir of 1990s, particularly the leaders of the separatist movement.
The story though may just be beginning to be told.
Several top separatist leaders, whose activities and interactions with New Delhi form a substantive part of Dulat's Kashmir: The Vajpayee Years, are writing their own versions of the story.
JKLF chief Yasin Malik is penning a memoir, so is moderate Hurriyat leader Prof Abdul Gani Bhat. His Hurriyat colleague Abbas Ansari is also trawling his long stint in politics for a book.
Syed Ali Shah Geelani, the chief of the Hurriyat's hardline faction, has already published three volumes of his memoir Wular Kay Kinare. The last volume, which specifically focuses on the separatist struggle of the past 25 years, released a month before Dulat's book.
Not to be left out of the narrative, Dulat's favourite Kashmiri politician, former chief minister Farooq Abdullah, is also working on his autobiography titled My Struggle.
Though Geelani did disclose some unknown facts about the separatist struggle, he has been largely restrained in his revelations.
His memoir, in fact, is cloyingly narcissistic in parts, with crucial historical events cursorily passed over or subsumed under his personality.
So, will the new books reveal anything new and sensational?
All these leaders have an insider's understanding of the conflict by virtue of their political activities, their engagement with New Delhi and Islamabad, as well as the militants.
My book will dabble in the truth only. There is no fun in it otherwise, says Yasin Malik
But would they be inclined to reveal much? They most likely, will. At least, Farooq and Bhat, who have a penchant for playing to the gallery.
Grandee's ringside view
One of Kashmir's most experienced politicians and a witness to many historical events, Farooq is a treasure trove of knowledge.
From a JKLF activist in London in the 1960s to being the face of Kashmir's pro-India leadership, the three-time former chief minister boasts the authority to speak on Kashmir like few others.
Farooq's political journey in Kashmir began in 1976, a year after his legendary father Sheikh Mohammad Abdullah returned to the political mainstream after signing a controversial accord with PM Indira Gandhi.
He had become a British citizen, but the then-Prime Minister Morarji Desai restored his Indian citizenship.
Farooq, however, wouldn't divulge anything about his book. "For that you will have to read it," he said in an interview.
Bombshell set to drop?
Prof Bhat, on the other hand, is prepared to read aloud some of his writing, albeit only that which concerns his apolitical and non-controversial early life. The title of his book is Beyond Me and will be "an autobiography with a style".
It will come in two volumes, with the second dedicated to the turmoil of the past two and a half decades. "The book will reveal in great detail what happened in Kashmir," he said. "I shall come out with facts about what I saw with my eyes or felt deep in my heart."
"Whether this will mean any sensational revelations, I don't know," added Bhat, whom Dulat has called his friend, philosopher and guide.
'The army didn't kill Gani Lone & Moulvi Farooq, our own people did'. Will Prof Bhat drop more such bombshells?
Bhat had created a flutter in January 2011, when he blamed "our own people" for the killing of separatist leaders Moulvi Farooq and Abdul Ghani Lone.
The former was the father of current moderate Hurriyat chief Mirwaiz Umar Farooq while Lone was the father of separatist-turned-minister Sajjad Gani Lone.
"The time has come to speak the truth. Neither the army nor the police killed Lone sahib and Moulvi Farooq sahib, our own people did," Bhat had said while addressing a seminar on the role of intellectuals in the separatist movement.
Significantly, Bhat is also casting some light on the little-written-about period of 1986-1989, the four years when Kashmir went from being a bitterly-contested political turf between the National Conference and an opposition alliance called the Muslim United Front, to one of the world's most troubled spots awash with weapons.
Bhat was chief spokesman of MUF while Ansari was its chairman.
MUF was tipped to do well in the 1987 Assembly polls, but the exercise was rigged to return Farooq's National Conference to power. It was the immediate spark for the full-fledged armed revolt against India's rule in Kashmir.
Nothing but the truth
The other keenly awaited memoir is that of Yasin Malik, one of the first leaders of the militancy in 1989. The book though will travel further back."It was in 1984 that I joined politics as a student activist. I became a senior member of MUF and fought the 1987 Assembly polls," Malik explained. "When they were rigged, we were forced to take recourse to the gun."
As for its content, he said, "My book will dabble in the truth only. There is no fun in it otherwise.
"Malik, however, is in no hurry to publish. "My priority is not to finish the book; that can be done in six months flat. The timing is important."
Benefit of hindsight
When Malik was negotiating his first steps in politics, Abbas Ansari was already a veteran.
A leading Shia cleric of the valley, he formed the Itihad-ul-Muslimeen in 1962 and rose to prominence during the 1963 holy relic agitation.
The agitation began after a strand of hair, believed to be of the prophet, was stolen from the Hazratbal shrine on December 27, 1963.
Ansari was among the leaders who were at the forefront of the state-wide protests that subsided only when the relic was recovered on 4 January 1964.
His party would become a major constituent of MUF and later the Hurriyat. Ansari served as the last chairman of the Hurriyat before it split in 2003 into the Mirwaiz and Geelani factions.
His book is titled Khar-i-Gulistan, or The Thorn of the Garden. "It spans everything from the holy relic movement, through MUF's formation and militancy to the Hurriyat split in 2003 and more," says Ansari's son Masroor Abbas Ansari.
The book is at the printers but will take a while to be released. "It is Moulvi's sahab's personal account of the politics of Kashmir, what he has done and witnessed," Masroor said.
"And it has details which were not known earlier."