Rajya Sabha polls: the case against states' nominating 'outsiders'
The character of representation in Rajya Sabha is fast changing. Rajya Sabha is now becoming an institution of representatives of 'rajas'. It is no longer an institution of representatives of states. The BJP has been successful, to an extent, in converting the character of this premiere institution according to its agenda of "nationalism", not as per the provisions of the Constitution drafted by Dr BR Ambedkar. The Congress is following suit.
Recently, nominations were filed for 57 Rajya Sabha seats. It is 23% of the total strength of the Upper House. According to the Constitution, an Indian citizen has the right to contest the Rajya Sabha election, but there is a basic difference in Lok Sabha and Rajya Sabha elections. For Rajya Sabha, it was mandatory for a candidate to be a native of the state where he contested the election from. This is why Rajya Sabha is called the Council of Representatives of the States.
Also read - Usual suspects: meet the 6 people BJP may soon send to the Rajya Sabha
All this changed when the National Democratic Alliance government led by Atal Bihari Vajpayee made an amendment to the Constitution and scrapped the native clause for Rajya Sabha elections. Veteran journalist Kuldeep Nayyar challenged this amendment in the Supreme Court, which refused to interfere and declared the amendment as valid. Since then, Rajya Sabha has fast become an institution of the representatives of political 'rajas' instead of an institution of representatives of states. It isn't difficult to see how the situation has deteriorated since and influential "outsiders" have grabbed Rajya Sabha seats. Increasingly, leaders of political parties impose their cronies on their MLAs to send to Rajya Sabha. The leaders of BJP, in particular, have mastered this art.
For the ongoing election to 57 Rajya Sabha seats, the BJP has transferred its candidates from one state to another as if conducting a bureaucratic reshuffle. Union minister Venkaiah Naidu has been sent from Karnataka to Rajasthan. He has represented Karnataka in Rajya Sabha thrice. But this time, such is the anger against him in Karnataka that even saffron MLAs couldn't dare accept him as a candidate. There have been complaints that Naidu, a native of Andhra Pradesh, never took up the cause of Karnataka in the Upper House during his three terms.
Another Union minister Nirmala Sitharaman has been fielded from Karnataka, replacing Naidu. Sitharaman, too, is not a "permanent native" of Karnataka. Previously, she has been elected from Andhra Pradesh. While filing her nomination, she promised to learn Kannada and take up the cause of the state. Suresh Prabhu, who is from Maharashtra, was in the running to be nominated from Haryana first but was later shifted to Andhra. The Congress has fielded Jairam Ramesh, a native of Andhra, from Karnataka.
If we scan the list of candidates announced by various parties for the ongoing elections, it will be clear that comparatively more seats have been "reserved" for "outsider" candidates in poorer states than in affluent ones. In Jharkhand, half the six seats have gone to "outsiders". RJD leader Prem Chand Gupta, an influential businessman from Haryana; Delhi-based journalist MJ Akbar; and Parimal Nathwani, a Gujarati businessman, are currently representing the state. This time, two of the state's Rajya Sabha seats are up for grabs. As for now, Union minister Mukhtar Abbas Naqvi is replacing M J Akbar, who has been sent to Madhya Pradesh.
Madhya Pradesh has 11 Rajya Sabha seats and will fill three of them this time. As of now, 36% Rajya Sabha seats from the state are with "outsiders".
Here's a look at the Rajya Sabha seats held by "outsiders" in various states.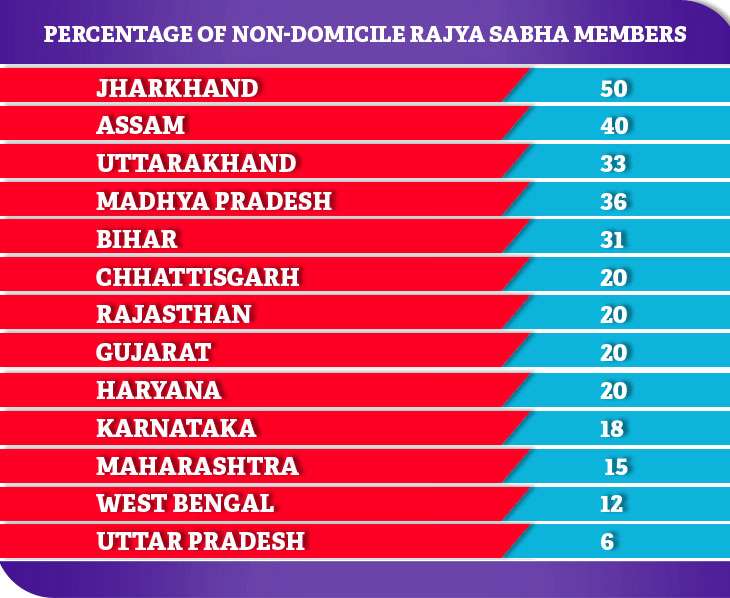 Malik/Catch News
In Bihar this time, the RJD has nominated Ram Jethmalani while the JD(U) has fielded Sharad Yadav. The BJP has already completed its quota of "outsiders", having got Union minister Dharmendra Pradhan elected from the state. Jethmalani has earlier represented Rajasthan as a BJP nominee. Senior Union ministers Arun Jaitley and Smriti Irani are "outsiders" representing Gujarat.
In Maharashtra, 15% of its seats are going to "outsiders". In Uttar Pradesh, where regional parties hold sway, only 6% seats have gone to "outsiders" - the Congress has nominated Delhi-based lawyer Kapil Sibal while the BJP has already got Manohar Parrikar elected from the state.
The Congress made Manmohan Singh a Rajya Sabha member from Assam while he was the prime minister for 10 years. Then, the party chose to field Sanjay Singh, a politician from UP, from the Northeastern state. Another top Congress leader P Chidambaram, a native of Tamil Nadu, is the Congress candidate for Rajya Sabha from Maharashtra this time.
The provision for Rajya Sabha was made in the Constitution to ensure a federal and republican character for India. But in the name of "nationalism", this character is being assassinated by imposing "outsiders". This will affect the prospects of candidates from weaker states as well as marginalised caste, religious and language groups.
More in Catch - Big guns: Congress picks Chidambaram, Jairam, Sibal for Rajya Sabha
New Rajya Sabha members: Modi govt makes last-minute changes to list