Rajnath and Mehbooba achieved one thing: to irk Kashmir even more
Catch Team
| Updated on: 10 February 2017, 1:48 IST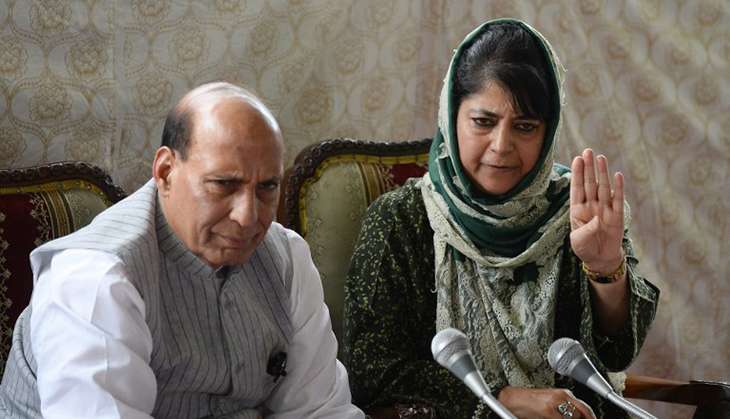 Home Minister Rajnath Singh's second visit to Kashmir in a month did little to push the cause of peace in the state. Both separatists and the civil society were simply disappointed with what he and Chief Minister Mehbooba Mufti had to say.
Labelling the visit 'as expected', Hurriyat and Jamaat-i-Islami slammed the Centre's lack of seriousness in tackling the unrest in the Valley, adding that the future of India and South Asia would be in jeopardy if Jammu and Kashmir continued to be ignored.
Here's what went down at the press conference
Far from announcing an anticipated political outreach in line with Prime Minister Narendra Modi's offer of a dialogue - "to find a permanent and lasting solution" - Singh outlined a few administrative measures.
He topped it up with some empathetic talk and assurance of a review of the use of pellet guns in "two to three days".
Home minister struggled to show conviction at a crowded press conference in Srinagar along with Chief Minister Mehbooba Mufti, who further detracted from his effort by once again reiterating that only five per cent were part of the protests in Kashmir and rationalised the use of force on protesters.
"Had a kid who attacked an Army camp gone there to buy a toffee? A 15-year-old boy who attacked a police station (in south Kashmir), had he gone there to buy milk?" Mehbooba asked, visibly agitated over a question.
The statement was soon interpreted as an implicit justification for the killings and injuries under her watch.
Hurriyat said the visit was along predictable lines.
As expected?
"Even this time, when the Valley is burning, it is evident that rather than coming out of denial mode about the struggle of the people of Jammu and Kashmir and showing some seriousness in resolving the dispute, the government of India wants to debate pellet shot guns and its alternatives," a Hurriyat statement issued soon after the home minister's press conference read.
"The non-serious attitude of Indian state can also be gauged by Mr Rajnath Singh's announcement of the appointment of a nodal officer for Kashmiri youth as if they want to implement some central government social welfare scheme."
The separatist amalgam said that not only the future of India but also that of the whole South Asian region was in danger "if the people of Jammu and Kashmir are subjected to continuous denial of their future by the Indian state".
...and therefore - futile
Similarly, the religio-political outfit Jamaat-i-Islami termed the visit futile.
"The two-day visit of Indian Home Minister Mr Rajnath Singh to the Valley proved to be a pointless exercise as he failed to address the main issue. The genuine demands of the Kashmiri people are the settlement of the Kashmir issue as per the aspirations of the people of entire Jammu and Kashmir as it existed before the Indo-Pak partition," Jamaat-i-Islami said in a statement.
Dukharan-i-Millat leader Asiyah Andrabi similarly said that the home minister's visit was "a tactic to hoodwink the international community".
"These visits are only deceptive tactics to show the international community that government of India is concerned about the situation and human rights in Jammu and Kashmir," Andrabi said in a statement.
"We have made amply clear that such visits are meaningless to us".
Responding to the home minister's statement that "India can't see its future without J&K", Andrabi said that "people of Kashmir can't even think of their future with India".
Lack of initiative
Political analyst and Kashmir University professor Dr Gull Wani saw the lack of a political initiative as more the result of an absence of options rather than an absence of a policy.
"BJP by virtue of its longstanding political position on Kashmir is inherently unable to take a dramatic political initiative in the state. Vajpayee could override the ideological straitjacket in his search for a solution, but the current regime in Delhi is too literally tied to its political outlook to think of creatively getting around it," Wani said.
"So a political outreach is a challenge for the BJP. And by adopting this approach it has pushed separatists to another extreme. There is no middle ground left now which can be a site of dialogue."
According to Wani, the situation has been further complicated by the deteriorating relations with Pakistan.
"Pakistan is a strong factor in the situation in Kashmir. So it will be difficult for New Delhi to push a meaningful dialogue in Valley while seeking to keep Islamabad out of the loop," Wani said.
"So, if New Delhi is struggling to give a form to its political engagement with Kashmir, it is because it has rendered itself ideologically incompatible for it."
How the mainstream reacted
However, the mainstream opposition has welcomed the decision to review the use of the pellet guns against protesters in Valley.
The parties have appreciated the Centre's move to send in an all-party delegation to the state.
"Congress party, time and again, has urged the Centre in both Lok Sabha and in Rajya Sabha to send an all-party delegation to Kashmir which will hold a discussion with all shades of opinion," State Congress president Ghulam Ahmad Mir said.
Rajnath Singh's visit has left the Valley largely disappointed. The disappointment was even more for the traders and the daily-wage earners who expected a political outreach by the home minister to create a condition for normalcy.
Fayaz Rasool, a businessman, said the Centre's policy towards Kashmir was nothing more than "the management of conflict".
"They want a long lasting lull in Kashmir. Nothing more," said Rasool.
"For now, all that Centre is waiting for in Valley is for fatigue to set in and lead to normalcy."
Earlier, Kashmiri trade bodies had refused to meet Rajnath Singh.
"Kashmir is a dispute accepted by the world community. Our real representatives are pro-freedom leaders. India should hold a dialogue with Pakistan and our leaders if it is sincere about resolving the Kashmir dispute," Muhammad Yasin Khan of Kashmir Traders and Manufacturers Federation (KTMF) said.
"We are traders, what will India achieve by talking to us?"
Edited by Jhinuk Sen
Also read: Kashmir: These 12 statements show Mehbooba & PDP have no idea what to do
Also read: Mehbooba's sole priority is BJP's goodwill. Kashmir be damned
Also read: Stop supporting militants in Kashmir, Pakistan's parliamentary panel tells Nawaz Sharif
Also read: J&K Opposition reminds Modi of Atal: Will next Mann ki Baat be on Kashmir?
Also read: Kashmir unrest: Rajnath Singh chairs high-level meeting