Railways introduces dynamic tamping express machines for track maintenance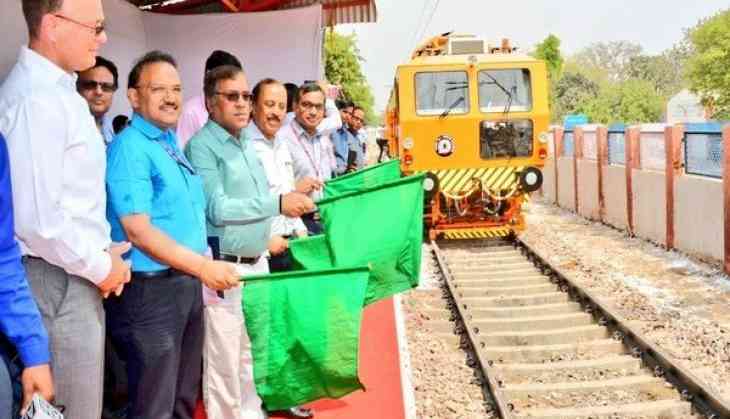 The Indian Railway introduced latest integrated track maintenance technology by way of inducting three numbers of 09-3X Dynamic Tamping Express machines.
These machines were inaugurated and flagged off by M.K. Gupta, Member Engineering, Railway Board at Faridabad.
According to Railway Ministry, the 09-3X Dynamic Tamping Express machines have been manufactured under Prime Minister Narendra Modi's ambitious 'Make in India' initiative.
Imported components have been used to manufacture the machines.
In the next six months, seven 09-3X Dynamic Tamping Express machines are likely to be included in the present fleet of 874 track maintenance machines over Indian Railways for deployment on heavy density routes.
The New 09-3X- Dynamic Tamping Express cost about Rs. 27crore each is a latest high output integrated tamping machine having multiple functions, so far being carried out by different machines. It can measure pre and post track geometry, correct the track to required geometry, can tamp three sleepers simultaneously, stabilize and measure post tamping track parameters under load to ensure quality of work done.
This eliminates the need for a separate stabilisation machine which reduces operating costs and track possession time.
--ANI