'Village of drug smugglers' Havelian won't get Udta Punjab's happy ending
Darshan Singh, a Naik with the Indian Army, is proud of the fact that he has often been on several border postings in his 17-year stint as a soldier. But his deepest lament is that he has been unable to keep his village safe.
Darshan Singh is referring to his maternal grandfather's village - Havelian in Punjab's Tarn Taran district, which has become notorious as a den for both drug smuggling and drug addiction.
Havelian is located right on the India-Pakistan border. The wired fence built by India runs along the boundary of the village and just 200 metres beyond the fence is Pakistani territory.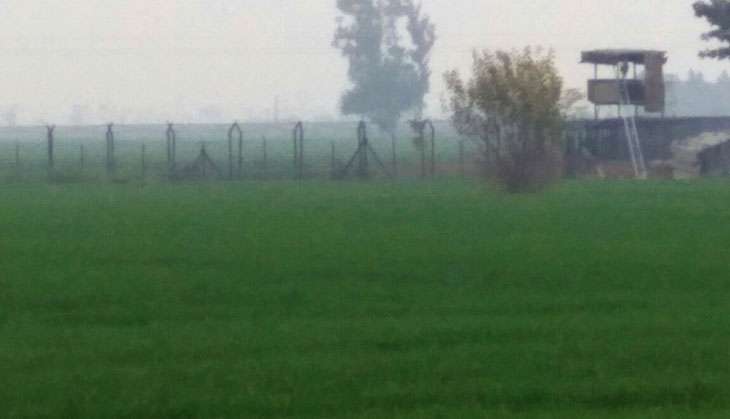 The border fencing at Havelian village. (Photo: Aditya Menon/Catch News)
The residents were evacuated for a few days last year as the government feared tensions following the 'surgical strike' along the Line of Control in Jammu and Kashmir.
'A village of drug smugglers'
A Border Security Force (BSF) commandant posted here minces no words in describing Havelian.
"This is a village of drug smugglers," he says.
To say that the village is a stone's throw away from Pakistan is a cruel joke, as drug consignments are often thrown from the other side of the border into paddy fields owned by Havelian's residents. The authorities allege that this is done with the active collusion of some people from the village.
But for the residents of Havelian, this tag - of being a village of drug smugglers - is a curse that has affected their lives deeply.
"We have to live with this stigma wherever we go. People don't find work because of it," Darshan says. "Our village has become a target for police and security personnel."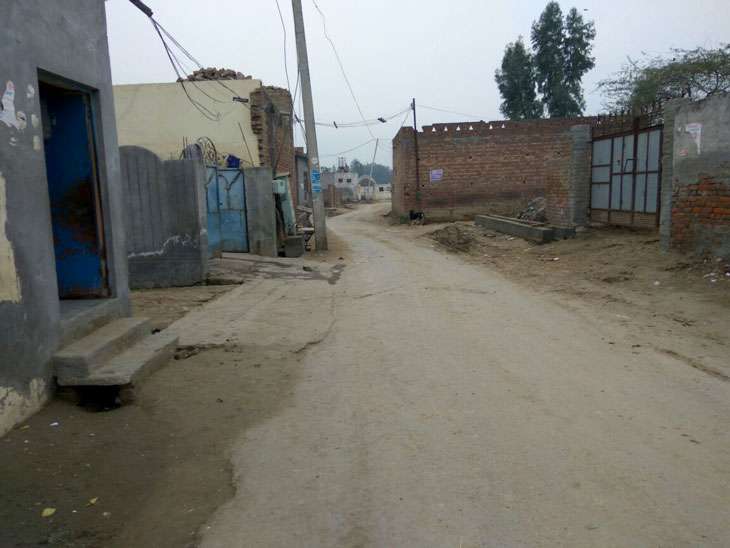 Havelian village. (Photo: Aditya Menon/Catch News)
Saram Singh, another resident of Havelian, agrees.
"The police frequently come and pick up boys from the village. Jail has become part of the destiny for the people of Havelian," he says.
Darshan admits that a couple of years ago, many residents from the village were involved in the drug trade, but he says that this is no longer the case.
"The people who were involved are no longer here. The police picks up innocent men from the village just to show that it is cracking down on the drug trade," he says.
The extent of Havelian's drug menace
Locals say Havelian has around 150 families, with a population of about a thousand. According to a report from 2014, around 50 people from the village, including 3-4 women, were behind bars in connection with Narcotic Drugs and Psychotropic Substances (NDPS) cases. This is probably the highest number for any village in Punjab.
According to a report dated June 2015, in the first half of that year, Tarn Taran registered the maximum number of NDPS cases among all the districts in Punjab - 367. It was followed by Jalandhar (347), Ferozepur (256) and Patiala (237).
While involvement in the drug trade has brought prosperity to Havelian, it has also caused destruction. The village has a very high degree of drug addiction, especially heroin.
"Most of the houses of the village have either a drug smuggler or a drug addict, and in most cases, both," Dalbir Kaur, who lost her husband to drugs, told The Tribune in 2015.
It is said that there are 20 drug widows in Havelian, and over 30 people have lost their lives to drug addiction since 2013.
When The Tribune visited Havelian in 2015, it said that as it "reached and sought directions, it was a surprise to see that most youth in the village were high on drugs and behaved inappropriately".
The situation seems to have improved from 2015. When Catch visited the village on 24 January this year, except for a couple of individuals, no one seemed to be high on drugs. Many youngsters were playing volleyball in a playground. Far from behaving inappropriately, everyone was friendly and some even offered tea and food.
The BSF's version
The BSF commandant describes the modus operandi of the drug trade and the role the villagers allegedly play in it.
"Smugglers from the Pakistani side throw the drug consignment by hand into the fields on this side. Since the fence is 200 metres inside Indian territory, the Pakistani smugglers have to throw the consignment hard enough to reach the Indian side," he says.
"The smugglers on this side of the border are in regular touch with their Pakistani accomplices through phone and WhatsApp. They decide on a landmark near which the consignment will be thrown - such as a large tree, a hut or some specific field. Sometimes landmarks are even created on the field for this purpose," he elaborates. "People on this side pick up the consignment on the pretext of going to their fields for one reason on another."
However, he admits that the drug trade through Havelian has reduced in the last one year.
"Some of the kingpins were either arrested or they moved somewhere else. This has caused a reduction in the drug trade through here," he says.
Another BSF personnel posted at Havelian disagrees.
"It is just a question of opportunity...We (BSF) have become more effective, but they still keep trying. Whenever there is fog, they try to get some drugs across this side," he says.
The BSF post at Havelian is a small one. There is a larger BSF camp 3-4 kilometres northwards at Naushera Dhalla.
The BSF commandant at Havelian says that initially, the smuggling started with gold many decades ago. Later the same routes and networks were used to smuggle narcotics.
"The village is very closely knit. Sometimes entire families were involved in drug smuggling. This worked very well as the entire business works on trust," he says.
State neglect
For the residents of Havelian, however, this unity is their biggest strength.
"The biggest strength of this village is its unity. There are Jatt Sikhs, Mazhabi (Dalit) Sikhs and Mair (Rajput) Sikhs here, but there is no hierarchy or discrimination between us," Darshan says.
Besides the stigma attached with drug trade and addiction, what comes across visibly in Havelian is a deep sense of being neglected by the state.
They say that the involvement in drug trade as well as drug addiction in the village is the result of inadequate employment opportunities.
Many villagers say that the only government agency which regularly comes to them is the police - allegedly to harass them.
Locals say that much of the facilities that are available in Havelian are due to the efforts of its own residents and not the government.
For instance, it is well served in terms of educational institutions, as a local college and school send buses to pick up and drop students to Havelian. However, both the institutions are private.
Anger against parties
This neglect by the state does seem to have translated into a general distrust towards political parties.
Parties have come to the village to campaign for the upcoming elections, but not as frequently as other villages.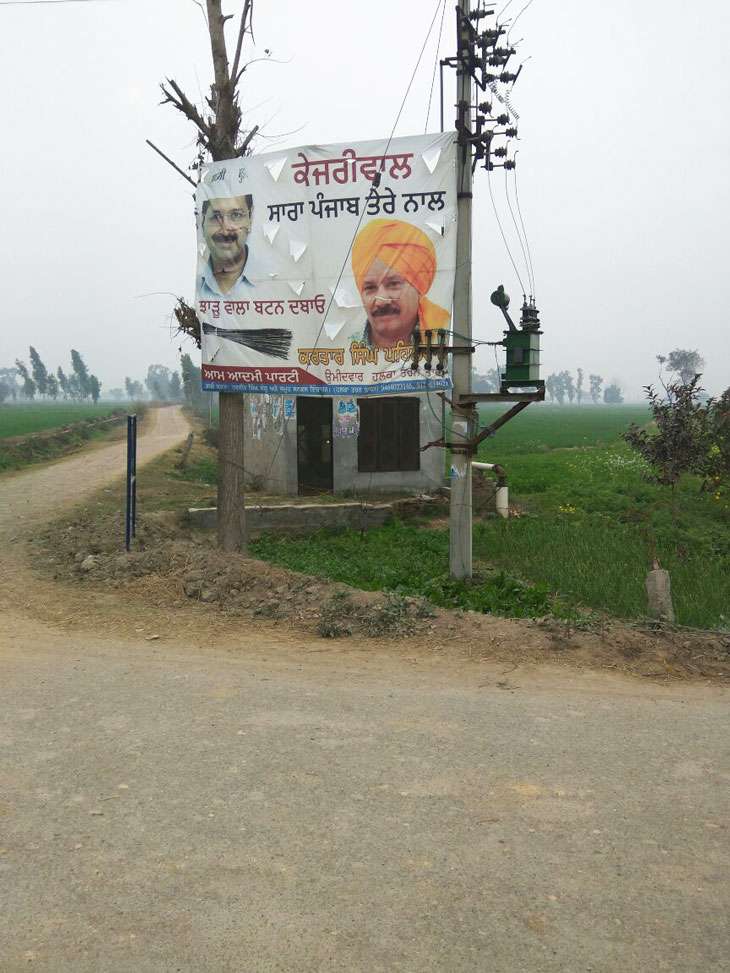 An AAP poster in Havelian. (Photo: Aditya Menon/Catch News)
Posters of various candidates have been put across the village - Congress ones outnumber those of the Shiromani Akali Dal and the Aam Aadmi Party.
There are a number of small posters remembering the dead Khalistan leader Jarnail Singh Bhindranwale.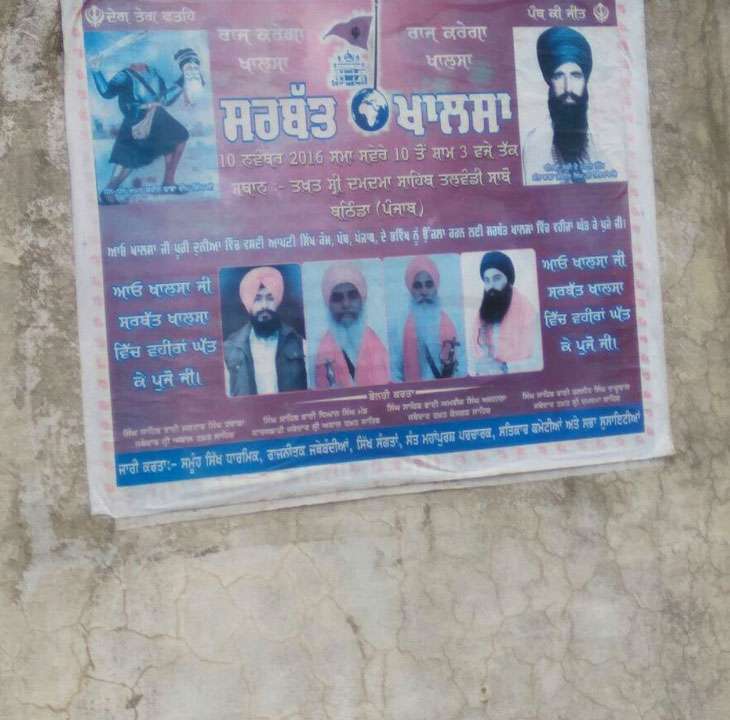 A poster bearing the face of dead Khalistan leader Jarnail Singh Bhindranwale. (Photo: Aditya Menon/Catch News)
Sucha Singh is in his seventies and has become a terror for political parties that are coming to Havelian asking for votes.
"I confront each one of them asking, 'why have you come here asking for votes when you have done nothing for all these years?'" he says.
"Anyone who asks for my vote will get a piece of my mind," he adds, with a laugh.
Though partially blind, Sucha Singh has been collecting the leaflets of all the political parties. "I will hold all of them to account for what they are promising," he says.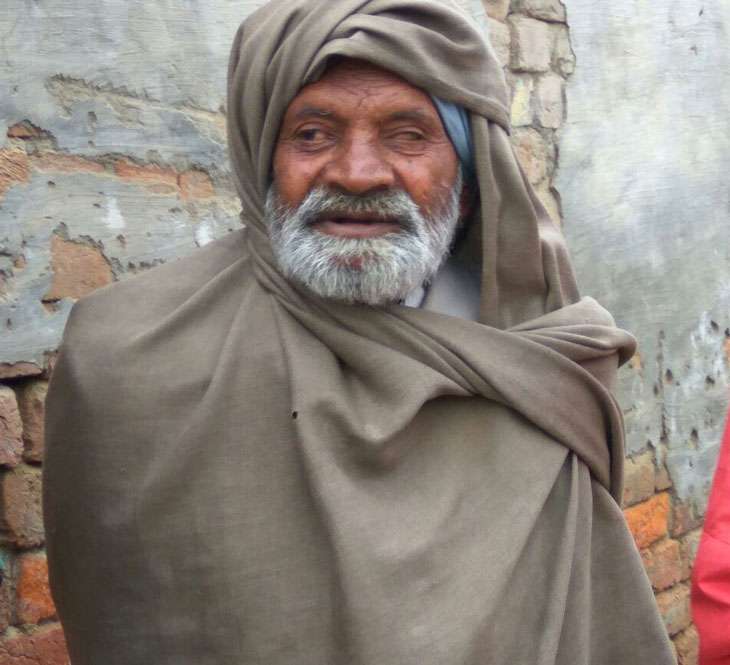 Havelian villager Sucha Singh. (Photo: Aditya Menon/Catch News)
However, Sucha Singh has a particular grouse against senior Shiromani Akali Dal leader Gulzar Singh Ranike. The MLA from Attari, another border constituency, Ranike holds important portfolios in the Parkash Singh Badal government - animal husbandry, dairy, fisheries, welfare of Scheduled Castes and Backward Classes.
"I went to Ranike's house to get some work done. It was something very important and it wasn't a favour meant for myself. But Ranike insulted me and his men shooed me away," he says.
"An elder relative of Ranike was also present there and he criticised Ranike for behaving in this manner. He asked Ranike 'what's the point of your being a minister if this is how you behave with people'," Sucha Singh recalls.
Even as Catch was speaking to residents, a police team arrived in Havelian and began questioning locals. They said it was just a 'routine' visit.
"The only advantage of election time is that the police talk to us politely and don't pick up our men arbitrarily," says a resident, as the police team leaves the village.