Punjab is prosperous. Yet the youth want to flee to the West illegally
The tragedy
Several Punjabi youth were feared killed when their boat capsized near Panama
The incident highlighted the problem of illegal immigration from Punjab
The build-up
Punjab is economically prosperous; yet illegal migration continues unabated
Even a state Act has not been able to curb the problems
More in the story
What are the routes for migration?
Why do the youth leave despite hardships?
The feared drowning of more than 25 Punjabi youth after their boat capsized between the Colombian port city of Turbo and Panama has once again brought to focus the continuing human trafficking from the state.
The enactment of a law to curtail the practice has failed to yield desired results. According to reports, illegal immigration is a business worth about Rs 1,500 crore, involving some 20,000 travel agents across Punjab.
Read- Shadow Lines: the drugs and terror track in Punjab
The Kapurthala Police arrested two unregistered agents: Kulwinder Singh Multani, a petrol pump owner from Bhogpur in Jalandhar, and Harbhajan Singh, a retired Haryana police employee from Bhatnura village in Kapurthala.
It all came to light when Jaswinder Singh Sonu, a survivor from Laroi village, got a call on 10 January, saying that the boat carrying more than 20 youths towards United States had collapsed. Gurwinder Singh from Jaide village and Gurdeep Singh from Tandi Aulakh village were among those feared dead.
Gurwinder's father Bachan Singh told the police that he got a call from his son from Brazil on 22 December. "We suspect the travel agents to be a part of the larger illegal immigration racket operating from Delhi," said Inspector General, Jalandhar, Arpit Shukla.
A long practice
This is the third such major incident in the last two decades. In December 1996, in the Malta boat tragedy, 238 youths lost their lives when Yiohan, their ship, sank in the Mediterranean Sea near Italy.
In April 2002, an over-loaded boat capsized near Turkey. Around 30 youths from the Doaba region went missing. They were allegedly on their way to Greece.
Human trafficking from Punjab continues despite the fact that Punjab enacted a Punjab Travel Professionals' Regulation Act in 2012 to regulate the working of immigration and travel agents. The Act has failed to achieve its purpose, becoming instead a tool to scare them.
Also read- Heads up: Is Arvind Kejriwal primed to be the next CM of Punjab?
Many agents continue to operate illegally in the state. The implementation of the Act has been shoddy - the home department took eight months to frame its rules and the codes were eventually notified in August 2013.
The Act was then challenged in the Punjab and Haryana High Court by some travel agents. Despite the court reportedly not staying the Act, registration of travel agents virtually came to a halt. Many amendments were introduced in favour of the travel agents in terms of processing of complaints and penalties imposed for non compliance.
The new rules were notified in September 2014 but the registration of agents failed to pick up. Last April, the court dismissed the petition challenging the act. The last date for registration of agents was 30 June, 2015, but the task remains far from being over.
The Act provides for punishment for up to seven years and fine for erring agents.
Why the rush?
The question remains. Despite being aware of the risks involved in illegal immigration to the developed world, despite the hardships involved, there is no stopping the youth from making a beeline. Why?
Pramod Kumar, the director of Institute for Development and Communication, describes the phenomenon as a saga shaped not merely by poverty but by an oppressive agrarian system, indifferent governance and of course, the personal urge to enhance one's social status. He said it was linked to both agrarian debt as well as rising prosperity.
Read more- Cotton farmer suicides: Punjab has been here before and not learnt
He, however, feels that there is no extreme economic situation that leads to such migration. "They know that even in the West there are no jobs available. The state continues to get Rs 60,000 crore as minimum support price for its crops, there is a Rs 1,700 crore export by its industry."
"The youths pay around Rs 25 lakh to travel agents to take them abroad illegally. They can easily earn a sustenance by keeping the same amount as a bank fixed deposit. It is a phenomenon linked more to the self esteem in a feudal society," he said.
According to eminent economist Dr HS Shergill: "If the United States and Canada open their gates for migration for 24 hours, the whole of Punjab would want to go."
He underlined that Punjab's agriculture was doing well - no other state comes near. "Tenant farmers rent land at a rate of Rs 50,000 per acre, and after putting in all costs still earn around Rs 25,000," he said.
In areas that have seen mechanization of agriculture globally, there is a tendency of the youth to move away from the vocation. The same is now true for Punjab.
The modus operandi
Those migrating to the West illegally use different routes to enter the United States and various places in Europe.
Those aiming to go to Europe normally take three routes: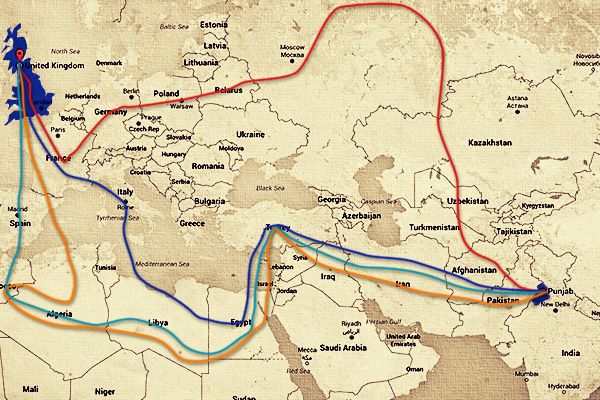 Kabul-Siberia-Belarus-Poland-Germany-Belgium-France-United Kingdom
Turkey-Egypt (by boat)-Malta-Italy
Turkey-Egypt-Libya-Morocco-Spain.
At times the travel agents also choose: Turkey-Egypt-Morocco-Algeria-France.
For the United States too, agents have devised several routes: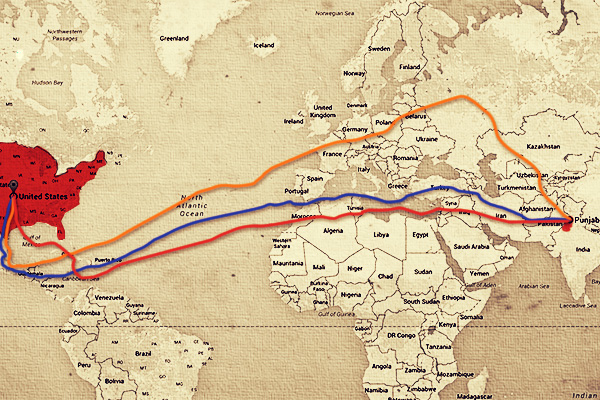 Turkey-Guatemala-Mexico-US
Moscow-Cuba-Panama-El Salvador-Mexico-US
Some also prefer: Haiti-Bahamas-Cuba-Miami-Florida
According to Kumar, Punjab needs to be more pro-active on the issue and channelise the energy and potential of its youth in a productive manner.
IGP (anti-human trafficking) G Nageswara Rao told Catchnews: "The law enforcement is there. We register cases and make arrests whenever there are complaints. But the people, despite knowing everything, want to go abroad legally or illegally. They face lots of hardship even after reaching their destinations, but then there are some success stories also that motivate the youth."
Deputy Chief Minister Sukhbir Badal has sought the intervention of Prime Minister Narendra Modi and External Affairs Minister Sushma Swaraj in the matter. He said a three-member team will go to the United States from Punjab to trace the survivors of the Panama tragedy.
More in Catch:
#TwitterDown: when a social network fails, hilarity ensues
When not driving, sketch. #OddEven gave birth to these brilliant babies
House of Saud on a slippery slope? A family coup might be at hand
'He had to die to make his point. And he did it': Rohith Vemula's best friend