#ProfileInCourage: Jadavpur VC refuses to call cops on 'anti-national' students
Rajat Roy
| Updated on: 14 February 2017, 5:44 IST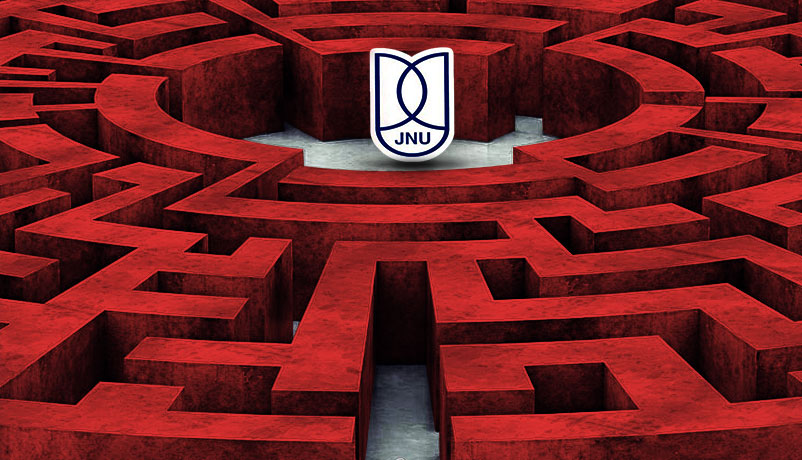 What Delhi's JNU failed to do, Kolkata's Jadavpur University has done without hesitation: prevent the police from hounding its students.
At the JNU, the vice-chancellor Jagdeesh Kumar willingly collaborated with the police and the home ministry in getting student union leader Kanhaiya Kumar arrested from the campus.
In Jadavpur, the vice-chancellor Suranjan Das refused to oblige Kesharinath Tripathi - who, as governor, is the university's chancellor - who wanted him to file an FIR against the students who had raised "anti-national" slogans at their protest rally, taken out in solidarity with JNU's students.
Also read: #LessonforDelhi: how teachers, cops prevented violence in Jadavpur
The "anti-national" slogans that Tripathi, an old Sangh Parivar hand, wanted the students booked for were raised on 17 February. They demanded "Azadi" for Kashmir, Manipur and Nagaland. Some slogans were also shouted against the Narendra Modi regime and the Sangh Parivar.
After the Sangh's student wing, the ABVP, took the matter up with Tripathi, he publicly demanded police action against the "culprits", asking Das to file an FIR against them.
The vice-chancellor rejected the demand straight away, saying it wasn't proper for a vice-chancellor to call the police on his students. Moreover, giving the governor a lesson in university culture, Das said a campus must allow diverse ideas and opinions to be expressed and debated. "There should be a space for accommodation of diversity on a campus," he emphasised.
Also read: Wondering why some JNU students protested for Afzal Guru? Here's your answer
Tripathi though didn't take this broad hint and called Das for a meeting at Raj Bhavan Friday. It lasted nearly two hours. Tripathi asked the vice-chancellor to submit a report on the issue to him.
But once Das came out, he reiterated that the university can't initiate police action against its students. He even wrote a signed article in a national daily elaborating the arguments in favour of his position. "A university can't ever be governed with the police. The autonomy of a university is sacrosanct," went his clincher.
By the democratic book
Das has made it clear that he won't be sending a report to Tripathi anytime soon. He has first convened a general convention on the campus, where all the students, teachers and non-teaching staff have been invited to express their views on the issue.
Also read: Jadavpur University reacts to 'anti-nationalism' with vandalism on campus
"The university community is a holistic community. Just as India does not speak in one voice, it's unfair to think of a homogeneous Jadavpur University community. After all, it's the unity in diversity which is the binding force of the Indian nation in its all aspects. Any issue inside the varsity should be dealt in accordance with the university's rules and regulations."
Das' position has found support from another vice-chancellor, Sabyasachi Basu Ray Chaudhury of Rabindra Bharati University. "A university must have the democratic space where divergent views and thoughts are voiced and debated."
"From the Greek tradition of Dialogue to the great Indian tradition which Amartya Sen has alluded to in The Argumentative Indian, all call for such a democratic space. If you tend to suppress the dissenting voice, then the trend thus established would be very dangerous."
Rabindra Bharati VC: A campus must have the democratic space for divergent views to be voiced & debated
Ray Chaudhury has advice for the dissenters as well. They must learn "how to raise controversial issues". "One can demand a debate on Kashmir but the basic civility must not be lost."
Also read: MHA seeks report pro-Afzal sloganeering in Jadavpur University
Pabitra Sarkar, a former vice-chancellor of Rabindra Bharati University, too came out strongly in support of Das. "I fully support the position taken by the Jadavpur University vice-chancellor," she said.
"He has rightly said that it's not the duty of a vice-chancellor to file FIRs against his students. The vice-chancellor can't act like a policeman. On a campus, diverse and dissenting voices are to be heard. Even anti-national slogans might be raised. Sometimes, a section of the students might feel aggrieved on certain issues and turn their ire into anti-national slogans."
Students may turn their ire into anti-national slogans. That doesn't call for FIR: Pabitra Sarkar, ex-VC
"But one must distinguish and differentiate between words and acts. The vice chancellor has taken the correct stand."
Edited by Mehraj D. Lone
#JNUCrackdown: politics of paranoia around sedition can singe Rajnath
BJP goes national against JNU 'anti-nationals'. Will the fire spread?
Why the Sanghi zombie apocalypse is upon us (and how to save yourself)