Prayers, animal sacrifices: what PDP is doing for Mufti Sayeed's 'speedy recovery'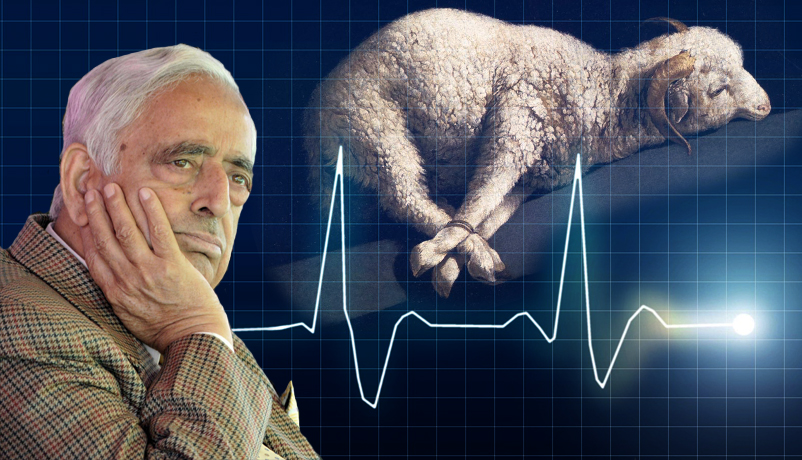 On the sickbed
J&K CM Mufti Sayeed, 79, has been in AIIMS since 24 December
He was admitted with acute pneumonia and respiratory infection
His doctors say he\'s stable but requires respiratory support
Living on a prayer
PDP workers are offering prayers, sacrificing animals for his \'speedy recovery\'
It\'s an old practice, Sheikh Abdullah\'s supporters had done the same in 1977
\'In case of any eventuality\', PDP says, Mehbooba Mufti will be CM
As Mufti Mohammad Sayeed battles for life at Delhi's AIIMS, where he has been admitted for the past two weeks, his supporters are sacrificing animals, and performing various rituals and prayers for the chief minister's speedy recovery.
On 6 December, workers of his Peoples Democratic Party, led by the general secretary Nizamuddin Bhat, organised special prayers at the shrine of Sayyid Abdul Qadir Jilani, popularly known as Gous-ul-Azam or Dastgeer Sahib, in downtown Srinagar's Khanyar.
Also read - BJP's dilemma: Mufti, Mehbooba and the brewing power tussle in J&K
They later distributed tehri, rice cooked with a pinch of turmeric and spices as an offering, outside the shrine.
"For Mufti Sahab's early and speedy recovery, we organised prayers inside Dastgeer Sahib's shrine today. Hundreds of people participated in the special prayers held for our leader's good health," the PDP's Khanyar zonal president Mohammad Shafi Kundangar told Catch.
He added, "Mufti Sahab is a fighter. He knows how to fight. We hope and pray that he emerges winner in this battle too."
Tahir Saeed, the PDP's media analyst at the Chief Minister's Office, said the party's supporters have been holding special prayers for Mufti in "every nook and cranny" of the valley.
"Our workers have held prayer meetings for Mufti Sahab's recovery in Ashmuqam, Pahalgam, Anantnag, Sumbal Sonawari and Srinagar," he said, adding that at many places, the workers "are sacrificing goat and sheep as nazrana (offering)".
Similar prayers have reportedly been organised at shrines and mosques in Bandipore and Sumbal in north Kashmir; Pulwama and Anantnag in south Kashmir; Pakharpora in central Kashmir; and Hazratbal in Srinagar.
In 1977, then CM Sheikh Abdullah's supporters had sacrificed animals after his health deteriorated
The practice of sacrificing animals and distributing tehri for a politician's well-being is an old one in Kashmir. Sheikh Abdullah's supporters had done so after the 1977 assembly election when he was not keeping well.
And the practice isn't just religious. It carries political symbolism as well.
"Sympathisers of the National Conference had sacrificed animals at many places when the news about Sheikh Abdullah's deteriorating health spread like wildfire soon after the 1977 elections," said a senior political analyst who did not want to be named.
"Now, the PDP wants Mufti Sayeed to be equated with the Sheikh to reap electoral benefit from the 'sympathy' wave."
Also read - Mehbooba to be J&K CM while Mufti in hospital?
Party in trouble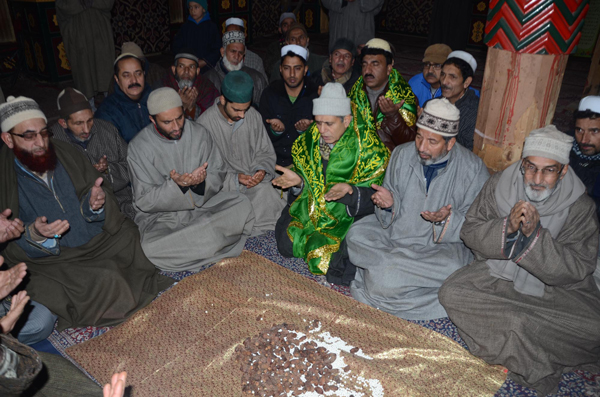 Sayeed, 79, was admitted in AIIMS on 24 December after being diagnosed with acute pneumonia and respiratory infection. Doctors treating him have said the PDP leader "is hemodynamically stable but requires respiratory support" and that his condition warranted "close monitoring".
Owing to Sayeed's deteriorating health, speculation is rife that his daughter Mehbooba Mufti may soon take over as Jammu & Kashmir's first woman chief minister.
Mufti Sahab is a fighter. We hope and pray he emerges winner in this battle too, says PDP leader
A senior PDP leader told Catch that the party has adopted a "watch and wait" policy for now.
"We have not held official deliberations on the issue as yet. We are closely monitoring the situation. We remain hopeful that Mufti Sahab will soon be fine," the leader said.
"But we are clear that Mehboobaji is the obvious choice for chief minister in case of any eventuality. But we are not thinking about that right now."
If the leadership vacuum created by Mufti's waning health wasn't trouble enough, the PDP is riven with groupism. Muzaffar Hussain Beg and Tariq Hamid Qarra, the party's two most senior leaders, have been issuing strong statements against several decisions of the PDP.
The party would be hoping that all these sacrifices and prayers relieve it of the troubles.
Also read - By the hard way: how Mehbooba Mufti rose to be J&K's CM-in-waiting
What the J&K chief secy's resignation tells us about the PDP-BJP coalition
Doublespeak: why do Abdullahs & Muftis often sound like the Hurriyat?