Pranab Mukherjee's Puja special: Birbhum's Mirati village waits for their Poltuda to visit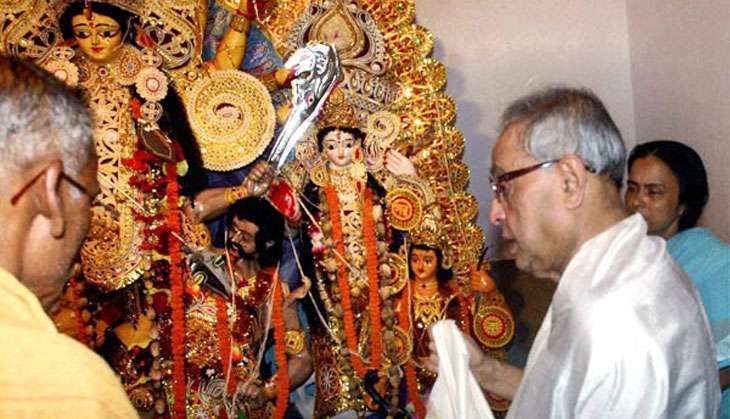 After President Pranab Mukherjee decided to stay at Dr APJ Abdul Kalam Road, Bungalow 34, in New Delhi once his tenure gets over in 2017, residents of his birthplace - Mirati village in Birbhum - were rather saddened. They had been wishing that their beloved Poltuda( Pranab Mukherjee) would return to stay in his village after the end of his tenure.
65-year-old Robi Chattoraj, a long time aide of Mukherjee's, said, "Political compulsions have made Mukherjee take such decision, but we are happy that at least he comes home every Durga Puja and performs some of the rituals for the puja."
This year, Mukherjee arrived at the village on Friday (7 October) and will be staying till 11 October. He will leave for Delhi after the immersion.
Work comes first
Pranab Mukherjee's elder sister Annapurna Banerjee, 86, said that she has always wished that Pranab Mukherjee should stay in his village after his tenure ends as President of India. "I am saddened after I read the news on a national daily that Pranab will be staying in Delhi. I wish him good health," she said.
According to his relatives in Mirati, Pranab's work and political compulsions are always first priority, as they have been from the early years. They had accepted that Mukherjee won't stay with them, but they have their hopes pinned on the fact that someday Mukherjee will stay in their village and will spend time, in his own way, at his residence in Mirati.
The Mukherjees' ancestral house was the hub of all cultural and sports activities in the village, recalls Chaudhury, who, along with friends Kiriti and Badal would spend long hours there.
"Poltuda would keep us engaged throughout the day. He was also a voracious reader and I remember him discussing news with his father with keen interest."
A schoolmaster who stays beside his house at Mirati said, "Mukherjee's a political visionary and this has made him stay back in New Delhi and we respect the decision taken by him."
Puja special
Like every year, this year as well, Mukherjee, who is an octogenarian, will perform Sandhya Aarti and also will conduct some of the rituals of the Sandhi Puja on Nabami. He started off the celebrations with Chandipath on Mahasaptami.
"We all wait for dada to arrive during the Pujas as this is when we actually get to spend time with him, relaxing and recollecting old memories," added Chattoraj.
According to Chattoraj, ignoring heavy security arrangements, Mukherjee mingles freely with the people, including villagers, political leaders, academicians and senior government officers in the village.
And like he always used to in the past, after the puja rituals for the day, he makes sure he tells everyone not to leave without having lunch.
Edited by Jhinuk Sen