Poser for 'graft-free' NDA: did Gadkari give Rs 10,000 cr contract to an old friend?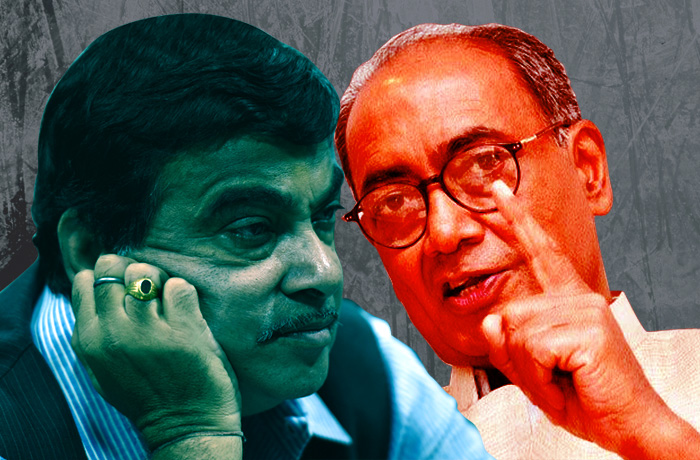 Update on 13 January 2016:
The Ministry of Road Transport & Highways has responded to Congress General Secretary Digvijay Singh's allegations of corruption in awarding a Rs 10,050 crore contract.
Singh had alleged on January 10 that the contract for Zojila Pass Tunnel in Jammu and Kashmir was awarded to IRB Infrastructure Developers Ltd in violation of CVC guidelines. He had also alleged that Transport and Highways Minister Nitin Gadkari had business links with the company.
The ministry has denied any irregularity in the award of contract and has said that it was awarded "after due diligence after the bid was found technically responsive". It informed that the original Request For Quotation (RFQ) had been invited during the UPA government's tenure, in April, 2013.
However, the tender process was canceled since only one agency submitted the RFQ document. Subsequently, the tender process was restarted and similarly canceled two more times due to the same reason i.e. receipt of single tender.
Tender was invited the fourth time, with December 10, 2015 as the last date for submission of the bid. According to the ministry, only one bid was received from IRB Infrastructure Developers Ltd, which was found "technically responsive" upon evaluation.
Accordingly, its financial bid was opened and the quoted semi-annuity amount was evaluated to be "in line with the approval of Cabinet Committee for Economic Affairs (CCEA) for award of the work".
The ministry's response, however, is inadequate. It doesn't explain why was the tender accepted the fourth time in spite of their being only a single bid, when it had been canceled three times previously for the same reason.
***
After Arun Jaitley's alleged role in the DDCA scam, the Congress has found another stick to beat the Narendra Modi regime with. Party leader Digvijaya Singh alleged that the highways ministry has awarded a Rs 10,050 crore contract to an old business partner of Nitin Gadkari.
The contract is for building the Zojila Pass Tunnel in J&K, awarded to IRB Infrastructure Developers Ltd.
Also read - DDCA is incidental. This is Modi vs Kejriwal, a fight to the finish
According to Digvijaya, the transport and highways minister's "association" with the promoters of IRB Group, the Mhaiskar family, is "the worst kept secret".
Highways Min Shri Gadkari has given Rs 10k Cr contract to IRB Infra. IRB boss has business dealings with Shri Gadkari: @digvijaya_28

- INC India (@INCIndia) January 11, 2016
The Zojila Pass Tunnel is
reported
to be the country's biggest highway project in terms of cost. IRB Chairman and MD Virendra Mhaiskar, in fact, announced earlier this month that the project's concession period was 22 years.
IRB will receive a "semi-annual annuity of Rs 981 crore from commencing after completion of construction that would be received twice a year till the end of the concession period," Mhaiskar added.
Favours for friends?
Digvijaya alleged that the contract was "designed, structured and implemented in such a way that CVC guidelines were given a proper bypass".
Although reputed road builders such as ILFS Engineering and Construction Company, Hindustan Construction Company, and Larsen & Toubro had bid for the project initially, IRB was the sole bidder in the final round.
To clear way for IRB, other bidders were signalled to withdraw or face consequences: @digvijaya_28
The others, the Congress leader alleged, "were given specific signals to withdraw or face consequences in other projects".
But why?
According to Digvijaya, the Mhaiskar's have invested crores in the businesses of Gadkari's family in the past. Gadkari's son, Nikhil Nitin, was a shareholder and a promoter director in Ideal Energy Projects Ltd, which is owned by the Mhaiskars but, reportedly, not directly a part of IRB Group.
CVC Guidelines violated. Sh. Gadkari's son Nikhil was shareholder till 2011.When Sh. Gadkari was PWD Min, in Maha, all contracts went to IRB

- INC India (@INCIndia) January 11, 2016
IRB Infra, which has been given 10k crore contract in J&K, has no experience of high altitude infrastructure: @digvijaya_28 at AICC briefing

- INC India (@INCIndia) January 11, 2016
Providing documents to support his claims, the Congress leader alleged that there is glaring "conflict of interest and quid pro quo" in the contract. He said he has written to Central Vigilance Commissioner K V Chowdhary and the prime minister, requesting them "to ensure the first installment of Rs 981 crore is withheld till proper inquiry is made".
Digvijaya also demanded a CBI investigation and urged Modi to sack Gadkari.
We urge PM Modi to see the documentary evidence for himself & sack Nitin Gadkari: @digvijaya_28 at AICC press briefing

- INC India (@INCIndia) January 11, 2016
This is clear case of corruption& if PM Modi sincerely believes in fighting corruption, he should sack Sh Gadkari immediately: @digvijaya_28

- INC India (@INCIndia) January 11, 2016
Not a perfect past
The documents provided by Digvijaya do not prove any current association between Gadkari or his son and IRB. They only prove that Gadkari's son was involved with a company promoted by the Mhaiskar family.
In November 2012, the sale of IEPL's power project in Maharashtra had sparked a controversy over the association of Gadkari, then the BJP president, and his son with IRB and the Mhaiskars.
Also read - 8 reasons why Amit Shah will stay as BJP chief, despite Bihar defeat
IEPL was reportedly trying to sell the plant since 2011 but nobody would touch it because of the controversy over "political links". So much so that Dattatraya Mhaiskar, the founder of IRB, held a 53.3% stake in IEPL, yet denied that it was linked with IRB.
Gadkari had also allegedly favoured IRB when he was PWD minister in Maharashtra, 1995-99. In return, IRB allegedly invested in his Purti Group through dummy firms. Both Gadkari and IRB have denied the charges.
In 1995-99, when Gadkari was Maharashtra PWD minister, IRB got 5 road contracts worth Rs 500 crore
In 1995, IRB reportedly bagged a Rs 104 crore contract to widen and maintain a 25 km road between Bhiwandi and Thane. It was one of five contracts, together worth Rs 50 crore, that were awarded to IRB while Gadkari was the PWD minister.
One of the questions raised at that time was whether IRB had made Gadkari's son as director as quid pro quo for the contracts.
In 2012, Jayant and Virendra, the sons of Dattatray Mhaiskar, came under scrutiny for lending money to and allegedly receiving favours from Gadkari.
Gadkari, his ministry and the BJP are yet to respond to the latest allegations of corruption.
More in Catch - Sagarmala project: why India needs to revitalise its shipping gateways
The miracle that is the DDCA. Or why Kejriwal is going after Jaitley
DDCA muck: the questions facing the Subramaniam panel and their answers