"Please don't kill me, I have a wife and two children," pleaded slain Tripura journalist to killer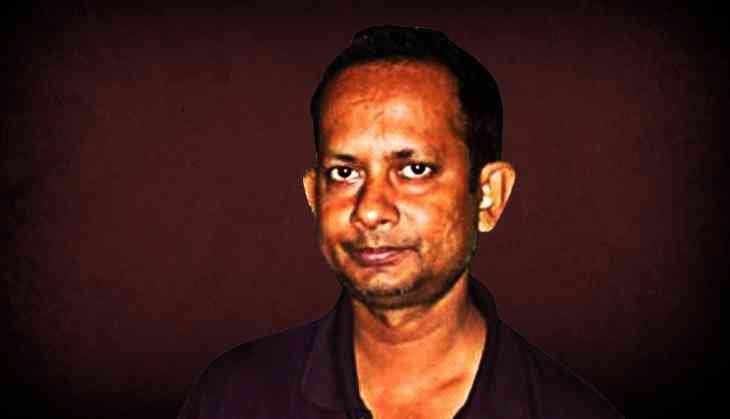 Shocking and horrifying details have started emerging in the death case of Tripura journalist Sudip Datta Bhowmik. Bhowmik was shot dead by a rifleman of 2nd Battalion of Tripura State Rifles (TSR) inside the security camp on Tuesday.
A source at the TSR headquarters in Radha Kishore Nagar, located in the outskirts of state capital Agartala, said the arrested Commandant Tapan Debbarma destroyed evidence and wanted to bury the deceased journalist inside the camp after he was shot dead by Debbarma's security guard Nandu Reang. It was purportedly aimed at avoiding media glare and public outcry.
The jawans also heard Bhowmik pleading for mercy. The source further said that Debbarma ordered that all evidence of the 'murder' be destroyed.
"We've heard the journalist crying loudly after sensing the danger that he might be killed. Please don't kill me. I have a wife and two kids. What will happen to them if I die, he said. Gunshots rang and he was shot twice in the abdomen at 11.30 AM. Our commandant soon ordered arrangements for the scribe's burial inside the camp. We resisted the move as it would have invited massive backlash," a TSR source said on the condition of anonymity.
The source also told Catch that Bhowmik had two mobile phones with him when he went to interview Debbarma. Bhowmik had allegedly recorded the TSR commandant's statement on one of them. Debbarma had earlier threatened the scribe of 'dire consequences'.
Both the phones were found missing when Bhowmik's body was handed over to his family at Indra Nagar in Agartala.
Describing the incident, the source said that Bhowmik was offered tea and biscuits soon after he arrived at the headquarters to interview Debbarma.
"We'll be able to arrive at a final conclusion after a thorough investigation. Visibly, it appears as an act of revenge. It happened after the journalist went to meet the commandant Tapan Debbarma at the headquarters in RK Nagar to interview him. Eyewitnesses reported that the journalist had an argument with Nandu Reang. As the exchange grew heated, the soldier pulled out his service revolver and shot Bhowmick," West Tripura SP Abhijit Saptarshi said.
Another police official said during the course of the interview, Debbarma went to the washroom and returned after 10 minutes. He shouted at Bhowmik alleging that the journalist had taken one envelope out of two kept on his table and hidden it in his pocket. Debbarma ordered body-search and rifleman Reang followed the orders.
Bhowmik resisted the move and a scuffle followed. Debarma shouted at Bhowmik and ordered Reang to shot him, the officer said. Reang was initially hesitant to shot him and waited for five minutes but had to follow instructions after he was prodded by Debbarma.
During the altercation, the Bhowmik received bullet wounds and died on the spot.
The editor of Syandan Patrika, a widely read Bengali daily of Tripura, Subal Kumar Dey, said – "We carried a series of investigative reports on the anomalies carried out by TSR officials. Those exclusive reports filed by Sudip Bhowmik for Syandan and Vanguard news channel unearthed irregularities carried out by Tapan Debbarma and his associates. It's a cold-blooded murder.
A police official also said that the slain journalist filed 12 reports against the commandant, who, the reports claimed, was involved in gross financial misappropriation, sexual harassment of women and other cases of misusing his official power.
Bhowmik is survived by his mother, wife, a son, who is pursuing higher studies in Bhubaneswar and a daughter, who is a class 8 student in Agartala. Bhowmik's body was brought to the Agartala Press Club before it was cremated on Wednesday afternoon.
But, this is not the first time in the North East where a journalist has been killed.
In September, cadres of the Indigenous People's Front of Tripura (IPFT) killed Santanu Bhowmik, 27, a young television journalist at Mandwai, 25km east of Agartala. Bhowmik was assaulted with sharp weapons while covering a road blockade agitation of the IPFT, which is demanding a separate tribal State called Tipraland.
In Manipur, Thounaojam Brajamani Singh, the editor of Manipur News, was killed in 2000 by militants.
At least, 32 journalists have been killed in Assam since 1987. Most of them have either been killed by the United Liberation Front of Asom (ULFA) or the now banned Bodo Liberation Tigers. Parag Das, executive editor of Asomiya Pratidin, who was believed to have been an ideologue of the ULFA, was allegedly killed by surrendered militants of the outfit in May 1996.